LinkedIn Learning: prices, features and alternatives
LinkedIn is the largest professional social network in the world. Very focused on skills recommendations and on developments in the world of work in general, LinkedIn has launched its own online course platform to help its users to further develop their knowledge.
1. LinkedIn Learning: what is it?
LinkedIn Learning is an extension of LinkedIn, which offers online courses. These courses do not have a diploma value in the eyes of the State, they are only there to help you develop notions, to complete your initial base of skills. On the other hand, interactivity requires, the trainings that you have followed on LinkedIn Learning will be displayed on your personal profile in the form of badges, certifying in the eyes of the members of the network that you have followed such or such training.
Riding the wave very popular MOOCs (online courses), LinkedIn Learning offers thousands of courses on different skill areas. Very often worn on communication, digital marketing or the use of tools IT, LinkedIn Learning courses are obviously built from way to develop its own relationship with the social network and its use.
2. The price of LinkedIn Learning
For people who have subscribed to one of the 4 Premium LinkedIn subscriptions , LinkedIn Learning courses are available at no additional cost.
For others, it takes around 22 euros per month to have access to LinkedIn Learning.
LinkedIn Learning Basic Price
LinkedIn Learning Premium Price
As the policy of LinkedIn certifies, you still have the option of trying the LinkedIn Learning offer for free for one month. Even if 31 days is not reasonably enough to test all the training that the platform makes available to you, they are largely useful for giving you an overall idea of LinkedIn Learning. You will be able to define your needs, try to follow races and identify avenues for reflection to decide whether or not you subscribe to a paid subscription.
Nota bene: do not forget to unsubscribe LinkedIn Learning before the end of the free trial period if you don't want to continue on a subscription and LinkedIn Learning isn't right for you.
3. The LinkedIn Learning courses
LinkedIn courses Learning are counted in the thousands, and concern a number of areas of mind boggling skills. Indeed, you will be able to discover courses focused on computer programming, digital communication, the use of software specialized, but also personal development!
LinkedIn wants to be versatile with its course platform, and touching all the layers of the professional life. The constant evolution of the use of social networks as well as the perpetual changes of the professional world encourage sharing knowledge, and especially versatility.
The courses are available in three levels:
Beginner
Intermediate
Advanced
According to your profile, your position or your needs, choose courses that correspond to your estimated level, in order to maximize your abilities learning!
You can access course according to your preferences and your learning facilities: format audio, video or written.
Three poles of skills are present:
LinkedIn Learning Business category
LinkedIn Learning category Creativity
LinkedIn Learning Technology category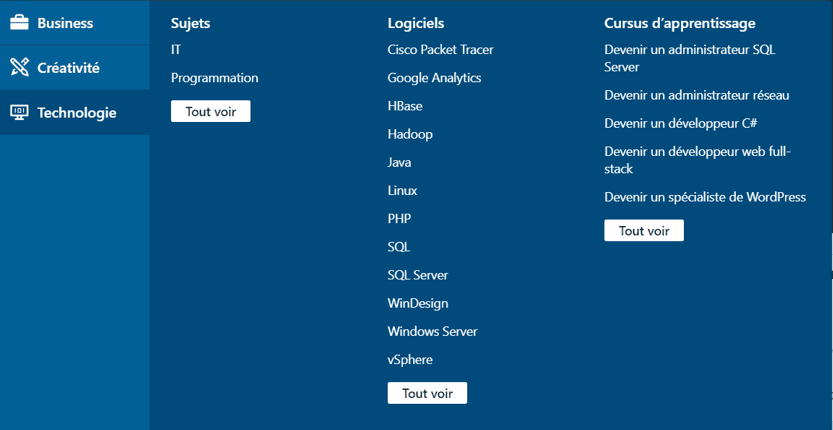 And, inside these three categories, several branches are broken down into other branches. The further you go in the LinkedIn Learning tree, the more you can access specializations. The search for a specific course is then made easier.
The LinkedIn interface Learning offers a search engine that you can select from several filters to find the course (s) that match your needs and desires of the moment. You can choose the difficulty level of the course, duration, format, etc. LinkedIn Learning is called "Media library", to combine the useful with the pleasant!
Accessible in several languages, the courses are written and led by members of the network social LinkedIn, recognized as experts in their fields, sharp and pedagogues. These members are committed to sharing their expertise in a way educational while increasing their visibility and therefore their opportunities. Each course is taught by an expert in his mother tongue, a small more than it is important to notify, as this avoids the problems of approximate translation often encountered on the web. Available in several languages, the LinkedIn Learning platform adapts to different work cultures around the world.
If at the beginning LinkedIn Learning was designed for individuals and freelancers wishing to improve at their own pace, the platform is now aiming higher by wanting close to businesses and their human resource departments. In Indeed, training is expensive, time-consuming and energy-intensive for HR managers, so LinkedIn Learning can be a ready-made solution to provide employees with a fun alternative and intuitive. Courses can be recommended to employees, and the hierarchy can follow the evolution of these on the courses followed.
Available courses on LinkedIn Learning are comprehensive and well done, but they can sometimes be long and can put you off if you don't want to spend too much time on the topic. LinkedIn Learning therefore also offers small courses of a few minutes, short videos and quickly searchable infographics that is possible to record on computer, smartphone or tablet (accessible even offline!). Rather practical to improve quickly and learn new concepts.
As always with a social network, the LinkedIn algorithm will orient the visibility and the suggestion of the courses according to the profile of the Net surfer, to personalize as much as possible the use and the promotion of its contents.
The offer is colossal in terms of the amount of content, and we would like to try everything … risk of missing out on the initial goal: to learn and perfect! If you use LinkedIn Learning, be methodical in the selection of your courses. For example, you can take the time to establish a program over several weeks by choosing the most suitable courses to your current issues.
4. Proinfluent: alternative to LinkedIn Learning
Be efficient and active on your LinkedIn account are important behaviors to be able to effectively and sustainably develop your business network. Having some notions in marketing and networking is obviously fundamental. As we have seen previously, LinkedIn Learning is a very good medium for learning more, developing general knowledge and obtaining information on a particular subject likely to be encountered during a professional career.
" How to negotiate salary ? "," Learn storytelling in a company "or" How to make a good pitch "( we tell you everything about the pitch !) are examples of what LinkedIn Learning offers. Many essential topics in professional life are available, and delivered in an interactive, fun and interesting way.
But despite all its qualities, LinkedIn Learning is not the only solution for learn how to use LinkedIn . And if we appreciate the immense amount of courses offered, as well as its personalized search engine, it is clear that LinkedIn Learning suffers from a shortcoming: it does not know you as well as its algorithm might lead you to believe. !
To develop one's relationship with the social network and its use to trigger the best opportunities (professional, first of all, but also personal, because LinkedIn is a large group of people who each have something to bring to the others), there is a much better way : to call on a French-speaking LinkedIn expert , ready to help you step by step, according to your profile and your objectives, in a personalized way to effectively develop your strategy and get your career off the ground.
Who am I ?
My name is Yannick Bouissiere , I am a French LinkedIn specialist , LinkedIn trainer and founder of Proinfluent . For several years, I have been keen to help professionals sell or sell themselves (hear selling their services or find a job with LinkedIn ) and help them discover all the possibilities of their use of the LinkedIn network.
Always in search of new knowledge and passionate about marketing, I am intimately convinced that LinkedIn still has a bright future ahead of it and allows business opportunities that you would probably not have been able to approach without the network. Indeed, professionally speaking, LinkedIn is a benchmark, which frees itself from geographic borders, humanizes the world of work by highlighting people rather than positions, and allows you to enrich yourself by discovering the publications of its network.
On Proinfluent, I accompanies you and helps you grow professionally, so that you yourself and your goals are on the same page. Your satisfaction is the engine of Proinfluent (to date, 100% of customers are satisfied).
Through my different articles, I reveal all my tips and tricks to have a perfect LinkedIn profile , I explain how to sell, and sell yourself through marketing and on LinkedIn, whatever your age, your social status, your goal. I will also show you behind the scenes of LinkedIn, how it works, but also its news! If you follow my many tips, you will inevitably attract and create new opportunities.
To find my articles, discover the blog of Proinfluent . Browse it, survey it, immerse yourself in its content to develop your relationship with LinkedIn and use my advice to make LinkedIn a development lever for your business and / or your career!
You prefer the video content?
Find me on chain Proinfluent on YouTube , where I publish a new weekly video to help you always more in the realization of your projects thanks to to LinkedIn.
Why prefer Proinfluent at LinkedIn Learning?
If you have the possibility of benefiting from a free month on LinkedIn Learning, at the end of the trial period you will have to put your hand in your pocket to continue enjoy the content of the platform. With Proinfluent, it's not the same thing ! 80% of my content is available for free, because I care to bring real added value to my audience. I believe in marketing humanist, so that everyone's professional career is consistent with their personality and its relationship to others.
In addition to benefiting of my best advice for free, Proinfluent allows you to integrate a community of professionals who share the same goal as you: get the best business opportunities through LinkedIn. What you allow you to exchange with other people on the issues that you meet and, why not, develop new partnerships within even from my audience!
How it works, concretely ? As I told you, I offer you 80% of my content for free on the blog , via my checklist to create a perfect LinkedIn profile Where chain YouTube of Proinfluent , and 20% of my services are Premium and are part of a paid (and winning!) formula.
With Proinfluent, you will learn to… learn on LinkedIn to succeed… to sell, to recruit or to uncheck professional opportunities. But, unlike LinkedIn Learning, you will have personalized support, advice tailored to YOUR situation and YOUR goals. I make it a point of honor to favor exchanges, and to establish a relationship of trust with you. We never work alone, we always need to compare points of view, share ideas, move forward taking into account the constant changes in the world of work and its digitalization every day a little faster. Not forgetting human relations and the importance they have for professional development is one of the values most dear to Proinfluent.
To join the community, nothing could be simpler: subscribe to chain YouTube of Proinfluent , and discover a new video every week who will reveal tips, methods, ideas, etc. Together, let's interact so that your questions are not left unanswered!
For fully personalized advice, I also offer paid content. You can find my coaching and training services LinkedIn or my LinkedIn e-learning training . With me, you have the assurance of expert service, and communication based on mutual aid and trust, to achieve the best of your performance.
For to receive your welcome gift and receive my advice by email , it's here.
And above all, don't forget:
"Self-marketing is not magic. It's a science, within your grasp. "

Yannick Bouissiere
LinkedIn ™ learning, to sum it up in 5 questions
Comment avoir LinkedIn™ Learning ?
To have access to LinkedIn ™ Learning, you must go to your personal LinkedIn ™ space then click on products at the top right. Select learning then you can start your free month. After this has expired, two monthly rates are available. You can either:
Decide not to continue and therefore not to subscribe to LinkedIn Learning;
Join and start being levied.
Comment avoir LinkedIn™ Learning gratuitement ?
To benefit from the services of LinkedIn ™ Learning, you must be a subscriber to LinkedIn ™ Premium, a paid service. However, it is possible to test it for free the first month, then the price corresponding to the subscription is taken.
Pourquoi utiliser LinkedIn™ Learning ?
This platform allows you to build skills thanks to the many tutorial videos available for you or for your team. LinkedIn ™ Learning is a help that tells you what to do in multiple situations. Do you want to create and animate an Instagram page for your company, or to discover design thinking? Discover the learning videos from LinkedIn ™ Learning to save time by establishing the right strategies directly.
Comment fonctionne LinkedIn™ Learning ?
LinkedIn ™ Learning is a platform that offers online courses in the form of videos. Many subjects are discussed even if marketing and business development are the dominant themes. The principle of LinkedIn ™ Learning is that users of all levels can train independently in order to develop their professional skills.
Qu'est-ce que LinkedIn™ Learning ?
LinkedIn ™ Learning is an extension of LinkedIn ™. It is an online course platform that can be used at any time by one or more users. He can then train in the fields of his choice thanks to the videos which serve as lessons. When all of the videos in a chapter have been viewed, LinkedIn ™ Learning issues certifying and unapproved certifications. The goal is rather that employees develop their skills independently.