Social Selling: top 50 of the best French speaking specialists (including LinkedIn)
Cock-a-doodle Doo ! France and French-speaking specialists have nothing to be ashamed of since they now have their own Top 25 top social selling specialists .
Originally edited by Brenda Meller under the hashtag #LinkedInROCKSTARS, the ranking has been published in its version French-speaking on August 6, 2019 with the list of the best French-speaking social sellers. The result of this ranking takes into account the public data of LinkedIn and in particular the percentage of change in terms of subscribers.
I have the honor to appear in the 18 th place in this honorable ranking, alongside twenty-four other people specializing in global social selling. My specialty being LinkedIn, I stay LinkedIn expert N ° 1 in Francophonie (source Google).
Each with a different background, we have been able to demonstrate our expertise and bring our professionalism to the interesting field of sales through social networks.
Here is the ranking of the Top 25 of the best social selling specialists in Francophonie
Emmanuelle PETIAU
Patrick BARRABÉ
Stefanie FIORI
Danilo DUCHESNES
Kaoula B.
Dan CHRISTMAS
Audrey TIPS
Jacques PILORGE
Stephanie HUBERT-DOGAN
Xavier PETITPEZ
Marie BODIGUIAN
Loic SIMON
Danielle FAZZIO
Jonathan NOBLE
Malika AKKAOUI
Jerome DEVOSSE
Véronique LEROY
Fadhila BRAHIMI
Michel BRÉBION
Michelle WHITE
Guillaume EOUZAN
Cecile JAMELOT
Philippe LAFAIX
Christelle LEBEAU
Top 50 of the best French speaking social selling specialists
To continue, here are the 25 following in this ranking of the best French-speaking social sellers.
Do not hesitate to follow the LinkedIn activity of these people in order to progress in your use of social networks to (you) sell. Sharing, reading interesting content and progress in learning our social selling techniques will not be that more user-friendly and efficient, because there is strength in unity!
It is to Patrick Barrabé, who appears in second place in this Top 25 of the best French-speaking social selling specialists, that we owe the French-speaking adaptation of this ranking. Social selling is the first discipline to be the subject of such an approach, and other rankings will arrive soon. The main goal of the Top was to improve its online presence on the social network LinkedIn, while drawing inspiration from what others are doing with the idea of sharing and discussing the uses of social selling.
Successful bet, because the publication of this top highlights shed light on the use of social networks in the sales journey and in the prospecting 3.0.
Social Selling: methodology of this ranking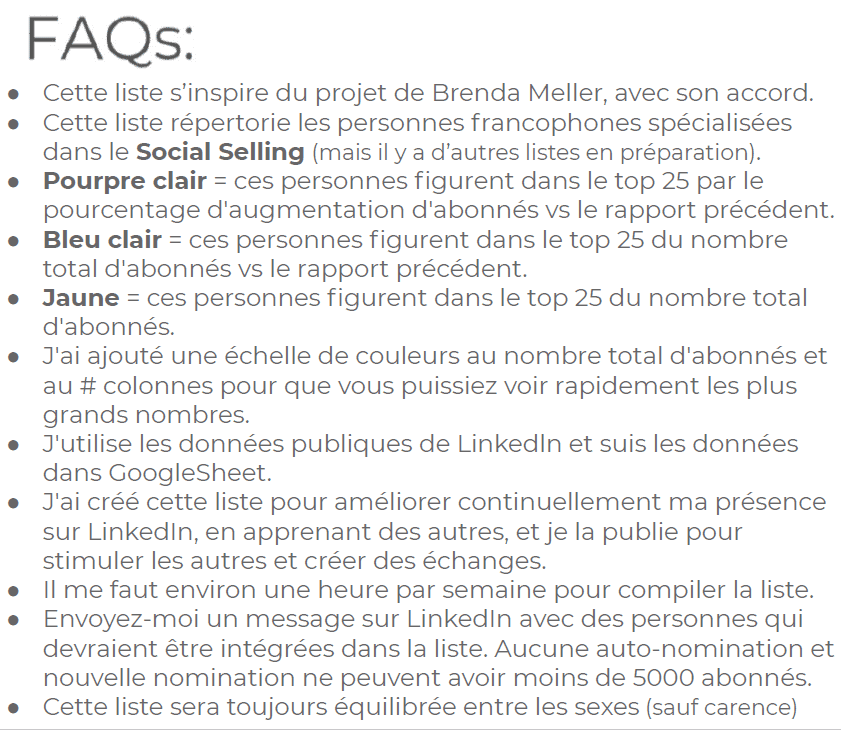 The classification is obviously not perfect, and can be representative of all that social selling entails. Based on the progress in terms of the number of subscribers, it would be worth taking into account also the engagement rate of publications, to be able to assess the ratio subscribers / engagement. However, it is important to note that (for once) this it is not the number of subscribers that takes precedence, but the progression in percentage.
In addition, it has the great merit of emphasizing on social selling, and to underline the capital importance that this discipline has in the world of sales.
I am delighted to be a "" "rockstar on LinkedIn" ", and if you would like to attend a private concert, I invite you to Contact me ? More seriously, I will be delighted to discuss with you about social selling, LinkedIn online training or personalized support and of course your use of LinkedIn to boost your sales!