The social network has developed 4 premium LinkedIn subscription offers. But then, how to shoot 100% of LinkedIn's potential? What LinkedIn subscription offer for what use and at what price? I decipher these offers for you.
LinkedIn has been in existence since 2003 and today has more than 610 million users, including 16 million in France. (Read also: the LinkedIn key figures and who uses LinkedIn? )
With 200,000 people registering on the network every day, LinkedIn has become THE benchmark professional platform.
Today, thanks to the democratization of the internet and social networks, looking for work is done quite differently than in the past.
A third of professionals are on LinkedIn. That is why it has become essential to have an online presence and a digital identity in order to develop your career and be spotted more easily by recruiters.
Source: C marketing
You will understand, with such numbers and such an influx on LinkedIn, you have the opportunity to forge a lot of professional relationships, and, thus, develop your network.
Today, you should neither sell your diplomas nor your experiences, but sell your skills and major assets, like a corporate brand.
Attracting the attention of recruiters no longer requires a concrete CV, but the way we communicate about it and about ourselves.
Learning to sell yourself takes time and energy, but you can't escape it if you want to be successful.
However, there is a method that can save you time and increase your chances of landing contracts.
LinkedIn premium: price
LinkedIn Premium price: the price of LinkedIn Premium subscriptions varies between 24.78 € / month for the Premium Carrer subscription up to 109.08 € / month for the Recruiter Lite. Click to know the details of the prices of LinkedIn Premium.
LinkedIn Premium: should you invest in a subscription? Video response
Which of the 4 premium LinkedIn subscriptions to choose?
As on other social networks like Facebook or Twitter, Joining LinkedIn is completely free .
That said, to benefit from all the features provided on the platform, you will need to subscribe to one of the premium LinkedIn subscriptions.
Many professionals wonder if it is in their best interests to get a premium LinkedIn account or if the free account is enough for them.
To find out, it is interesting to study your profile as well as your needs and measure the activity you have on LinkedIn.
If you only spend a little time on LinkedIn, you may not need to upgrade to a premium LinkedIn membership.
Conversely, if you have understood the importance of having a LinkedIn account for your professional career and you spend time trying to attract the attention of your target in search of new professional opportunities, it is interesting to study the different types of subscriptions offered on LinkedIn.
LinkedIn offers 4 types of premium LinkedIn subscriptions different so you can choose the one that best matches your profile type.
1. LinkedIn Premium Career subscription: advantages
LinkedIn Premium Career subscription: to increase the chances of being recruited
According to a LinkedIn study, job applicants who have subscribed to a premium LinkedIn account see their chances of getting hired doubled. When you take a premium account, you are automatically placed at the top of the list among all the applications received by an employer. This is a great way to set yourself apart from the rest. Taking a LinkedIn Premium Career subscription would put the odds on your side to obtain more visibility to grab the attention of recruiters.
However, it doesn't have to be, as my customers and my network haven't really seen a difference, so I don't necessarily recommend it.
LinkedIn Premium Career: the price
The LinkedIn Premium Career subscription is the cheapest premium account. His price is € 29.74 / month in monthly payment and € 24.78 per month as annual payment . This LinkedIn Premium subscription particularly targets job seekers .
Should you invest in a LinkedIn Premium Carreer account? Here is my opinion.
If you are actively looking for a job, are pressed for time and have the money for: then yes, why not.
The best is to test the premium subscription for free, then you can form your own opinion.
If not and for all other cases, I recommend that you instead follow my online training to find a job with LinkedIn in 1 hour per day (only)! With this training you will learn everything you need to know to find a job with LinkedIn today, including tips and advice from 99% of users! With this online training you will gain up to 10 times more hiring opportunities and 40 times more visibility! You do not believe in it ? Read the testimonials …
Also, for the price of a mojito, invest in a CV that will help you provoke job interviews here .
To read also: Talents: how do you get recruited via LinkedIn?
2. LinkedIn Premium Business subscription: advantages
LinkedIn Premium Business subscription: to help business development
Signing up for a LinkedIn Business plus account gives you a lot more visibility. LinkedIn counts on average six times more visits to a Premium Business LinkedIn account compared to a free account. Taking a premium account will allow you to expand and develop your network a little faster. It is ideal for business owners who want to contact people.
LinkedIn Premium Business: the price
LinkedIn Premium Business costs € 44.62 / month annual payment and € 54.54 monthly payment . This subscription aims to meet the needs of professionals in the development of their business and their marketing, but is not used to prospect effectively.
My opinion on the LinkedIn Premium Business subscription
If you want to prospect or do some social selling LinkedIn , do not waste time with this offer. Opt directly for the real prospecting machine that is LinkedIn Sales Navigator .
3. LinkedIn Sales Navigator Professional subscription: advantages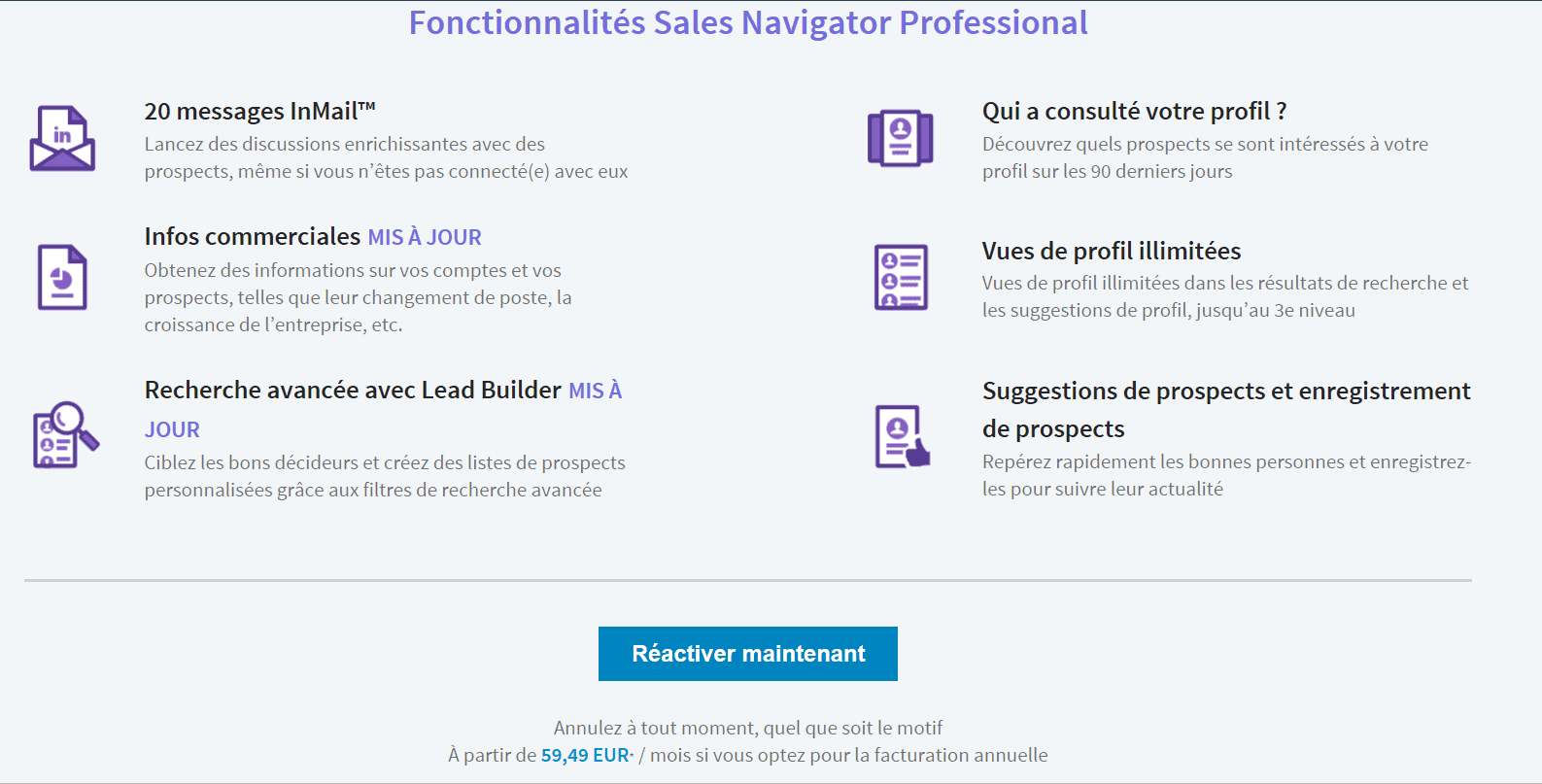 LinkedIn Sales Navigator Professional subscription: the real prospecting machine.
There, we enter a whole new dimension. The number one goal of this LinkedIn Sales Navigator offering is to help you leverage business opportunities. This offer is intended for BtoB companies who want to prospect (en masse).
LinkedIn Sales Navigator: the price
Build lists of prospects, save them to keep up with their latest news, access unpublished business information from companies and many other advantages, for 59.59 € / month in annual payment or 74.36 € per month without commitment .
LinkedIn Sales Navigator: my review
If you are looking to prospect, to follow your prospects, to no longer be subject to the limitations of sending messages or consultations: then this offer is for you! In addition, you have the possibility to connect Sales Navigator with your CRM.
It is therefore a good investment if you want to make LinkedIn your source of BtoB prospects.
Remember that a few years ago you had to pay, sometimes expensive, to buy lists of numbers or emails when they were not necessarily up to date. Today you can access the most up-to-date database of professionals in the world, track your prospects, contact them … for only € 59 per month!
Are you not convinced ? Try it free for 30 days.
But in this case, do not forget to unsubscribe from premium LinkedIn subscription .
Are you already a user? Testify in the comments at the bottom of the article.
To read: all about LinkedIn Sales Navigator.
This is the offer that I recommend to anyone who wants Social Selling with LinkedIn on a low volume of prospects.
But beware, this will take time … Time that is precious when you are an entrepreneur or a salesperson.
This is why, I recommend that you instead opt for the Intelligent Prospecting © concept that I invented. With Intelligent Prospecting ©, you automate many of the steps of your LinkedIn prospecting to focus on responding to your requests. prospects !
Magical ? Almost since you will be able to contact thousands of target prospects and this, in a personalized way … Inhuman thing without it, even using LinkedIn sales navigator!
Imagine the time and money you will save …
To find out more, let's take some time to talk over the phone. Reserve a time slot in my agenda by clicking here.
Honestly, I insist, if you want to take your business to a whole new level, stop searching and wasting time. Follow my method which works, you will thank me as my clients already do.
Make a quick appointment with Yannick BOUISSIERE.

Read also:
4. LinkedIn Recruiter Lite subscription: advantages
LinkedIn Recruiter Lite subscription: to recruit the best talents
LinkedIn Recruiter Lite meets the human resources needs of recruiters. You will be able to select the best candidates from your list using the premium LinkedIn search filters and follow all their news. This is the ideal offer for recruiters looking to find new talent.
The price of LinkedIn Recruiter Lite
The "premium Recruiter Lite" subscription is the most expensive premium LinkedIn subscription. , To 89,25 € / month in annual payment or 109.08 € per month .
What is a LinkedIn Premium account for?
You would have understood it, choosing a premium LinkedIn account depends on your profile and your needs. At both extremes, we find job seekers and recruiters. If you are neither looking for hiring opportunities nor a recruiter, stay with a free LinkedIn account or if you are looking to prospect: in this case choose a Premium "Sales Navigator" LinkedIn account .
The LinkedIn premium account gives you features that cannot be accessed with a free account. What are the real benefits of this offer?
Spontaneously contact an interlocutor in your target market
You can contact a recruiter or professional directly using InMails (private messages from LinkedIn). This function is useful when you do not have the contact details of the target or the company you want to contact.
On LinkedIn, you have access to the contact details of everyone you are connected with in "Contact Information" just below its cover photo.
This feature is therefore essential if you want to contact a person who is not part of your network and you don't want to wait for them to accept your invitation request to be able to send them a message .
Display your Premium LinkedIn badge
To let other users know that you have a premium account.
See who visited your profile
Unlike the free account which allows you to see your last 5 visitors, with LinkedIn Premium you can see everyone who viewed your profile in the last 90 days, even if you are an anonymous user.
One of the features of the premium is to allow Internet users to contact you directly thanks to the "openlink" status to activate.
Job seekers: leading the way
If you're applying for a job, you'll be the top candidate the recruiter sees, which is a great way to get spotted more easily, especially when dealing with multiple other applications. According to a LinkedIn study, with this method, your chances of being recruited are doubled.
Sales representatives: follow up your prospects
In order to be able to bounce back on one of their news or to follow their evolution in the purchasing cycle.
Recruiters: follow and manage candidates
Access an interface to follow your pool of candidates and carry out highly targeted research.
How do I get a premium LinkedIn subscription?
Simple and easy to do, you can become a premium LinkedIn user with just a few clicks .
Once logged into your LinkedIn account , select "become a premium member", and choose the LinkedIn premium career subscription.
Once the premium LinkedIn offer has been selected, you can proceed to payment either by Credit Card, Paypal or Mister Cash.
Please note, the payment is made in one go and not in monthly installments. the price will depend on the duration of the offer to which you have subscribed.
LinkedIn Premium: e n conclusion
Once your profile has been defined and your objectives set, you will be able to know if a premium offer is interesting for you, or not .
If you are Jobseeker , you will want to put all the odds in your favor, and the premium offer can help you .
Increased visibility, chances of being recruited doubled, possibility of directly contacting recruiters, etc. The advantages are many.
Salespeople and entrepreneurs, the LinkedIn Sales Navigator offer may interest you especially that it removes the limits of consultation of the pages and the profiles. You decide.
Anyway, have a LinkedIn Premium account is good, but really is useless if :
You have never reached the limits of LinkedIn.
You haven't felt frustrated with a free account.
You do not prospect and / or do not have a CRM.
You don't recruit regularly.
Your profile is not optimized. Yes, yes you have to start with the basics to discover here: the 10 secrets of an effective LinkedIn profile and the essential settings to know .
Do you have any questions ? A blocage ? Would you like to be supported on LinkedIn? Discover my solutions LinkedIn coaching or from LinkedIn training .