Are you an entrepreneur? You want to launch an online business? The technical set-up is often a source of stress: you have to create well-referenced pages, write blog posts and organize webinars to attract prospects, do emailing, offer training, design sales tunnels.
Mastering many digital tools can waste your time and money and this is something an entrepreneur cannot afford, especially at the beginning of his activity. Aurélien Amacker created the systeme.io platform in order to answer this need.
Here is our expert opinion on this tool.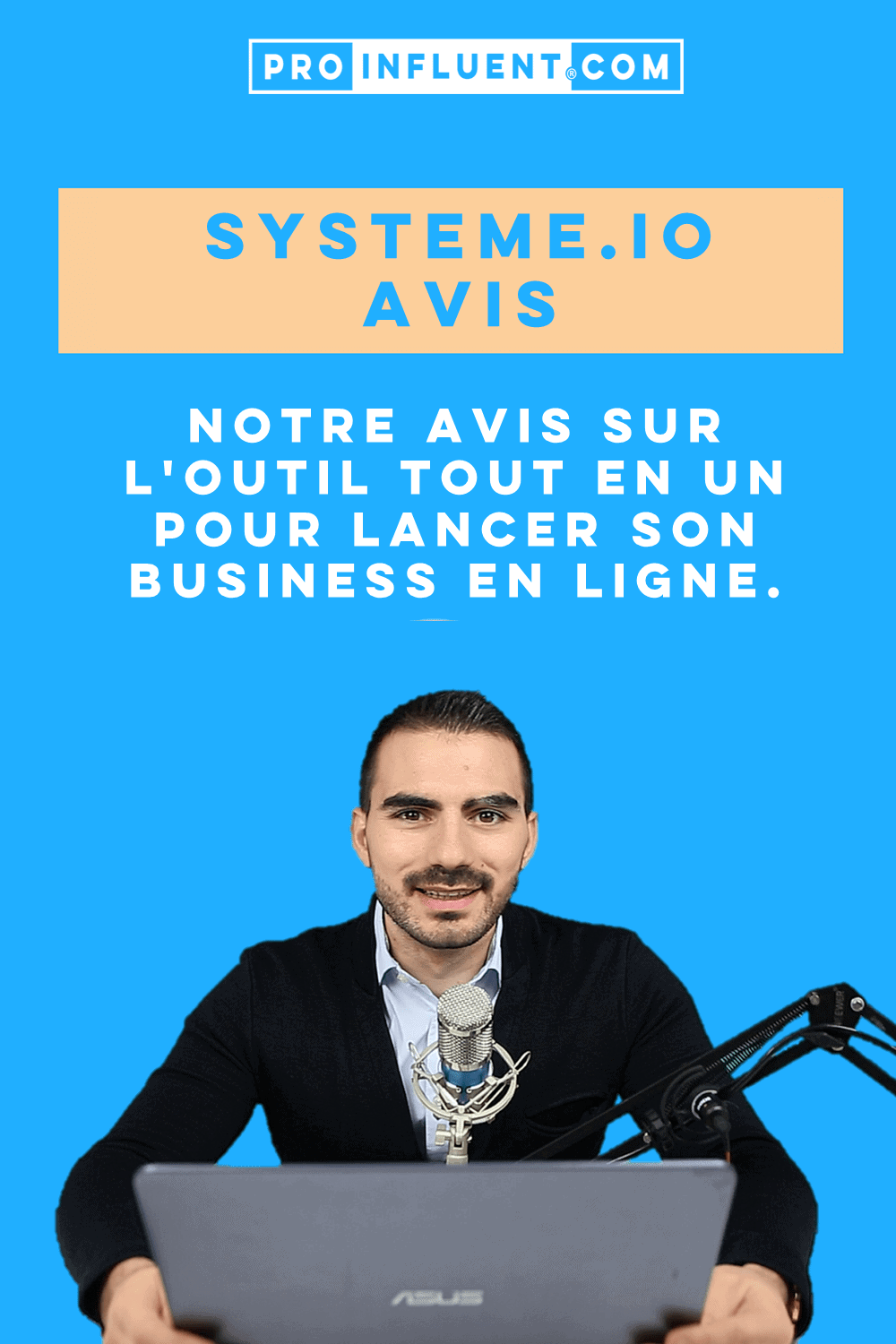 Systeme io : what is it ?
Systeme.io is an online software that gathers most of the essential tools to create an e-commerce website, to manage it, to prospect customers and to increase its sales.
An all-in-one tool created by Aurélien Amacker
This computer scientist has traveled extensively and sought his path in personal development and coaching. Concerned by online business, he created systeme.io and since then his platform has been a great success.
Systeme.io presents itself as an all-in-one tool. And indeed, the functionalities are numerous: e-shop, blog, online training, affiliate programs, sales tunnels, emailing, automation, webinars, customer support…
Let's see if this platform has what it takes to delight most web entrepreneurs.
This article contains an affiliate link, which means that Proinfluent receives a commission if you buy the solution after clicking on one of our affiliate links. But, this doesn't change our recommendation, because we really recommend the tool.
Install and get started with systeme.io
The different packages of systeme.io range from free to cheap.
To get started, nothing could be simpler, a quick registration and you can already use the free formula which includes most of the features, but in limited number.
For example, three sales funnels, 2,000 contacts and a tag, a single blog, a single automation rule, a single workflow, a single training course… Enough to make an opinion on systeme.io and to start, but you soon need more and the paid formulas prove necessary.
With the other plans, the number of features increases by paying 27 or 47 euros per month. The 97 euro per month plan allows you to use everything unlimited.
It is not expensive compared to the separate use of different marketing and web design tools on the market.
As système.io is a SAAS software, everything is done on the web, there is nothing to install on your computer, no host or database.
After choosing your monthly or yearly plan, you are on your dashboard that allows you to create your site and blog in a few minutes. In a classic way, templates allow you to start with a model adapted to your objective, which you can then customize.
And no need to know anything about code or design, systeme.io is entirely nocode!
Create sales tunnels and automate with system.io
Sales tunnels
This is perhaps what impressed us most about system.io: the ease with which you can create a sales tunnel.
It goes without saying that this method is one of the most effective in e-business. With système.io, you can create each step of your marketing funnel without being an expert. You define the type of each page: capture, popup, thank you, sale, payment…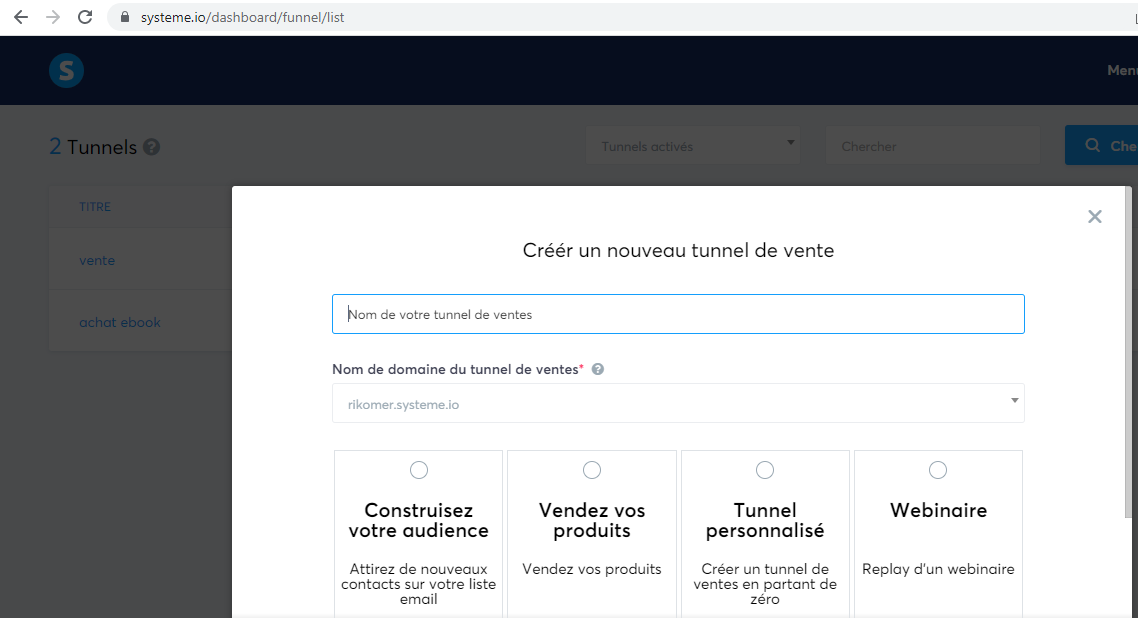 The platform puts everything in place for you:
"Build your audience" directly creates two pages, a capture page and a thank you page;
while "Sell your products" creates a payment page and a thank you page.
You can also create a tunnel for your webinar.
The icing on the cake is the option of A/B testing to propose a variant of your tunnel page. Thus, by changing the design or the catchphrases, it is possible to test in a few weeks which page has better results with visitors.
It is very practical and intuitive.
Automation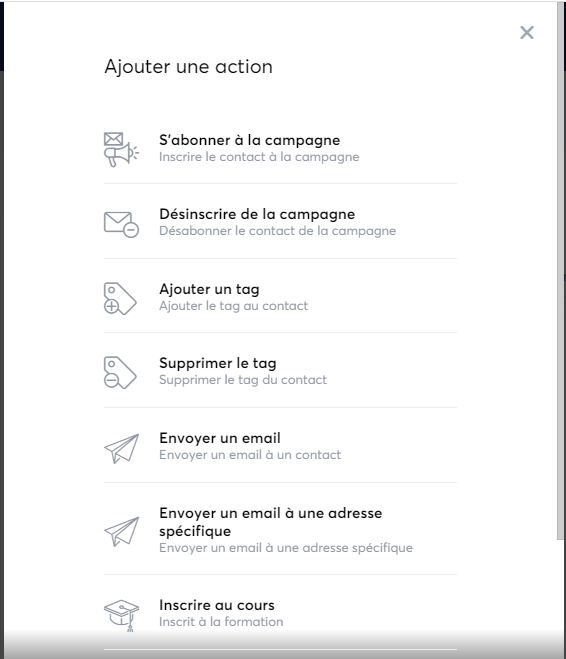 About automation, it is possible to correlate a number of actions to the visitor's behavior. An action (e.g.: subscribe to the campaign, add a tag, send an email…) is triggered by an event (e.g.: visit the page, click on a link…).
And systeme.io also manages workflows. These allow you to set up automatic events related to the path taken by the visitor to your site.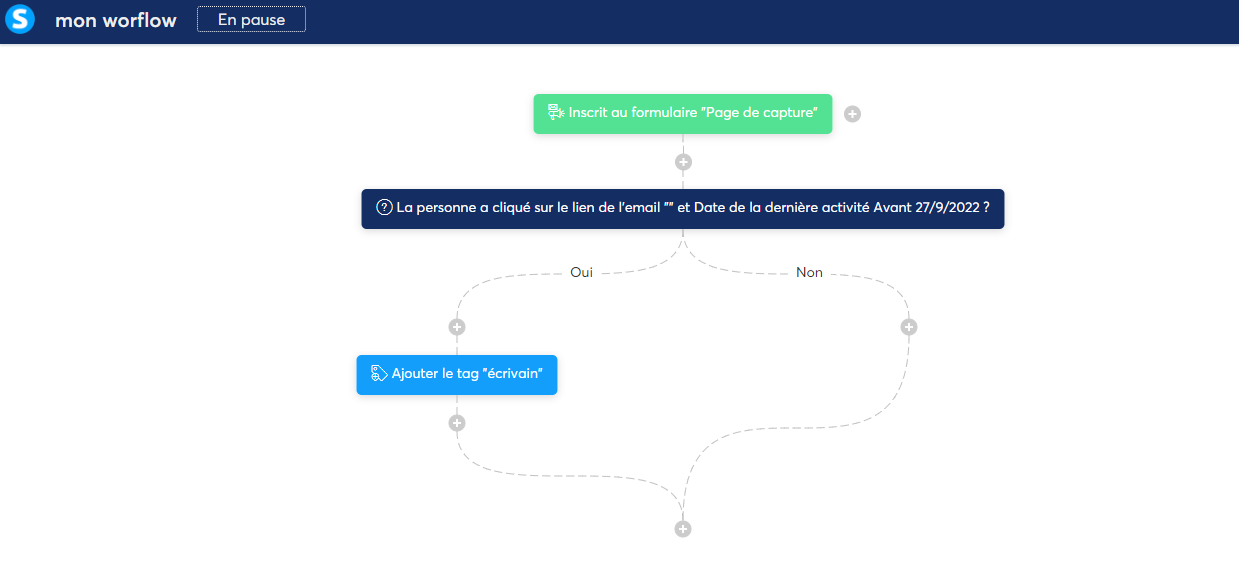 This is an effective way to determine the profile of your prospect, and at the sales level, it is well known what the buyer persona represents.
Create a website with systeme.io
The tool proposes to create your own company website. Of course, to optimize your referencing, you must add a domain name. The pages are efficient. We regret however a lack of templates. However, if you look hard enough on the net, it is possible to find new templates on specific themes.
The page editor is very classical, drag and drop, with elements (text, bulleted list, image, video, call to action…) and blocks (forms, pricing grids, customer testimonials…).
It's not complicated, everything can be modified in terms of fonts, colors, etc.
Emailing with systeme.io
Many people fear emailing, because it is often very technical, and one is often blocked in his attempts or worse, blacklisted. With système.io, the sending of numerous emails is possible and in an automated way.
We tested a newsletter sending. It took us one minute: create a contact and choose the configuration of our newsletter. We received it quickly.
Affiliation with the systeme io platform
There are about 1000 affiliate programs. One of the interests is that the other blogs of systeme.io can be sources of income for your company.
How does it work?
It's simple, you offer other blogs to promote your training, your service or your product. In exchange, they get a commission every time you make a sale. It's a win-win situation.
You can even affiliate with systeme.io itself.
To go further, and for those who are looking to improve their income by sharing value and promoting our services, know that Proinfluent also has an affiliate program. It's here for details and to register to the program!
Create your online courses on systeme.io
Here again, it's simple. You create your training in a few clicks.
Simply create a course and add :
a logo,
an image,
a presentation text,
and some options like attaching it to a sales tunnel.
Then you create modules and in these modules you insert your course chapters: either a video or a simple course. Everything is easily customizable.
The advantage is that it is systeme.io that stores your videos. So no space worries.
For a person with no computer knowledge, who just wants to do online training, systeme.io can quickly give the possibility to do it and monetize it.
Systeme.io compared to its competitors
Clickfunnels
The competitor software that comes closest to systeme.io is Clickfunnels. It is a powerful and efficient tool, but mainly focused on conversion tunnels (no blog).
The price is globally higher (from 97 to 297 euros/month).
And there is no French version, which may be off-putting for some customers.
WordPress
When it comes to creating e-commerce websites, we have of course the famous CMS (Content Management System) WordPress. The CMS itself is free, but this solution is paid if you choose a theme and quality plugins.
WordPress allows you to create :
Websites and blogs with beautiful designs, adapted to your activity.
an online store with payment methods by installing the WooCommerce plugin.
Other plugins are particularly useful, such as those that allow you to optimize your referencing. For example, when you write an article, a plugin tells you what needs to be improved, which is not the case for systeme.io.
That said, you still need to be a bit of a developer to use WP and you need a host. Moreover, the multiplication of plugins to match the functionality of systeme.io may make the site very slow.
However, if you really like WordPress, it is still possible to couple the two: read this article that explains how.
Shopify

On the market of e-commerce platforms, you can also find Shopify, a SAAS software that allows you to create your online stores. This service allows you to automate. Moreover, its templates are beautiful and efficient. This system entirely devoted to the sale of products has what it takes to seduce.
Shopify comes in several plans with prices ranging from 27 to 289 euros per month.
Emailing tools
Systeme io seems to beat specialized tools on their ground, such as :
Mailchimp for emails and autoresponder, more expensive and which prohibits affiliation.
Sendinblue and Mailerlite which have less extensive features.
Wix
As for Wix, this website creation tool has for main defect to be long to use to create its pages, and has neither A/B Testing, nor affiliate program.
Systeme.io avis, pour conclure
Système.io has the merit of being easy to use for a neophyte, less expensive, and more complete than some competitors. This platform is ideal for entrepreneurs at the beginning of their activity and for the development of their business and their sales, with affiliate program, blog article, technical support, autoresponder, sales tunnels, workflow, A/B Testing, mass emailing…
This website can delight the companies with its fast handling and its use and management facilitated by an intuitive system.
Our opinion is that système io is a good French software that meets its objectives well, which would deserve more choice in terms of design or integration into a WordPress plugin.
Systeme.io review : to summarize in 5 questions
What is Systeme.io ?
Systeme io is a software developed by Aurélien Amacker to develop his business on the web.
It is an all-in-one tool that allows you to create a site for selling physical and digital products, with very useful features:
blogs,
affiliate programs,
email campaigns,
conversion tunnels,
online training,
webinars,
email capture,
automation,
A/B testing…
Why use systeme.io?
In the opinion of its users, systeme io is powerful and easy to use. The advantages are numerous:
It is an all-in-one software, meaning that it replaces a multitude of software and paid services, all for a reasonable price.
Systeme io allows you to develop your e-business quickly, easily and intuitively.
The platform benefits from a large active community on a Facebook group.
The price is affordable. It's a real opportunity to transform your prospects into customers without breaking the bank.
What can I do with systeme.io?
With systeme io, you can :
Create an online business;
Keeping a blog;
Create email capture pages to build a contact list;
Create conversion tunnel pages;
Organize email campaigns;
A/B testing to optimize the conversion rate of your pages;
Host and sell training courses;
Organize webinars;
Automate to adapt to your visitors' behavior;
Affiliate marketing (both ways);
Consult statistics about your visitors;
Do customer support.
Is Systeme.io cheap?
Systeme io is available in four plans, with 30% off if you pay for a full year:
Free: enough features to get started and to make an opinion.
Startup: 27 euros per month, enough to use the sales tunnels and workflows.
Webinar: 47 euros per month, gives you access to webinar options.
Unlimited: 97 euros per month to use the full potential of system io.
Compared to the paid software and services that system io replaces, yes this tool is not expensive.
How to make money with systeme.io?
With systeme io, you earn money by :
Selling your products on your sales site;
Selling your online training courses;
Collecting commissions through affiliate programs.