Inbound Marketing: THE method to generate leads sustainably
In this article, we will develop the concept of Inbound Marketing, an essential strategy to assert your position as an expert in your field and multiply your prospects. The following article will approach several facets of the Inbound Marketing strategy, develop the resulting concepts, and provide you with lots of advice.
Inbound marketing: definition
To begin with, we need to define what inbound marketing is. This is a marketing technique opposed to traditional marketing: bringing the customer to you, rather than going looking for him. Inbound Marketing could be translated by "inbound marketing", opposed to Outbound Marketing, "outbound marketing", which was used systematically before, for example by using telephone canvassing, e-mail. – mass mailing, paid advertising, announcements, etc.
In fact, the objective of Inbound Marketing is to encourage the consumer to make the process of getting closer to your business on his own . The roles are reversed . The consumer has a need, he does research, then approaches you in order to find out about the solutions available to answer his questions.
Inbound Marketing was first called "permission marketing," a notion developed by Seth Godin (former marketing manager at Yahoo and then successful author and speaker), who introduced the idea of asking permission from potential clients of their website. send informative content, a concept completely contrary to the advertising practices in force until then. Then the founder of HubSpot Brian Halligan has spread the concept widely, this time using the phrase Inbound Marketing: to produce content that is as qualitative as possible so that search engines and users will pay attention to it without the so-called traditional advertising device.
The rise of social networks, e-commerce, shopping on the web, combined with the attitude of rapidly changing customers, who are documented upstream, has triggered a real change in the methods in place on the journey of consumer purchase. Companies have had to adapt their techniques to cope with this upheaval which has overturned all the codes previously established in the history of marketing, putting the traditional strategies then in place for decades in a somewhat outdated situation.
Indeed, the Outbound Marketing (traditional marketing) has become less effective over time because of three main elements :
The overabundance of advertisements (on average, a consumer finds himself in front of 3,000 advertising messages per day!), which literally drown the public under their assaults;
The habit : by force, the consumer is no longer receptive to advertisements, he gets very tired quickly and quickly moves on;
Technological advances : ad blockers, anti-spam devices in mailboxes, Bloctel system, among others, tend to distance classic marketing from consumers who have understood the message and no longer wish to see their daily life invaded by intrusive offers of which they know all the cogs.
The Inbound Marketing methodology at a glance
The basic principle of Inbound Marketing is to attract the potential customer on his own without having to use classic advertising, considered intrusive and therefore disturbing. Inbound Marketing is a complete strategy to integrate into your prospecting plan and which includes several approaches: content production, sharing on social networks, referencing, analysis, monitoring, listening, but above all authenticity, because you will have to stand out!
Inbound Marketing follows a methodology that can be broken down into four points (which we will go into a little bit further in this article):
Generate traffic
Get leads
Convert in customers
Retain
The key element of inbound marketing
The key element of Inbound Marketing is to create a relationship with users, at all stages of the buying journey. . The objective is to break down the boundaries between the company and the public, by releasing an accessible, generous, more human image: the opposite of the usual advertising campaigns which invade everyday life, only address the product and give the feeling of want to force the sale.
Inbound Marketing gives personalization a prominent place . Users feel more concerned, and therefore more inclined to discovery. With this mindset, they are less defensive, and more likely to become loyal customers.
Before going deeper into the methodology that will allow you to set up effective and profitable Inbound Marketing, let's talk about this strategy in general, in order to permanently immerse yourself in this concept which will help you develop your business.
Inbound Marketing will allow you to create a strong universe around your brand, thanks to the content you will provide. Indeed, visitors will enjoy discovering the world of your company, its service offers through informative, anecdotal, perhaps even humorous publications, rather than falling for the umpteenth time on an advertisement of which they know all the tricks by dint of being saturated with it all day long. They will feel closer to you, to your brand, and feel the human side, almost on an equal footing, before delving into the business side you represent. You will become a vector of sharing, and not a new company just as adept and fond of advertising offensives as the others.
The web has considerably changed the panorama of supply and demand . Support is now designated as the keyword of the virtual relationship between the potential customer and the company. Inbound Marketing, if we follow this idea, therefore becomes essential.
But its main asset is that your advertising is done on its own, through your content, driven by your own internal values and your own story. Content is king and quality is the key word.
Inbound Marketing: how to do it?
We are now going to study the methodology of a well-crafted Inbound Marketing, which will allow you to generate prospects in a sustainable and efficient way. It is a real asset for your Business Development .
Step 0 of the Inbound Marketing strategy: study your target.
Above all, it is essential for your inbound marketing strategy to think carefully about what call the buyer personas. These are your perfect clients, the ones you make dream, those whom you would like more than anything to rally to your cause. Be careful, we are talking about representations here, not real people! He It is however useful to draw up the table, in order to be able to adapt as much as possible your content to match your personality, behavior, the basic habits and needs of your target. Take the time to imagine them, to design their way of acting. Your buyer personas will help you to produce content that will match your target audience.
1 time step of the Inbound Marketing strategy: attract visitors
Attracting visitors to your site is the very first step in the inbound marketing strategy. The higher the traffic, the more amplitude you will have in terms of leads. To do this, no secret: you must provide quality content, so that the visibility is maximum.
Blogs are arguably the most complete solution for providing rich content with high added value. Thanks to it, you distribute your content and have an already established exchange platform with your target if you activate the comments function on your articles. A well-kept blog, which alternates between different subjects, in a tone that defines and enhances your brand image will be your best showcase. , the proof, are you consulting mine ?.
The blog is like a book that visitors will browse to draw knowledge. If your content Corresponds to them and has a real added value compared to others, the blog will have an addictive effect on them, they will want to know more, they will read it from a end to end, will spend time there and will then be familiar with your universe. On your blog, you can let your creativity run free to offer your visitors a unique experience! The environment of blog is very competitive… stand out!
For optimal visibility and greater audience opportunities, SEO is essential, do not neglect it and develop a strategy, a line of conduct around it. Pay attention to it and pay attention to it. Over 70% of Internet users start with a Google search when they need something . Consider that your target, whatever it is, functions like these 70% of Internet users. You therefore have every interest in being located in the first suggestions of the world's leading search engine in order to reach as many people as possible from the first moments of the visitor's experience.
At last, to attract as many visitors as possible, don't neglect the impact of social networks. Content shared on a social network and subjected to user comments and other likes is a boon to your brand. Networks are part of the daily life of millions of people around the world, at all hours of the day and night, their impact is significant, and will accentuate the already strong presence by the simple content of your content.
2 th step of the Inbound Marketing strategy: convert interested visitors into prospects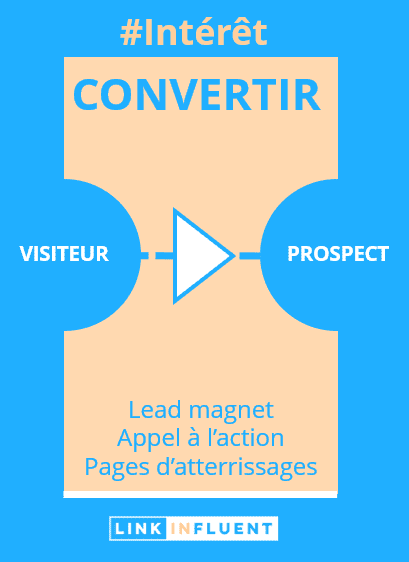 The visitors you have generated by the quality of your media, your presence on social networks and SEO are interested in what you broadcast. Here is your defined audience! The objective is now to learn more about these leads in order to get in touch with them to support them until the end of their project .
For this, you can set up what is called a lead-magnet. The lead magnet is content with high added value, unpublished, made available to future customers in exchange for information about them (mainly an e-mail address). These contents should obviously not be copies of your blog posts, on the contrary, they should really bring something new and very informative to the future customer.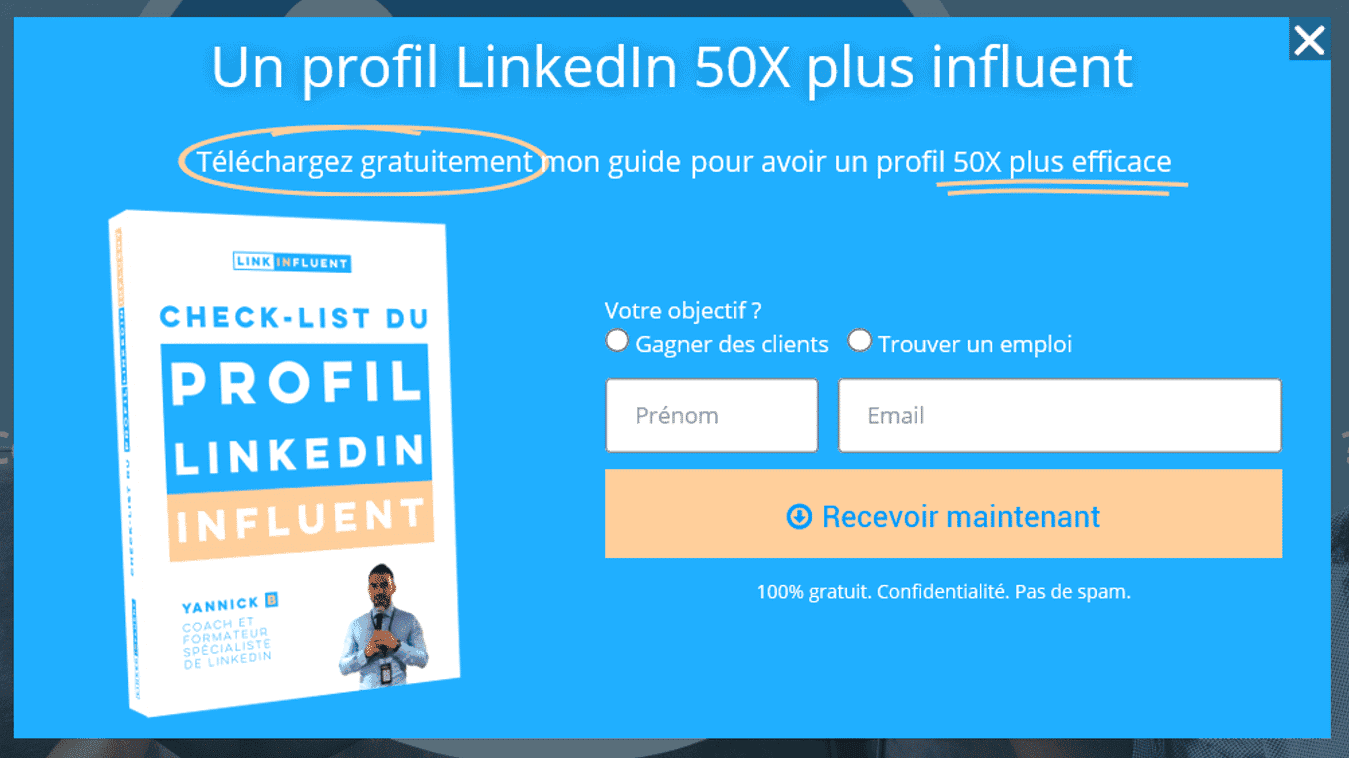 To guide your leads to this specific content, set up call-to-actions. These are buttons to click to access this content. These buttons will lead to landing pages, on which the lead can, for example, fill out a form, answer a quiz, take a test, participate in a survey, etc. The number of landing pages can be unlimited, the idea being that each one corresponds to a specific content (we will come back to the landings pages a little later in this article). Be creative and innovative in the experience you offer to leads, because if one will go to the first landing page, another can choose the second, or the third.
The idea of a unique and personalized experience to the maximum is the common thread of Inbound Marketing, it should not be forgotten, at each stage of your strategy.
Vary the offers and make sure they are intuitive. Visitors must access it with confidence, be curious and impatient, and especially not hesitate to give their email address or the name of their company. On the web, users are cautious and may be suspicious. Your content must build confidence, to automatically guarantee a healthy basis for your future collaborations and partnerships. Ideally, none of your visitors should leave your website without providing information about them. Because 98% of Internet users will only come back to your site, it is essential to "capture" their email address to maintain this relationship.
Once these actions are in place, in order to obtain as much information as possible about your leads, you will be able to move on to the third step of the process of your Inbound Marketing strategy.
3 th step of the Inbound Marketing strategy: transforming your prospects into customers
At this stage of your Inbound Marketing strategy, you have reaped some of the fruits of your efforts: enough to contact your prospects. But above all, you have succeeded in establishing a credible relationship with them, based on trust and closeness . If they have communicated their information to you, it is because they have read your free content. They have therefore confirmed that they belong to your target customers. Real communication has been established, but beware, it nevertheless remains rather fragile, because no act of purchase has been made. However, consider that you already have a special place in the minds of your leads . Remember that they have taken the time to be interested in your offers, that they have shared their email addresses and / or other information with you. Inbound Marketing has the particularity of establishing a tangible link between you and your target. Now you need to get to the heart of the matter.
You already have the certainty that your prospects are solid, that they have a foothold in you and are interested in what you have published. This is when a tool for analyzing the actions of your prospects will be your guide. Setting up an analysis system that will tell you the actions perpetrated by your prospects is an essential and necessary step for the smooth running of your Inbound Marketing. Supplement it with an automation tool that will send the right message at the right time and to the right person.
You must keep the relationship of trust and proximity that you have with your prospects, and thus focus your sales force on the needs, listening and discussion that emerge from their actions. Without forgetting to sell, because it is indeed the final goal, do not think at all costs to sell your products or your services, do not be this intrusive salesman who is the antipodes of the very principle of Inbound Marketing and that the leads are trying to avoid.
Analyzing the actions of your prospects is essential to identify a strategy based on what your offer can bring them. After all, these are people who have come to your content in their process of finding solutions to their problems. Targeting their needs in depth can only prove beneficial in maintaining the relationship established and making it even more qualitative.
A marketing automation tool is essential , in order to help you found relevant and adapted marketing campaigns. This is called Marketing Automation. It is a tool, or a set of tools, which will automate certain actions to be carried out to lead your prospects to the end of the project (the purchase), such as for example sending e-mails, publishing content. targeted, etc.
The information you obtained during the second step of Inbound Marketing will then be used to disseminate content that is personally adapted to this or that prospect . The ideal is to set up an intelligent e-mailing system, which will broadcast content relating to those that the prospects have already viewed, but be careful not to send e-mails too often, again in the lane. 'opting not to "harass" future customers and to do things "the hard way", in an offensive and flashy way like traditional advertisements.
Then, during the discussion phase with your future client, think deeply about the moments of exchanges with him. Listen to his questions, answer them, refine your knowledge of his need and move towards a qualitative sale.
It is thanks to this step that you will be able to close the sale and meet the needs of your customers. But inbound marketing does not stop there!
4 th step of the Inbound Marketing strategy: Retain existing customers
As we know, a satisfied customer is a customer who will talk about his satisfaction around him. In his network, people carrying out the same activity as him certainly have the same problems. People totally foreign to its field of activity can also hear about your company, about you, your quality customer relationship, and call on your services to find different solutions. Your existing customer is your best advertisement. He will become a qualified ambassador, who will spread your added value all around him, both satisfied with your service, but also with the quality of your customer relationship.
For this, and this is the keystone of all your activity in general, you must provide services that meet the expectations of your customers, even beyond their expectations. You have already engaged with them in communication based on listening and understanding, in which you have already differentiated yourself from the masses.
Your customers being satisfied, you can count on their recommendations to their networks. To maintain this relationship, consider implementing simple actions that are also at the heart of Inbound Marketing (because everything does not stop once sales have been made, quite the contrary!): Sending an email on birthdays, invitations to events, breaking news, relevant and original satisfaction survey, there is no shortage of ideas for maintaining a relationship with your customers.
Analyze your customers' habits over and over again, because otherwise you risk missing out on important elements. For example, if your client is a restaurateur, an email from you on World Gastronomy Day can be an effective idea in order to satisfy the customer beyond the satisfaction of your delivered product… Be inventive.
These are the four fundamental steps for quality Inbound Marketing, which capitalizes on the content of your site via a blog, generates traffic, leads, prospects and finally customers and therefore turnover.
Focus on content: keystone of inbound marketing
The content you provide to your visitors and potential customers really needs to stand out from the crowd. It is the trigger for the whole process, the very first step in Inbound Marketing, the factor that will keep visitors on their journey with you. With high added value, the content will bring something concrete to those who consult it. Obviously, it is not limited to a single medium, on the contrary, it is advisable to vary the experiences offered to visitors.
The different types of content for your inbound marketing strategy
They are frequently used. You must therefore make an impression and write articles that stand out from the competition. Establish a consistent common thread between your articles. This can go through the tone, the layout, the narration … Ask yourself about your corporate culture and identify the principles that you want to highlight and which your leads will be fond of. The articles blog posts are a great way to share behind the scenes of your company, to establish a climate of trust with your visitors. They will feel involved in your branding, and this is very important in the Inbound Marketing strategy which, let us remember, must first of all attract potential customers to you in an atmosphere of trust and of authenticity.
The video is become THE effective and trendy medium. Studies have shown that videos impacted visitors more effectively. So get started! A lot tools are available to help you create real life videos. quality, which will appeal to your leads. Particularly appreciated by smartphone users, video is a practical, fun format that demands sight and hearing at the same time. A must for inbound Marketing!
TO also read: How? 'Or' What post a video on LinkedIn .
Infographics, charts and other pie charts
Graphics offer clear and very precise information on a given subject. Easy to to interpret, within everyone's reach and foolproof readability, a good infographic will allow the user to visualize very quickly, by a few seconds, quality information. To highlight numbers, statistics, percentages, graphs are from formidable supports. The infographics are also very fun and relevant. Relatively simple to create, you can slip in important information to capture the attention of your visitors and reinforce them in the idea that you have advantages, and not the least!
Every week, you can post news related to your activity. Thus, in giving an appointment every Monday (for example) to your visitors, you will create continuity in your Inbound Marketing strategy and accentuate the aspect community of your brand image.
Interviews, e-books, glossaries, world days … Everything is likely to become a support to create quality content related to your activity and answers you can provide to your future customers' questions. You must keep you informed, stay "on standby", to be able to update and confirm your expertise.
Examples of topics to address in your content delivery
Your publications will be consulted by all the actors in your field of activity, whether they be customers, competitors, suppliers, etc. Publish referral content to the latest news in your sector will support your status as an expert and show your involvement, your professionalism. In addition, you will satisfy curiosity visitors by sharing news, innovations, etc.
Your customers satisfied are your greatest asset. Publish their testimonials, their opinions, describe the relationship that has developed between them and you.
Behind the scenes of your business
Without reveal everything, show a few moments in connection with the daily life of your company will in a way humanize your structure and strengthen the close relationship between you and Internet users. A new collaborator in your team? Make the presentation! Some new local ? Film the visit! Are you planning an event? Done a trailer to whet the curiosity of visitors!
In terms of content, you have spoiled for choice. However, be sure to stay consistent in your line. editorial, do not stray in too many directions at once. He is important to keep a common thread between all your publications. It's about to remain professional, to always stay focused on your activity, while breaking the slightly too formal image that sometimes emerges from a structure.
Focus on the landing page to generate leads
Discover my landing page, where I offer as a gift a guide to having an expert LinkedIn profile . She can inspire you.
Earlier in this article, we discussed the term "landing page". Let us now come back to this notion in more detail, because it is very important.
Also called "landing page" in French, the landing page is a page on your website which, in your inbound marketing strategy, will turn your visitors into leads. The landing page is accessible via a call-to-action (which we detail below), and it is on this that visitors can communicate information about them in exchange for an item they want to obtain.
Remember: a landing page = a specific service. It must focus on a particular problem of the lead, and deliver to him, following the transmission of his contact details, the solution to this same problem. If you have fifteen solutions, you must have fifteen landing pages.
Your landing page must be as efficient and attractive as possible so that Internet users do not hesitate to provide the means to be contacted. Landing page creation tools are available on the web, choose one that matches your corporate culture, your brand image and especially the content it distributes.
Pay attention to the titles, words and any images on your landing pages. Everything must tend towards the immediate benefit of the content it promises. Visitors are present on the landing page for this reason!
Finally, make the contact form that your Internet users fill out in exchange for the content to be intuitive. Your target should not turn around on the pretext that it is too complicated or too long to get what it has come for …
Note: beware of the RPDG! With the entry into force of this European regulation on the use of personal data, any organization that will collect data must obtain the consent of those who will provide it. You must therefore inform your Internet users of the purpose of the use of this data (in this case, prospecting), for example by having them tick a small box which will prove that the information was given with full knowledge of the facts.
To learn more, read my article on emails and GDPR .
Focus on the call-to-action
In French "call to action", the call-to-action manifests itself in the form of a button or a link on which a visitor will click to do something specific: download an e-book, participate to a quiz, a survey, receive a list of tips, etc. The call-to-action directs Internet users to a landing page (see point above). In order for visitors to click on them, they have to be irresistible!
To do this, remember your buyer personas. For each profile, a call-to-action, since each call-to-action will go to a different landing page, which will itself distribute specific content. Always keep in mind that the user must really feel understood, it is necessary that they live on your site a personalized experience as much as possible.
In order for your call-to-action to really push the visitor to click, several techniques can be used. The most effective is certainly that of urgency. For urgency, understand "limited time offer". For example, highlight an offer for the first ten registrants, a flash sale, a free trial for five days, etc. Here too, be inventive and let your creativity speak.
Your call-to-action must be located in strategic places to capture the maximum attention of your visitors. The main thing is to make them visible and attractive in just a few seconds. Bet on color, keywords, animation …
We have developed the fundamentals of Inbound Marketing. Now, let's take a look at various aspects of this concept, which you must master in order to be able to do effective Inbound Marketing yourself.
Inbound Marketing: a real investment!
Inbound marketing is not just a term and a digital strategy fashionable. It's a real investment! Tell you that the money put into advertising is gone once it is over . The money put into content stays on your site for many years and generates leads, it's an annuity!
Inbound Marketing is a real communication, sales and loyalty strategy. The whole process therefore requires a significant investment on your part. Because it will not be just a matter of publishing a few articles on your blog or automating a few sending of emails. On the contrary. Upstream, downstream, in the heart of the project, Inbound Marketing is a full-time resource, which is assessed in the short, medium and long term.
Inbound Marketing is fundamentally changing the classic old-fashioned advertising scheme, and if you want to succeed in your strategy, you'll need to adopt a new philosophy. Because Inbound Marketing is all about it: a new philosophy, a new attitude, a new approach, which allows you to question your company's values, the way you want to communicate them, who are your model customers. , how you want to create healthy relationships with them, both professionally and on a human level.
Produce quality content, distribute it on the right platforms, stay on standby so as not to miss anything on the news, study and analyze the traffic generated, take care of your leads, start the discussion and establish a relationship with your prospects for them. converting into customers, then retaining them and thus keeping your entire inbound marketing strategy viable takes time.
Fortunately, there are many tools to help you automate certain tasks, and you can also call in specialists!
To discuss your wish to implement an inbound marketing strategy, make an appointment for free in my agenda .
With organization, you will undoubtedly be able to succeed in your Inbound Marketing brilliantly. The essential is to be rigorous, from the creation of your content to the smallest attention to your end customer. The set-up can take a long time, and the results probably do not show up in the first week, but investing time in Inbound Marketing is a real opportunity for get leads, prospects and customers.
Inbound Marketing: how much does it cost?
From a financial investment point of view, everything will depend on your structure, your methods and your own qualities.
Indeed, if you have talent for writing, take charge of writing articles for your blog. Is one of your employees particularly good at video editing? Entrust him with the realization of more visual content. For the latest news, subscribe to newsletters related to your sector of activity, so you will be directly informed of what is happening, the latest innovations and upcoming events. If you have employees, involve them on a long-term basis in the inbound marketing process. Their ideas will certainly complement yours, and everyone will be on the same page as to which strategy to adopt. Delegating will also allow you to save on the possible solicitation of service providers.
Regarding the technical tools that will allow you to launch your automations, Marketing Automation, or those that will help you analyze traffic data, there is no shortage of offers on the web, but be careful and choose software that will be suitable to your needs. Many management and automation software have been designed for large companies, and their price suffers: it is between 5,000 and 10,000 euros per month to be able to use them. But the offering has grown to be suitable for smaller businesses, and you can find the right software for your needs and strategy for one with prices ranging from $ 0 to $ 800. A price which may seem substantial, but which will be amortized from the first months of your inbound marketing strategy. The key is to clearly define all the stages of the process of your strategy, to be able to assess precisely what resources you will need to carry them out.
Inbound Marketing in a few figures
Here is the increase in blog traffic you are viewing, since the implementation of an Inbound marketing strategy …
Here are some other numbers:
In mean, 1,200 new contacts monthly are counted for companies that publish about fifteen blog posts per month.
8 seconds . This is the average time during which a visitor's attention can be captured… or not.
67 % more leads are acquired by companies that have an active blog
70% from consumers prefer articles for information, rather than advertisements standardized.
9 out of 10 companies see their traffic will increase within 7 months of starting their strategy Inbound Marketing.
The personalized emails increase the click-through rate of 14%.
The figures show that the impact of inbound marketing is really positive. And this, from all points of view. For you and your company, obviously, because you increase your visibility, your sales and therefore your development prospects. But also for customers, who feel fully included in the purchasing process, no longer only considered as traveling purses but as real players, through their initial approach, then through the relationship established between them and your business.
Inbound Marketing: where to start?
Inbound Marketing is a complete, precise device that obeys rules and is built around a detailed methodology. You will need to spend time to think about its implementation, and this is not a step to be taken lightly, because several skills are involved. To help you, here are some tips that you can apply chronologically:
1. Start by making an inventory.
Do you already have a blog? Can you say that the graphics of your site are in line with your corporate culture ? What could be improved in the optics to seduce visitors? What resources do you have already and that you can integrate into your Inbound Marketing? This first step makes it possible to rough up the work of setting up.
2. Create and study your buyer personas.
As we have seen previously in this article, defining your buyer personas is a step essential for your Inbound Marketing strategy. Thanks to them, you will be able to create content that will be adapted to most of your customers' profiles potentials. Do not neglect this step, take the time to think about all eventualities.
3. Set a publication schedule for your target audience and promise to follow it closely.
Consistency is synonymous with efficiency and endurance. Two values that have a rewarding impact both for you, but also for your entire target, who will feel it as such. Do not hesitate to make an editorial schedule as well as to write a editorial strategy to help you plan all your actions.
4. Establish an overall roadmap for your Inbound Marketing …
… and always keep it close to you.
You will refer to it often, make changes, adjust it according to your results, your ideas, changes in the market… It will be for you what the compass is at Navigator !
5. Choose and configure Marketing Automation software …
… who will analyze your files of leads, prospects and customers to send them the right content at the right times.
Several factors come into play when choosing your automation solution: cost, possibility of synchronization with other management tools, the range possible actions, etc.
6. Finally, deploy your Inbound Marketing strategy.
Now that you have all of the tools in hand:
Produce or have your content produced
Work on SEO
Animate your social networks
Study your test results
Stay agile!
Inbound marketing: to conclude
Inbound Marketing is based on a conversion tunnel: visitors> leads> prospects> customers> ambassadors, based on four fundamental steps.
It's up to you to set up your own values through the Inbound Marketing process, you will gain in terms of productivity, because your efforts, if they are well conducted, will lead to your success!
Good Inbound Marketing requires an increased presence on social networks. If you are in BtoB, LinkedIn is a must. In order to complete the subject, I invite you to download my checklist for having an influential LinkedIn profile from which you can efficiently publish your content.
You can also take a strategic session offered to present your needs to me , your challenge, and discuss about this article and Inbound Marketing:
So what do you think of the inbound marketing strategy?