You are a BtoB professional and want to set up a digital marketing strategy well established? You are in the right place ! Totally different from the classic strategy of BtoC companies, discover in this article 10 secrets for your BtoB digital marketing strategy!
Tip 1: use inbound marketing in your digital strategy
THE' Inboud Marketing consists in bringing in the customer by himself in a natural way, unlike the classic method of seeking him out in an intrusive manner. The idea is to attract a qualified audience to your website by using all the channels adapted to your target.
The methodology of inbound marketing
The principle of the Inbound Marketing strategy is to bring visitors to your website and then convert them into prospects and then into customers! And for that, you need to create relevant and relevant content to attract and seduce them without investing a colossal budget in advertising. It is a complete and global strategy at the service of your Business Development which makes it possible to generate traffic, obtain leads, convert prospects into customers without forgetting to build loyalty.
In practice, you put in place a content and keywords strategy. A few months later, your first prospects appear. Your strategy is starting to work. Now, you have to keep the interest of your potential customers by capturing them with even more appropriate content. For example, using a free e-book download system with a fill-out form to get to know your new visitors better.
Once the information has been collected, you move on to the next step: transforming your prospects into buyers. In the case of a digital marketing strategy for BtoB companies, the prospect can also be relaunched by a marketing automation system, personalized newsletters, etc.
Subsequently, it will be necessary to retain it. This is an essential step! Gain new customers thanks to a prospecting plan efficient will increase your turnover, but retaining professionals will allow you to sustain your business over the long term.
We will develop all of these tools, for your digital marketing strategy, in the rest of this article.
Tip # 2: Take stock of your market
The first step in your digital marketing strategy is to diagnose the market. Indeed, you must know perfectly:
The targets you are aiming for. For this, you can use the tool of the Buyer persona .
The macro-environment in which your market operates. With l 'PESTEL analysis , you identify the influences that can act on your company according to 6 areas: Political, Economic, Sociocultural, Technological, Ecological and Legal.
Your market, its opportunities and your competitive advantages. You can help yourself from the matrix SWOT (Strengths, Weaknesses, Opportunities and Threats) to structure your study.
Who are the professionals who need my products? Why are my services essential? What are my strengths? Who are my competitors? What tools do they put in place at the strategic, environmental and human level? How can I contact my prospects? Etc.
All these questions allow you to first think in a pragmatic way about the future actions that you can put in place. It's a full analysis and sort of a health check of your competition that you need to do.
Analyzing the market, your strengths and weaknesses as well as your competitors' digital marketing strategy is the first step before finding your tools to position yourself as an expert.
Tip 3: structure your website
Your online presence strategy requires an optimized website. So, before you start selling your products, you need to structure your website. As you can imagine, to offer your services to other professionals, your virtual showcase, that is to say your website, must be perfectly organized, clear and precise.
Your tree structure must be thought out upstream and fully optimized before considering an SEO strategy.
Your home page is the entrance to your site, it is one of the first pages that your Internet user consults. It must in a few seconds meet the need for it. Information is therefore crucial. The page should neither be overloaded nor too empty. Remember that today the mobile is more and more used to carry out research, your website must therefore be adapted to all media (tablet, mobile…).
You then optimize your product pages among your main categories. These must contain all the necessary and useful information, going to the point. Price, description, attractive visual, call to action button …
Most websites have a "blog" section. The blog offers optimized articles that appeal to search engines (for natural referencing) and relevant content to inform your readers. To do this, you organize your blog by finding content ideas relevant.
Tip 4: set up a natural referencing strategy
Natural referencing or SEO (search engine optimization) is essential for an effective digital marketing strategy . This consists of implementing different techniques to improve the positioning of your pages on the list of search engine results (Google, Bing, Yahoo, etc.). A well-referenced site is located in the first lines offered to the reader.
The three levers of natural referencing are:
The content (keyword strategy, relevant content, quality text, etc.);
The technique (HTML tags, light site, site adapted to mobiles, etc.);
Backlinks (links from other sites that recommend your pages).
Setting up an SEO strategy is a tedious step that takes a lot of time, but brings long-term results.
Targeted and precise keywords
In the case of a BtoB company with a very targeted product (niche market), the searches are certainly lower (in number), but more relevant.
Indeed, when you target wide, you are targeting more people. However, the larger the query, the less guarantee you have that the prospect will be transformed. The more precise the search, the more likely it is to be converted, because the result meets a specific need.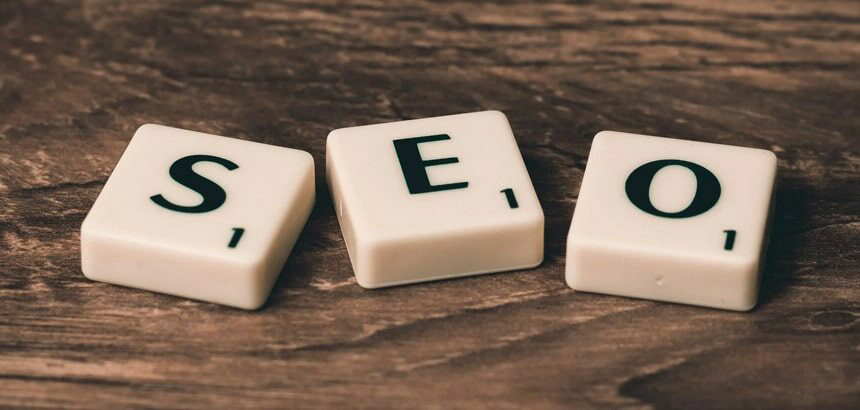 Tell yourself that you are talking to professionals. As soon as a team is looking for a specific product, there is an intention to purchase. In the case of a SEO strategy for a BtoB company, it is even better to maximize your chances on low-research keywords in order to generate purchase.
Adapt your keyword strategy
This strategy should be adapted according to your sector of activity and the price of the product you are marketing. For example, a company that offers specific development software has a low volume of research, but a higher price tag. This allows him to develop his turnover by selling few products.
However, you should also vary your keywords. For this, consider using synonyms, different turns of phrase. We invite you to adopt Ubersuggest , free SEO tool to help you find keywords and audit your site as well as those of your competitors.
Your content strategy
This part of your digital strategy is one of the most important. Indeed, if you do not have a significant budget to create an Adwords campaign, arm yourself with patience to move up Google's positions thanks to natural referencing. Indeed, once Google makes you climb to the first rows of results, your strategy has been effective. Unlike a paid campaign, your page will not disappear once you stop your budget. SEO takes a long time to set up, but lasts.
Do you already have a blog section on your website? Now take the time to write qualified content. To do this, organize different sections in line with your keywords and your sector of activity.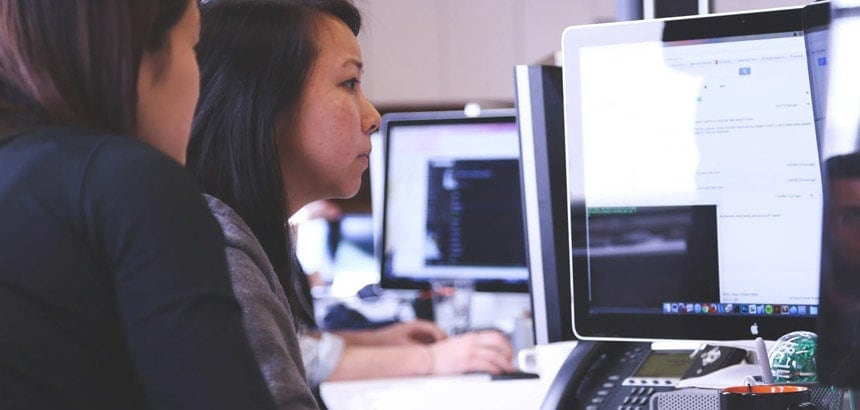 Besides this keyword-based content strategy, there's nothing stopping you from writing articles to showcase your company, your team, or the latest internal event. You can also bet on a video marketing strategy. Benevolent communication is always welcome, lean on your communication plan . However, you still have to think about SEO and optimization to attract qualified traffic.
Tip 5: multiply positive reviews
Today we have the possibility of having one-click access to the opinions left by Internet users on a company on your Google business page, on your social networks and on your website. Whether they are good or bad, they reflect your society. The key to attracting customers is to have lots of verified reviews. Many companies offer a verified review system. This allows you to gain credibility and reassure professionals who may be interested in your products.
The company Verified Reviews offers this type of service. The customer leaves a comment which is then managed by the platform and submitted in the form of stars. This system makes it possible to gain reliability and generate conversions. It is often difficult for a new business to build trust in a future client, so consider asking the professionals you deal with for feedback! You also gain visibility on Google My Business.
Send your press kit journalists and influencers to obtain media coverage and increase your notoriety. The more people talk about your business positively on the internet, the more you consolidate the confidence of your targets.
Tip # 6: Use Social Selling in Your Digital Marketing Strategy
the social selling is to use social networks to find new customers. Depending on your industry, even if you sell to companies and professionals, your image is the basis of your strategy. You must be as present as possible on the web.
It is however important to use a network wisely rather than wanting to be at all costs to be on all social networks. Each platform has its own codes and its audience. The choice as well as the published content (infographic, photo, Story or Story Pin , video, etc.) are to be studied according to your situation. A company that sells development software does not necessarily have to be on Instagram ™ for example. Conversely, a mental coach has every interest in using Instagram ™ and / or Pinterest ™ in order to film his coaching trainings with the internal teams of a company.
Social media are now a gold mine for social selling, but LinkedIn ™ remains the platform of choice for B2B professionals. This network offers the possibility of creating for you (or your company) a real professional page, to publish relevant content to prove your expertise, to target and get in touch with your prospects.
Do you want to be supported in a social selling or BtoB prospecting process? Discover the Proinfluent® Method which allows in 6 main steps to win up to 5 professional clients per month.
Tip number 7: Be present on LinkedIn ™
With 20 million members registered in France in 2020, i.e. around 64% of the working population (source: LinkedIn ™ key figures ), LinkedIn ™ is the go-to platform for you and your company.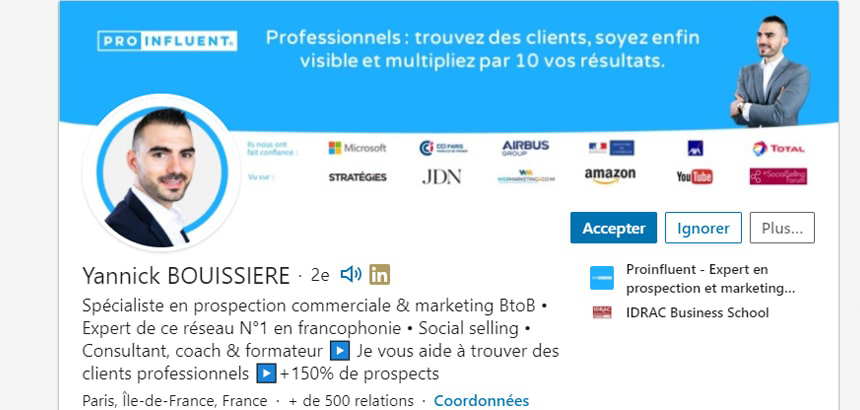 LinkedIn ™ is a perfect illustration of social selling. You can target your target customers, observe them, analyze their profile, news, behavior and get in touch with them.
Communication, exchange, sharing, your entry into a relationship with your prospect are based on benevolence. You can contact them directly by adding them to your connections, but you also have the opportunity in a more discreet and just as effective way to show them interest. Then, you can convert these prospects into future customers while having a different approach from that of "aggressive" advertising. The Proinfluent method ® allows in particular to quickly develop its BtoB network.
To read : Being on LinkedIn ™: 8 good reasons to be there
Tip number 8: automate your actions with marketing automation
Marketing automation comes after you've successfully attracted your prospects and want to transform them. As its name suggests, it is about automating certain repetitive actions in order to save time, like sending messages or posting on social media.
For example, as soon as a new user connects to your site and subscribes to your newsletter, an automatic welcome message is immediately sent to him in his inbox.
Establishment of sales scenarios
To implement the marketing automation strategy, you have to arm yourself with your logic and be pragmatic. You have to think about your entire sales process, the different stages and the customer journey before buying it. Thus, you identify repetitive actions that can be automated.
With the marketing automation strategy, you benefit from a significant time saving. If the setup is tedious, you will have a profitable return on your investment.
Emailing campaigns lend themselves well to automation with the use of suitable software such as SendInBlue, Mailchimp, Drip or ActiveCampaign. Different emails are sent to your customers depending on their journey. The idea is to personalize all of your messages in order to offer a targeted and appropriate message to your future buyer. All the information that you have been able to collect on the networks, your website and your communication tools helps you to create your personalized messages and to set up your strategy. All your marketing campaigns are thought out and planned in advance.
The point of contact for your prospects
Today it is online marketing that speeds up the buying process compared to telephone prospecting or cold emailing . With the many communication tools and access to instant information, the prospect has the opportunity to learn about a product themselves. He even has access to the opinions of other buyers. He does not and should not need to search for information. It is she who must come to him in a simple and fast way and above all without aggressiveness.
Before implementing such a strategy, you need to make sure that you fully understand your target and their behavior. For this, you must know the point of contact of your customers which is none other than the place where your customer is located. As part of a BtoB company and depending on your sector of activity, it can be found on your website, but also on social media such as the professional network LinkedIn ™ for example. If you know your target, their behavior, the anchoring of your prospects, you can launch your strategy.
Tip # 9: adopt the lead nurturing strategy
What is lead nurturing?
The principle of this strategy is based on transformation. Indeed, after having attracted your prospects, you have to convince the most cautious to take action: buy your product.
To do this, the lead nurturing strategy consists of promoting the buying process by supporting your prospects throughout the buying journey. It can use multiple channels and levers, including social media, remarketing , emailing. If the upstream work of selecting future customers has been well done, all you have to do is produce personalized content adapted to your target to transform them.
The personalized newsletter
Emailing or the newsletter is particularly part of the lead nurturing strategy. When you receive a personalized newsletter addressed to you with an impactful subject line that meets a need, your curiosity is piqued. First step validated! You open the email and this is where it all happens! If the information wins your interest and the offer seems consistent, you move on to the next step: purchase.
Be careful not to neglect the rest, the product / payment page must also be adapted so as not to lose the prospect. You must clearly support your future client and take care of him, without rushing him. This allows your prospects to assess the seriousness of your business. There is nothing worse than inappropriate content to scare away customers …
The best return rate (4 to 10 times higher) is for emails that offer:
possibilities for downloading free e-books, computer graphics (a visual is always more meaningful), etc. ;
demonstrations;
or personalized advice …
For BtoB companies, a demonstration of a software, a free trial can lead to the purchase if it is well thought out. That's why you have to think upstream about this whole process and always put yourself in the prospect's shoes.
Be careful not to overdo it! Tell yourself that your prospects are in high demand by your competition, by advertisements, all the time and everywhere. So be smart, concise and precise. Put your ideas in order, find the message you want to get across and summarize the information in a short way and test your strategy.
Here are some rules to follow for your emails:
An object that calls out;
The personalization of your object and your content (use the first name of your interlocutor for example);
A precise title that makes you want to see the rest;
A concise message that gets straight to the point in seconds;
The call to action button to direct your readers to an article, video or sales page;
Links to your social networks;
An original but above all clear presentation that makes you want to know more.
Tip # 10: analyze the ROI of your digital marketing strategy
To boost your Business Development and your sales if you are a B2B company, you should always analyze the return of your actions.
Whether on social networks, on your website, or even your communication media, you must measure your performance (ROI).
Google Analytics allows you to have access to extensive statistics to analyze the pages of your site the most or less viewed, the bounce rate, the most visited categories, where your prospects come from, the site traffic …
This free tool is not insignificant and you owe it to yourself to check regularly if your strategy is effective by checking that your site has an increase in traffic, by comparing the data before / after your strategy. These indicators are more than useful to know if you are going in the right direction.
Regarding your natural referencing, free tools such as Ubersuggest offer you to analyze your positions on Google … The best thing is to keep up to date, on an Excel document for example, the keywords you want to work on, indicating their position and their evolution.
Digital marketing strategy: 10 secrets for B2B companies, in conclusion
Use the inbound marketing strategy which is perfectly suited to BtoB companies;
Take stock of your market, analyze your targets and your competitors in order to highlight your competitive advantages;
Structure your website: your digital showcase;
Set up a natural referencing strategy: having a superb website is useless if your prospects cannot find you!
Multiply positive opinions: the more positive comments you have, the more credibility you gain;
Use social selling: social media are suitable tools to make yourself known and give an image of an expert in your sector of activity;
Being on LinkedIn ™ is essential for BtoB professionals;
Automate your actions with marketing automation, in order to save time, especially for your emailing campaigns;
Adopt the lead nurturing strategy that allows you to transform your cold prospects into hot prospects;
Analyze your returns on investment to adjust your digital marketing strategy.
Digital marketing strategy: to summarize in three questions
Comment choisir les actions de ma stratégie ?
Start by analyzing your situation at the moment T: do your customers find you easily on the internet? How are your content organized on the different platforms (website, blog, social networks)? What is your image on the net? Etc. All these questions allow you to define the actions to prioritize according to the state of your current digital presence and your budget. If your resources are currently too low, you can focus your digital marketing strategy on certain tools only. Content strategy, for example, is an easy tool to set up.
Comment construire une stratégie de marketing digital ?
It all starts with the analysis of your market, your target customers, your competitors and your competitive advantages. Once your analysis is done and your objectives defined, you can put in place the first actions: optimization of your website, management of your social networks, definition of an inbound marketing and social selling strategy. Then, when your digital presence starts to grow, head to marketing automation and lead nurturing solutions.
Quelle est la meilleure stratégie de marketing digital pour une entreprise BtoB ?
The best digital strategy to adopt depends on your industry. You must first of all know your target perfectly in order to be able to find the actions to implement. Inbound marketing and social selling remain effective strategies at a lower cost to adopt in order to be able to sell to professionals over time.