Pinterest ™, an inspiration network, has more than 250 million users.
Very used to find ideas, and visuals, the latest trends are on Pinterest ™. Each social network has its particularity and its effectiveness in promoting a business. Photos, videos, visual content have a front row seat on Pinterest ™ and take first place on the podium.
Contrary to popular belief, it is not a social network, but a visual search engine … Indexed on Google!
Pinterest ™ is a real showcase for your business and will allow, thanks to relevant images, to generate traffic on your website.
We explain how, through 20 secrets, your business will be successful on this network!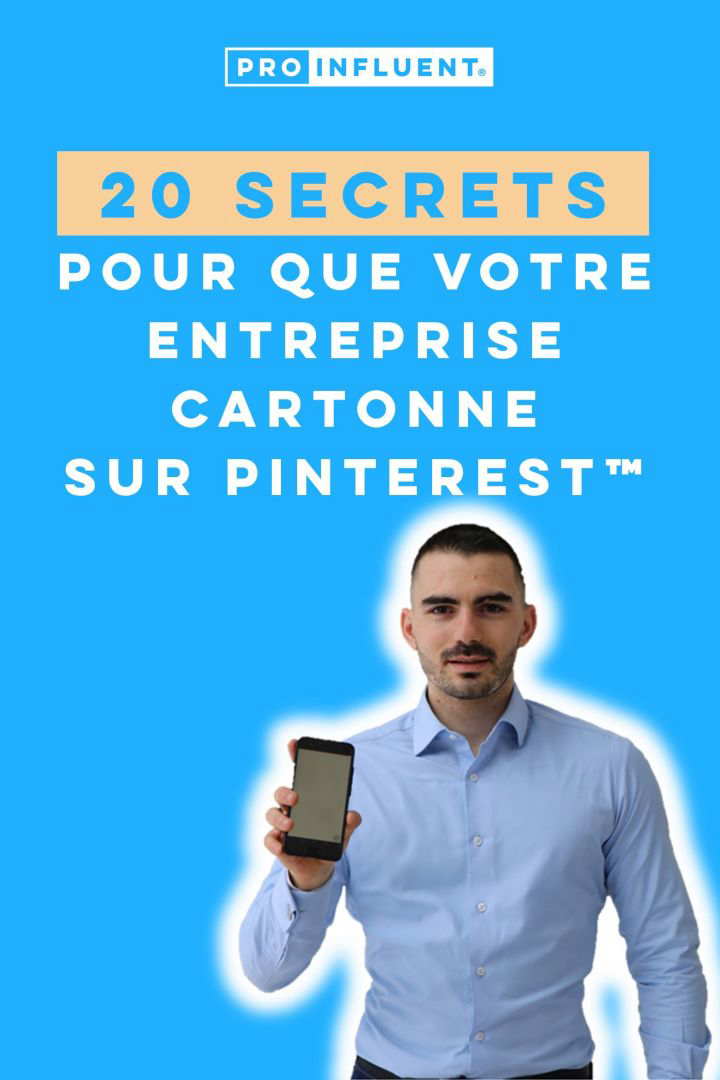 How does Pinterest ™ work?
The principle of Pinterest ™ is to pin boards with images. These Pins can then be categorized by topic. It is a real gold mine for companies, especially for those with a strong visual identity and a lot of visual content to share. You or your Community Manager do not miss the potential of this network!
You are probably wondering the difference between Pinterest ™ and Instagram, also an image sharing network.
Instagram ™ is a social network used to capture moments, photos through filters in order to have "sensational" visual content. Pinterest ™ is organized information sharing. We use it as a virtual catalog but also to save our favorites. Instagram has a more social value. Depending on the concept of your company, you can fully integrate the two into your digital marketing strategy .
1. Understand the Pinterest ™ algorithm
The Pinterest ™ social network will use several criteria to highlight certain brands. As for your website, you will have to take care of SEO . You should therefore be careful to fill in all the descriptions. We will come back to this later at the bottom of the article.
For your account to be credible, your site will also need to be optimized and of quality. Obviously, the more subscribers you have, the more credible you will be in the eyes of the Pinterest ™ social network.
2. Create your business page on Pinterest ™
Although it may seem obvious, you absolutely must create a business account and not use your personal account. You are a mental coach in Paris, you want to develop yourself and present our new online services, so you are going to create your business page .
Upload your logo as profile picture . If for example you are a coach, you can easily put a photo of yourself, smiling, with your logo below or your motto above.
In the "name" tab, all you have to do is enter the name of your company. You can also add a few key words, for example David, mental trainer, your daily coach.
You can then develop your services in the "about you" section. Be concise and to the point. You have the option to add a link if you wish. For example, still for mental coaching, why not put the link of your last video ?
The professional account provides access to many features such as statistics or Story pins .
Pinterest ™ is a very large network, you will find a lot of inspiration and images that will make you want. The golden rule as for all business networks or social is to always keep your identity and your values. We repeat it with each article, your graphical charter is your path: your color, your logo, your typographies …
3. Pin to Pinterest ™
Pinning is the key to success on Pinterest ™. The idea on Pinterest ™ is that your Pins are saved as much as possible by your readers, but that you also shared those of others . Be the more active possible by sharing with the "Pin-it" button and voila! You then have to choose in which table the publication will be directed. The description can then be changed according to what you want to highlight. We advise you to do this several times a day and very regularly. You can also program your pins.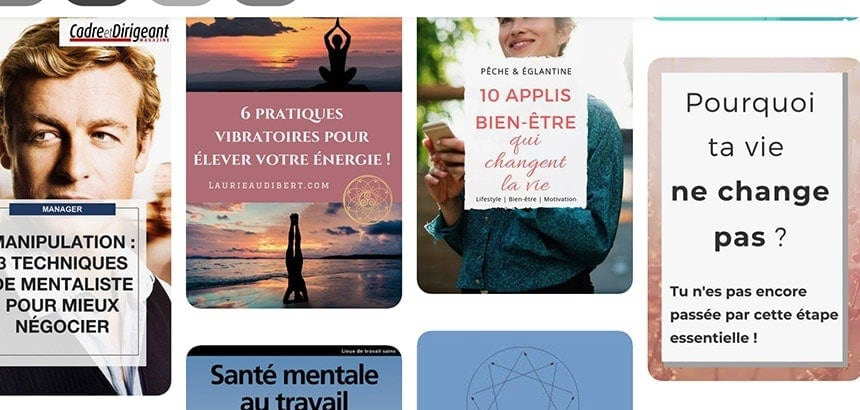 4. Add the Pin-it button to your site
Very important, it will allow your readers to re-share your article on their Pinterest ™ account. The idea is to make sharing easier. To do this, you just have to configure it. There are sharing plugins on WordPress for example. Pinterest ™ explains how add the Pin-it button on your website with ease.
5. Claim your site on Pinterest ™
You MUST claim your site !
This will allow you to have access to statistics and especially to be authenticated by Pinterest ™ with an icon approving that your site has been validated by the network.
Here's how to claim your site on Pinterest ™:
To claim your site on Pinterest ™, all you need to do is:
go to the left column of your settings,
then click on "claim your content".
Paste your site URL and click "Claim".
A popup appears with two options:
Adding an HTML tag in the section ;
Download the HTML file at the root of the site, that is to say on your server in the highest folder.
Once done, click on "Next" and then "Examine".
All you have to do is wait for the validation of Pinterest ™.
6. Add Pinterest ™ Rich Pins, or Pinterest ™ Rich Pins
What is the use of adding Pinterest ™ Rich Spins?
This is used to add additional information to your Pins, so that your Internet users see your company, the title of the publication, your description, the call to action ie the button "Read it" or "Buy it. now ", possibly the price of the product …
It is therefore very important to provide more information and encourage Internet users to take action. This improves the traffic on your pages, but also the conversion!
I will detail all the kinds of Pinterest ™ enriched pins in the rest of the article.
How to add Rich Pins, or Rich Pins Pinterest ™ on WordPress?
To add Pinterest ™ rich pins you have to do some manipulation. This is to add the Open Graph metadata to its website. Be reassured behind this complicated name hides a simple thing: information associated with your content.
If you use for example the CMS (Content Management System) WordPress, follow the guide and it will be very simple.
Here's how to add Rich Pins, or Rich Pins Pinterest ™ to WordPress:
If you don't already have it, add the magical Yoast SEO plugin:
You must go to the plugin and click on "social networks", in the Facebook tab, activate the button "add open graph metadata":
If you have already claimed your site as we told you, you can go to the next step, if not then go back to Pinterest, in "settings" and claim your site by following the tutorial given earlier in the article.
Then go to the WordPress plugin YOAST SEO then "social networks" and click on Pinterest ™. Paste the code received once the Pinterest ™ validation has been carried out (up to 24 hours) in the section and you're done!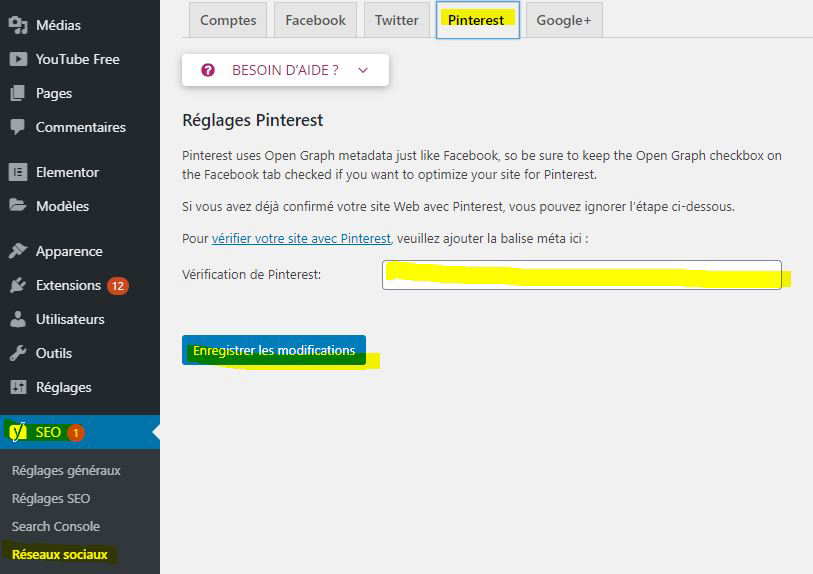 Go to Pinterest ™ to validate your metadata in the dedicated page . All you have to do is add the URL of your blog post.
If you use another CMS or your site has been custom coded, Pinterest ™ explains the procedure to follow to set up this system. enriched pins .
7. Enriched Pinterest ™ article pins
The little extra of these pins is that they allow you to record information about the article you have highlighted: the author, the title, the description. They offer a lot of detail and are therefore better referenced on Pinterest ™. Ideal for sharing an article!
8. Pins enriched with Pinterest ™ products
Same principle, your pin will have a lot more details. Ideal if you are selling products, as these pins display price, availability, and description.
Please note that it is essential to be able to buy on your website otherwise you will not be able to create a pin enriched with products.
9. Pins enriched with Pinterest ™ recipes
When you are looking for a recipe, you want to quickly see if you have the main ingredients. Pinterest ™ takes this into account and offers many more details: list of ingredients, dosage …
10. Pinterest ™ app pins
Very practical, they have a direct download button to access your mobile application. However, only people with an IOS system will be able to access it.
11. Organize your Pinterest ™ boards
Now that your account is clean, it's time to create your boards, also called "boards". Avoid doing them by "inspiration". It is important to think about the organization of your boards.
For example, make an Excel document, think about your themes and put aside the keywords that should be used.
Need a hand with your SEO and help you find the right keywords? We invite you to discover our article to find the right keywords thanks to a Ubersuggest free tool that makes your life easier.
Here is an example of how you might organize your tables. If we take our own example, we could create several tables on different themes questions / themes / categories. For example a table " Find clients »Could contain all the articles dedicated to prospecting and advice dedicated to this topic.
In each table, you will have all the articles and content. In short, you have your overall themes which are for example like your main categories on your website and the articles which belong to your categories.
12. Think mobile on Pinterest ™
Be careful, your images must not be cut off! Think that the majority of Internet users connect on their mobile and this trend is likely to spread even more! The ideal size for Pinterest ™ visuals is 1000px x 1500px. Always think about rendering on mobile!
13. Promote videos to succeed on Pinterest ™
Videos now have more impact than visuals when done well. They make it possible in a few seconds to directly understand the interest of a product. Posting videos is more than recommended if you want to get your business exposed on Pinterest ™ . A short video of 5 to 10 seconds will be more than enough for an unsponsored pin (you have the option of embedding longer videos as paid advertising). The visual is much more important than the sound. Focus your attention on the visual and the message.
Same principle as for visuals, you must optimize your text for videos. Always think about SEO optimization.
The golden rules that apply are always the same:
SEO optimized description;
Attractive visual in mobile format;
Respect of your graphic charter;
Link to your site.
14. Use specific keywords on Pinterest ™
Pinterest ™ is also a network that will boost your SEO. The backlinks, which link to your site are very important. Pinterest ™ is a recognized and very influential site, having links that redirect to your website is therefore a real asset for your business. I would nevertheless point out that these backlinks are not in DoFollow (understand that do not transmit SEO juice).
That's why you need to be very careful with your meta descriptions. It is the same principle as when you complete your descriptions optimized for SEO from the administration interface of your website.
15. Generate the need to buy and personalize your Pinterest ™ content
On Pinterest ™ the interest is generate traffic to your website . This is why it is absolutely necessary that your visuals are coherent. As a cover image for each theme, you can use the title of your table. Your visual must be impactful and must generate click. Image content network, you will have to redouble your efforts to make the reader want to know more and prefer to choose you over your competitor.
If you do not use image creation and editing software, we invite you to go to the site CAN GO , which allows you to create quality visuals very quickly and at the already adjusted size. To do this, follow my tutorial to create a banner and visuals on CANVA.
Tell yourself that Pinterest ™ is like a storefront. What stores are you going to join?
Logically in the one which corresponds to your needs and which arouses the desire in you to go there to make some purchases. However, you can also let yourself be tempted by the shop next door which does not offer the items you wanted to buy, but which generates a need in you.
Avoid ready-made or too sanitized images, the reader is now looking for the "true", for stories in which he can project himself. The trend is now reversed, which is what is criticized for social networks such as Instagram where everything seems smooth, without a hitch with a perfect setting in which no one finds it.
Some of the links in the article are affiliate links (meaning we get a commission when you buy the product by clicking on the link), but that doesn't change our recommendations because we really recommend the tools.
16. Test your Pinterest ™ community
You can create several pins for the same article, moreover Pinterest ™ proposes it to you for each article. The idea is not to have duplicates, on the contrary, but quality content. This will allow you to test which visual generates the most visits to your site and thus adapt all of your content.
17. Analyze your Pinterest ™ statistics
Along the same lines, it is very important that you can analyze the feedback of your content . As with each network, it has an analysis tool to visualize which route your reader takes and which tables have worked best.
The tool gives you an overview with the performance of your Pins.
Easy to use, you have filters that allow you to have a more targeted search: content, device, sources and formats.
You also have access to certain data on your audiences which will be very valuable, namely the categories and centers of interest. This can direct you to topics that may be of interest to your audience.
Using the statistical tool will allow you to " improve your performance and gain relevance.
18. Using Pinterest ™ ADS
You have the option of creating ads on Pinterest ™. You can choose to use the audience offered directly by the network, i.e. the audience that has already visited your account. If you don't have much awareness yet, you can create your own audience. Pinterest ™ then offers you centers of interest, keywords, socio-demographic criteria and finally to choose the locations in the same lineage as LinkedIn Ads .
You have several possibilities: the home page and the search results (ideal for small budgets). The best is to use both!
One of the tools that will showcase your entire product line is the Pinterest ™ carousel.
19. Create a carousel on Pinterest ™
The Pinterest ™ carousel allows you to embed multiple images. Very easy to use, you just have to go to "ads", "create an ad", then add your campaign objective and then follow the instructions. An immersive experience that directly arouses the reader's interest! You can also adapt it by highlighting several articles. If you are launching a new line of products, this is ideal!
The carousel is on the rise, including on the professional network LinkedIn ™. Why ? It allows the user to interact with the content, but also, it makes him stay on it longer, which appeals to algorithms and to the LinkedIn algorithm ™.
20. Make Sponsored Pinterest ™ Pins
Ideal for focusing on a single product, Sponsored Pins will allow you to gain visibility with a target audience. If you want to focus on a product or service and have a budget to spend on it, you can compare which social network is most receptive to your products.
When you are going to create your advertisements, do not forget the call-to-action button, that is to say the call to action such as "Book" or "Order". You must provide all the tools so that your Internet users have access to your website very easily.
Bonus to hit the mark: join collaborative Pinterest ™ boards
You can join collaborative boards on Pinterest ™. These are Group Boards, that is to say they are pinned by several people. They still have to be on the same theme. This allows you to gain visibility and therefore subscribers . To create a shared board, all you need to do is invite your connections. Pinterest ™ allows you to create collaborative tables in a very simple way.
Pinterest ™: 20 secrets for your business to be successful on this network: in conclusion
Create a professional page to gain credibility;
Configure your site to be compatible with Pinterest ™;
Be active, pin regularly in mobile format;
Be creative, create graphic and precise tables;
Take care of your SEO and your tags to optimize your SEO;
Always put links to redirect to your site;
Create an adapted content strategy.
Pinterest ™: 20 secrets for your business to be successful on this network: to sum up in 3 questions
Pourquoi utiliser Pinterest™ pour développer mon business ?
This image sharing network will bring you more than visibility. Thanks to its many features, you can boost your SEO.
Comment booster ma société grâce à Pinterest™ ?
By following our advice, you will be able to benefit from a stronger notoriety. Pinterest ™ is the showcase for your products. Thanks to a content strategy, you can easily gain in turnover .
Pinterest™, Instagram™, ou Facebook™ ? Quel réseau choisir ?
You can completely choose by strategy to use only one network. However, the more present you are on the web, the more visible you will be. It all depends on your target and your marketing strategy.