Haven't heard of Ubersuggest yet? Find out how this marketing tool became the benchmark in SEO! We reveal our 8 secrets to rank your site !
Ubersuggest: what is it?
Ubersuggest (and not Ubbersuggest) is a free tool which allows you to analyze all of your SEO for free and find keywords. It is positioned as an "all-in-one" platform. Like many software, Ubersuggest follows the Freemium model, that is to say that their business plan obviously provides for a paid version with more features.
The free version is however very well designed and already allows a good analysis. Very useful when you have just started and your budget does not yet allow you to invest in advanced analysis software such as Ahref for example.
Who is behind Ubersuggest?
Neil Patel and Mike Camo, aren't these names new to you? These SEO experts bought Ubersuggest in 2017 and have been improving the platform ever since. Thanks to this free solution, many entrepreneurs can now improve their positioning. Neil Patel has notably edited several software to improve the referencing of websites. Ubersuggest is therefore in good hands and within everyone's reach!
Ubersugget: what is the difference with other keyword generators?
Ubersuggest offers a paid version with much more advanced features than those of Semrush for example. Always updated, the platform is regularly improved. It is very easy to use, especially for novices. Ideal for your digital marketing strategy , it allows you to start your first steps before becoming an SEO pro.
Accessible in 8 languages, you can use it without creating an account, a significant advantage. You will simply have to connect to your Gmail account if you want to create a project (SEO analysis of your website).
Ubersuggest: free or paid version?
A powerful marketing tool, Ubersuggest offers a paid version like all of its competitors. However, it remains very accessible, it starts from 29 euros per month for personal use, 49 euros for SMEs and up to 99 euros per month for agencies with up to 8 websites.
In the paid version, we find coaching , video lessons, email assistance. Ubersuggest has all the ingredients for a 100% successful recipe! In addition to professional support, you will of course have access to all the information on your competitors. For the paid formula SMEs, for example you have access to more than 5,000 backlink lines, 50,000 main keywords from your competitors, 50,000 keyword proposals and keyword analysis, 7 project creations, position monitoring, associated research. ..

How to use Ubersuggest to increase your ranking?
The general view
Ubersuggest is an ergonomic site very easy to use. We have tested it for you ! To get started, head over to the keyword generator. You will need to log in using your email address in order to have unrestricted access to the platform.
We have chosen "surf coaching" in France. Ubersuggest displays:
the search volume,
SEO difficulties (indicative number of competition, the higher it is, the more competitive the keyword is),
the difficulty of the keyword by paying (same principle),
the cost per click (average cost per click known as CPC, for the keyword in question).

Keyword ideas
What interests us are the keyword suggestions. Ubersuggest offers you keyword ideas ranked from most searched to least searched with cost per click. You also have the detail thanks to the small orange arrow which indicates to you the sites which are referenced on this keyword with the number of visits, the backlinks….
Even with free use of the keyword generator, you can do a pretty thorough SEO analysis and pick the right keywords.
The key words are also declined in question, comparison, preposition …
Content ideas
In the content ideas, you have all the articles of your competitors that are referenced and as a bonus the other keywords that are well positioned. You also have access to your competitors' backlinks, the corresponding URL and their popularity on social networks. To view the rest of the keywords, you have to upgrade to the paid version. You can easily find ideas for creating content with Ubersuggest.
Traffic analysis and SEO audit
Once you have analyzed your competitors, you can create a project. All you need to do is indicate the name of your website, download your keyword listing. Ubersuggest then offers you to analyze all of your traffic.
You have access to dashboards which summarize all of your site's activity: all of your keywords, volume, position, the referencing of your best pages … This SEO audit gives you information on the errors of your web pages and allows you to analyze your backlinks with avenues for improvement.
A real planning tool, in the traffic analyzer , you have access to a ranking of pages according to their search volume of your competitors, traffic sources … Ubersuggest also collects data from Google Keyword Planner.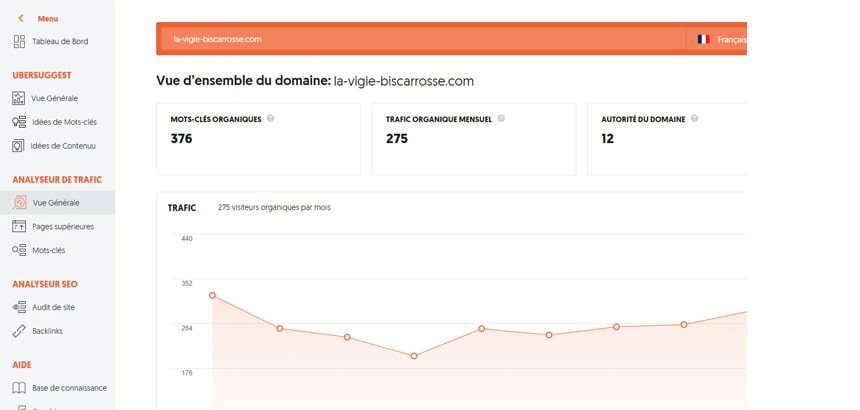 With Ubersuggest you become a real spy while staying behind your computer! Unfortunately, you are not the only one, your competitors are also on regular watch!
We have therefore grouped together for you how to rank your site in 8 expert tips !
Tip n ° 1: Analyze your site
For starters, an audit of your site will certainly be very useful. With Ubersuggest, it's very easy to do. You will get full feedback on both positives and negatives. You will be able to correct all the frequent errors and improve your score, such as the correction of broken links or the positioning of keywords.
Check all of your H1, H2, H3 titles … Do not neglect your meta descriptions, take care of your site, be rigorous and methodical. For this, Ubersuggest supports you by checking your entire site in great detail.
You can therefore start by correcting small, quick bugs in order to embark on a more in-depth analysis of your SEO.
To read : URL of a website: definition and advice to optimize its referencing.
Tip 2: Find the right keywords with Ubersuggest
One of the key rules in SEO is to position yourself on high search volume with low competition.
Before embarking on SEO analysis, make a list of the keywords that you think are important for a qualified traffic . Select them according to criteria such as the content of your pages, the searches of your competitors and those of the users. Once you have your listing, you can search Ubersuggest for the keywords that you think are right for you. If you are lacking inspiration, or SEO is still too vague, rest assured the software offers suggestions for keywords, expressions …
Avoid selecting a keyword with less than 500-600 search per month and rather high cost per click. However, be sure to always respect the theme of your structure. It is equally important not to choose keywords that are too "generalist". They'll bring you traffic, but they won't necessarily have conversions.
Tip 3: Optimize and work on the long tail
The long tail is an expression made up of at least three or four key words in a row . It is specific to a very particular service or product. In fact, the more precise your expression, the more likely it will be to register conversions.
For example, you are looking for personalized surf lessons in Biscarosse. The Google search engine will therefore display the site that corresponds to the specialist for this type of service, that is to say the one that records the most keywords in this theme. In this case, it is the site of the Vigie de Biscarosse, below, with a personalized URL and an article dedicated to coaching.
With Ubersuggest, you have the possibility to know the search volume of "long" expressions as well as the "SEO difficulty". You will thus have suggested phrases with keyword clouds , which will allow you to position yourself quickly on the first pages of Google. The idea is to also be able to alternate with specific keywords.
Once again, if you are starting your business, it will be easier for you to position yourself on a "long tail" expression to obtain qualified visits and subsequently your first customers. Ubersuggest will quickly become your main tool to help you in your SEO process.
In the example of coaching for surfing, the Vigie site is positioned as the leader. Competitors who certainly offer the same service do not have a keyword containing "coaching" or "personalized courses". With a detailed page, attractive images, it is only natural that we will ask for more information… Jackpot for the Watch!
Refine your long tail strategy with Ubersuggest by carefully selecting your keywords to position yourself as an expert!
Tip # 4: install the Ubersuggest data extension
Very practical, Ubersuggest offers us a extension which allows all the keywords on a web page to be analyzed in the blink of an eye. Search volume, competition, all the details are there for in-depth analysis.
Please note, the extension is only available on Chrome and Firefox.
This valuable tool provides access to essential data very quickly for a quick and efficient analysis! Thanks to this tool, you will be imbued and dive directly into the heart of SEO. Enough to familiarize you with all the terms. You will also have the privilege of being accompanied everywhere by Neil Patel.
Tip # 5: Use ingenious backlinks with Ubersuggest
The backlinks are links positioned on key words which refer to another site. The more sites you have with these types of links, the more reliable Google will consider you.
However, the backlinks must be of quality to increase your notoriety . For this, you can directly see the number of external links on Ubersuggest. You have access to the notoriety of the site, its score and even the anchors (the keyword on which the link resides). These indications are invaluable to know the positioning of your competitors and to be inspired by them. You also have the possibility to see the links which point towards your site in the category "Return links". A handy tool to analyze sites that mention you. And also for analyze those who make links to the sites of your competitors … 🙂
How do you know if a backlink is of good quality?
The link must be positioned on the keyword which summarizes the subject;
The trust flow, that is to say the confidence index must be above approximately 40;
It is preferable that the page be as old as possible;
The page should not contain too many external links;
Choose sites with high traffic.
Focus on the netlinking strategy
You have certainly already heard of the netlinking strategy. Why is this so important? This is what will boost the positioning in Google. You will therefore need to prioritize quantity over quality. Better a few links from trusted sites than a lot of low-quality backlinks.
Put in place a strategy of netlinking , it's think upstream about the keywords on which you want to position yourself and choose sites wisely who could eventually become a partner.
Be smart, look for indirect competitors, do a quick analysis to find out their score on Google and offer them free link exchanges or sponsored links . You can also offer them a partnership with a dedicated page with your logo and a link to your site.
To take the example of the Surf school in Biscarosse, the links are mainly on tourism sites. The idea would be to offer link exchanges with e-commerce sites that sell equipment, bloggers / Youtubers in the field of sport who would like to test two hours of surfing for example. It's up to you to set up your netlinking strategy!
Tip # 6: Rework your keywords on existing pages with Ubersuggest
Do the SEO analysis of your site. You will quickly see the keywords on which you are already positioned . You have the possibility to see other expressions thanks to Ubersuggest. It is a gold mine of information that will allow you to increase your SEO.
To do this, the procedure to follow is simple: select the expressions that seem relevant to you then add them to the page that contains the well-referenced keywords . Semantics, that is to say the study of words, is the key to getting on the first page on Google!
Be careful, it is not a question of adding 10 keywords in your article, but of using them intelligently. For example, you can rework your content by adding other sentences so as not to lose the SEO obtained and make your site number 1 !
Tip: remember to update your old pages to increase their positioning. Harmonize your content without removing work already done. Make internal links, bet on the quality of the content and constantly optimize your site. To analyze your entire site, you can use the Google Search Console. This very broad tool will allow you to look at all the improvements you have put in place (monitoring of positions, display and click-through rate in Google) and subsequently refine your strategy (targeting, analysis of the target, natural and paid referencing …).
Tip # 7: Set up an editorial calendar with Ubersuggest
Let go of your pen and write only on subjects that appeal to you, it is possible, but you will have to wait a little bit before launching into long debates! To get started, you need to plan all of your content.
Once you've analyzed all the competition, keywords, backlinks, all of editorial strategy , you must set up yours!

To do this, scan all the topics related to your business, prioritize them according to keywords, then plan the publication of your articles. Remember to factor in the drafting time. Organize your entire editorial calendar is a priority to be regular and increase your position on Google!
Don't let your items waste away and above all be patient! Use Ubersuggest to analyze the evolution of your keywords. Check the positions regularly, compare and then adjust if necessary. With this software, you can quickly see the efficiency of your work and thus calculate the return on investment (in terms of time and money). It would be a shame to do in-depth work without any analysis behind it. Ubersuggest will allow you to quickly see the positioning of your keywords.
Focus on a niche
The mistake often made is to rush to write mass articles in the hope of having as much content as possible to improve your SEO. Focus on your niche and become expert in your area. You can then broaden your area of expertise, but your readers and prospects need to trust you. To do this, you need to put in place a solid strategy that will lift you to the top of the first Google pages.
If you already have some SEO expertise, Ubersuggest will help you find new niches. It is a real opportunity to develop yourself and increase your audience thanks to the many suggestions of keywords according to your field.
Tip # 8: Calculate the future budget for your paid campaign
Do you want to move up a gear with a Google Adwords campaign? The Ubersuggest tool allows you to know the cost of the keywords used by your competitors. Google trends is also a tool that allows you to do keyword research at the same time. If you are planning to run a paid campaign, the software will allow you to anticipate the cost of your strategy .
You have access to CPC (cost per click) which allows you to see competitor strategies as well as keyword analysis. Depending on the keywords on which you want to position yourself, you will quickly see whether the planned budget will be sufficient or not.
Ubersuggest: 8 expert secrets to rank your site: in summary
Ubersuggest is a freemium tool that allows you to analyze all of your SEO for free and find keywords.
Analyze your site, correct the main mistakes that plague your SEO and find keyword ideas. It will be easier to "rank" on the long tail at the start.
Create a list of keywords to organize your editorial calendar.
Analyze your competitors' backlinks and yours to make sure you find new ones.
Regularly, come and analyze your pages to optimize their content and thus get back on Google.
Finally, add the extension to analyze each search you do to always have new keyword ideas.
PS: if you are reading this article, it is because you want to develop your site to find customers … If so, I invite you to follow my training to find professional clients (offered).
Ubersuggest: 8 expert secrets to rank your site: to summarize in three questions
Pourquoi utiliser Ubersuggest ?
Ergonomic and easy to use in addition to being free, Ubersuggest is positioned as the benchmark in terms of keyword analysis, site auditing, etc. Even if there are other tools, Ubersuggest is ideal for using relevant keywords and doing your monthly research to analyze the evolution of each page, the number of keywords, relevant queries, inbound links … .
Combien coût Ubersuggest ?
Ubersuggest has a paid version ranging from € 29 up to € 99 per month depending on the number of sites you have. For personal use, the price is relatively correct. However, it is best to test the tool first for SEO newbies. For experts, you will quickly find a return on investment at this price!
Comment faire ranker mon site avec Ubersuggest ?
Thanks to this ideal SEO tool for tracking keyword positions, you can easily have the right keyword positions, optimize them, work on your expressions, in short, set up a real editorial strategy in order to see your positions increase quickly. Ubersuggest will boost your SEO!