Do you want to increase your sales? Generate more leads? Increase your notoriety on the web? the remarketing meets your desires. According to I-COM statistics, released in 2020, the conversion rate is 291.7% higher than that of traditional advertising. Also called advertising retargeting Where retargeting , this technique is powerful in optimizing your chances of conversion. Read on to understand this famous web marketing strategy. We provide you with explanations with supporting examples. Finally, you will know the secrets of successful campaigns.
What is remarketing?
Definition of remarketing
Remarketing is a technique that involves broadcast advertising messages to a particularly qualified audience . It corresponds to Internet users who have visited your site and who are interested in your offer. This practice is not reserved only for merchant sites. Storefront sites, mobile apps, and blogs can also embrace it. Originally, the term "remarketing" was reserved for Google to designate the Google AdWords solution (which has become Google Ads since 2018). Today, through abuse of language, the notions of remarketing and retargeting merge. When it comes to remarketing, your advertising retargeting service platforms can now correspond to:
Bing Ads;
Yahoo Ads;
Facebook Ads;
etc.
Principle of retargeting: targeting and tracking the Internet user
An Internet user visits your site or your mobile application. Your remarketing service provider's digital solution detects this. It identifies it numerically, then follows it in its path thanks to a tracer. This is a text file called "code tracking", which lists its browsing behavior. Your visitor clicks on several products. After reading their descriptions, he decides not to buy anything and leaves your site. Then he is likely to:
continue to browse other sites;
consult social networks;
enter further research.
It is at these precise moments that you call him by an automatic display of a message. This can be personalized, in which case your ad is then linked to the pages that interest it.
Here is the general operating principle of remarketing:
The different categories of remarketing
There are many ways to do retargeting. We quote the most famous:
Standard remarketing
In this model, the advertisements served to the Internet user are not personalized. . They correspond to:
text ads;
visual banners (images, texts and animations).
These messages are distributed to people who have visited your site or used your application in order to re-expose them to your brand and your products or services.
Dynamic remarketing
This retargeting system corresponds to Google's offer. It gives the opportunity to offer more persuasive ads. These present to your visitors the products (or services) they have already viewed on your site or new products related to their browsing history. It is therefore a powerful technique that takes into account the preferences of your prospect.
Video retargeting
It is a question of introducing a short advertising video within the one that the Internet user watches on YouTube. . The latter must perceive your value proposition within the first ten seconds.
Video is a powerful acquisition and conversion channel. Make sure your ad is no longer than 30 seconds.
Email retargeting
Retargeting is carried out by automated sending of mails to the mailbox of the target Internet user. Emailing makes it possible to inform them of your promotional offers or to suggest that they finalize their purchase, for example.
In order to send emails to prospects, you obviously need their addresses. But their consent is essential (cf. CNIL). An effective method to collect them is then to offer them a free digital product (newsletter, ebook) in exchange for their contact details. This, thanks to the establishment of a form that is automatically displayed within your site. The latter corresponds to what we call a "pop-in".
Retargeting LinkedIn Ads
LinkedIn ™ is the most effective retargeting platform for B2B companies, after Facebook ™. LinkedIn Ads retargeting involves directing your LinkedIn ™ ads to people who have already visited your site or used your services. You can take advantage of this to strengthen your social selling strategy and thus double the number of customers.
Facebook Ads retargeting
Facebook ™ has a huge database of its users. Also, you can schedule well-targeted ads thanks to the Facebook pixel ™ or tracking code (equivalent to cookies on Google ™). It is the same principle as on LinkedIn ™, the objective being to be present on the platforms where your prospects are.
Remarketing for ads on the Google Ads network
the Google Ads network corresponds to Search Network or Display Network . They form a collection of areas and websites that can host your advertisements:
Google Maps;
Google Shopping;
network partner sites;
next to the Google search results page.
On the Search Network, your ads are aimed at Internet users who are looking for products similar to yours. On the Display Network, your messages target people who visit your site after clicking on a link you served.
Multichannel remarketing
In this remarketing category, you target the Internet user via several channels at the same time. These can be online channels (banners, messages, etc.) or offline channels (telephone , addressed mail, etc.). More complex and more expensive, this system generally applies in B2B or B2C, to high purchase amounts.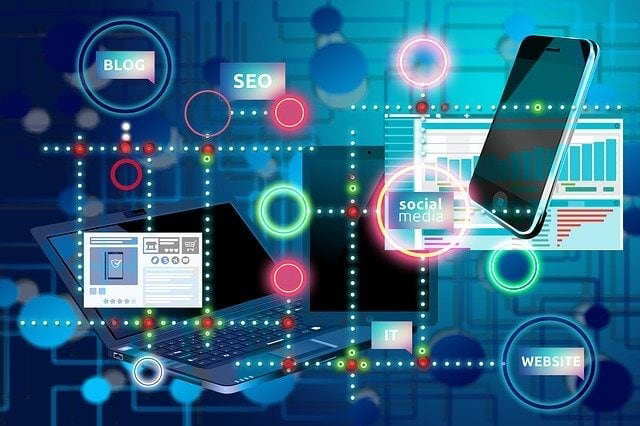 Concrete examples of remarketing campaigns?
Here are three use cases for remarketing in your advertising campaigns.
1. Retargeting against cart abandonment
A user arrives on your site. He consults your services, your prices then adds one of your services in the basket. Then, he registers, begins to register his bank card. Suddenly, a phone call prevents him from continuing his action. Called to another task, it leaves your site. The transaction process is interrupted. To remind him of his current order, you then send him an email with the subject : "your basket is waiting for you". Conversion rates improve significantly with email retargeting.
2. Remarketing to encourage contact
A business executive would like to improve the traffic on his site. He then subscribes to the topic of SEO on LinkedIn ™ . Here it comes across your post. The qualitative content of your agency reveals your expertise in the field. Seduced, the user goes to your professional site for the first time. Thus, thanks to LinkedIn Ads remarketing, you promote your relevant content to professionals interested in your services. Therefore, you encourage them to contact you.
3. Retargeting loyalty advertising
A business purchases a six-month subscription to use your billing software. To retain your customer and create a relationship of trust, you then send them personalized emails. Your message :
informs of a promotional offer on the extension of the subscription;
corresponds to news related to its product;
presents a discount intended only for loyal customers.
Email remarketing uses a campaign automation system called marketing automation.
What are the benefits of remarketing?
You optimize your advertising costs and return on investment (ROI) through retargeting. This constitutes a real lever in a strategy of inbound marketing . Indeed, it has many advantageous features:
As we have seen, remarketing targets Internet users who have visited your site and who have expressed an interest in your offer.
The ROI of remarketing is often higher than traditional advertising, since this model re-targets your audience.
You have the option of creating remarketing lists that match your goals. As a result, you can personalize your advertising messages based on the behavior of the lead.
Remarketing (Google Ads) works on a cost per click (CPC) basis. This means that you only pay if the user clicks on your ad.
You gain visibility on the Internet even when the Internet user does not click on your banner.
What are the secrets of successful remarketing campaigns?
Remarketing can become a conversion weapon. Generally, successful campaigns take into account the type of visitors and many other parameters. . Discover our 10 tips to optimize your remarketing actions.
Tip 1: Segment your retargeting audiences
Splitting your main audience into sub-audiences further improves the quality of personalized ads. Here are the five most common:
Secret 1: identify your former customers
These customers have already trusted you. They are likely to follow you again. Here, the strategy is then to focus on the recurrence of products already purchased and seasonality. Therefore, you need to offer them the right article at the right time. No need, for example, to suggest a second wool sweater in the middle of March. Instead, present shirts suitable for spring. In addition, space your campaigns so as not to generate negative feelings.
Secret 2: retarget dropouts
In marketing vocabulary, "abandoners" refers to people who leave the purchasing process before final payment. This target is interesting because it reveals a real need. Indeed, the person took the time to choose a product and then add it to the cart. Their actions show an interest in your article. It is therefore wise to accompany him to help him finalize his purchase. So an offer in the form of a reduction or a voucher is sometimes enough to convince her.
Secret 3: reassure visitors to the rates page
A user who is interested in prices is often someone who has an interest in your products. It is more likely to go to buying or contacting your business. Your goal is therefore to lift its last brakes. It is then relevant to offer him:
similar products, perhaps more suited to their needs;
a reduction if it is a reluctance in relation to the price;
content answering his questions.
Secret 4: create a link with those engaged on social networks
If an internet user reacts to your LinkedIn ™ post or another network, they are interested in your brand . It would be a shame not to exploit his commitment . Identify the people who invest in your ads to better guide them to the next step. Did they interact? Clicked on CTAs? Visited your site? You can perfect your remarketing by establishing several levels of targeting.
Secret 5: customize your messages by market and industry
When your buyers persona correspond to several types of customers, consider these criteria:
their market (provision of services or products);
their sector of activity.
The sector target is important to personalize your pitch and your price range . In this way, you strengthen your retargeting strategy. Let's take an example: you offer software that interests both a bookseller and an insurer. These two people are probably not sensitive to the same message.
Tip 2: Refine your remarketing strategy
In addition to audience segmentation, five parameters also make remarketing campaigns successful.
Secret 6: optimize your landing page
The landing page or landing page refers to the web page that receives all the traffic from your campaigns . Therefore, it is at the heart of your remarketing strategy. You must therefore perfectly optimize it for the conversion (copywriting, UI / UX design, ..).
Secret 7: regulate the repetition of advertisements
Repeating identical advertising messages can be useful for a branding campaign. However, it's best to avoid it as part of retargeting. Because often, this technique generates a bad feeling towards your brand. You have to find the right balance between remaining visible to your prospect and not being too intrusive.
Secret 8: analyze the behavior of the potential customer
Certain pages viewed determine the conversion potential. Thus, the products, services and pricing page suggests a better transformation than the home page. Your traffic analyzes provide you with interesting information on visitor behavior (pages viewed, visit time, etc.).
Secret 9: understand the Internet user's habits
To hire a lead or a prospect in the transaction process, advertisements should be displayed at the appropriate times. Then locate the different days and times when the user surfs the Internet as well as his centers of interest.
Secret 10: adapt the delay since the last visit
This parameter is not negligible in the implementation of advertising campaigns. Indeed, you convert more easily when you act on the prospect's memory. So a user who browsed your site three days ago is more likely to commit than if the deadline was three months.
Remarketing: definition, examples and secrets of successful campaigns, in conclusion
Remarketing is the automatic display of relevant advertising to a well-targeted audience. It is about re-exposing your brand or products / services to a prospect who has indicated a purchase intention (visit to a site, use of an application, a service, etc.).
Retargeting can be a formidable strategic component in your advertising campaigns.
The secrets of successful remarketing campaigns:

segmentation of audiences;
optimization of the landing page for conversion;
study of the behavior and habits of prospects;
taking into account the time elapsed since the last visit.
Remarketing: to sum up in three questions
Comment faire du remarketing ?
Let's choose to remarket with Google Ads and the Display Network. Follow these steps:
Create a retargeting list for your site, i.e. your target audiences.
Create a new campaign by choosing the Display Network as the campaign type.
Check the objectives that suit you: newsletter subscription, contact, sales …
Set up your campaign with the basic elements: name, geographic area, language, bidding strategy.
Click on "Additional settings" to add other elements if you wish: broadcast schedule, types of device to target …
Select your audiences in the "People" section.
Click on "Remarketing" then "Save".
Quels utilisateurs pouvez-vous cibler avec le remarketing dynamique pour les inciter à revenir sur un site Web ?
These are Internet users who:
• interested in your product sheets;
• abandon their shopping cart;
• leave a favorable comment or opinion on your site;
• visit websites similar to yours, or even your competitors.
Comment effectuer une campagne Google Adwords ?
Open an account with Google Ads if this is your first campaign with Google.
Log in to your account then let yourself be guided. The following steps are easy to perform.
Create a new campaign by choosing the type of campaign you want. These are the places where you want your commercial offer to appear.
Choose an objective for your campaign among those offered to you: sales, leads, traffic to your site, etc.
Source:
Infographic I-COM, 13 Nov. 2020, https://www.i-com.net/blog/remarketing-what-its-all-about-and-does-it-really-work