Do you want to succeed in your telephone prospecting? Make it effective by getting as many appointments as possible? Read this telephone interview guide and improve your prospecting. Obtaining better results is within everyone's reach, if you follow a certain approach during your telephone interviews. From now on, propel your sales to a new dimension.
Tired of days of unsuccessful prospecting? Of your contacts that prove to be ineffective? Your redundant script that doesn't hook customers? If so, it's time for a change! It's time to boost your sales and make your marketing more effective! Do not be afraid during your telephone prospecting and use the right words to convince your listener. Imagine for a brief moment doubling or even tripling your sales thanks to effective teleprospecting, from making contact to taking leave. It's possible ! To do this, read the article to the end and discover our ultimate tip for winning new BtoB customers!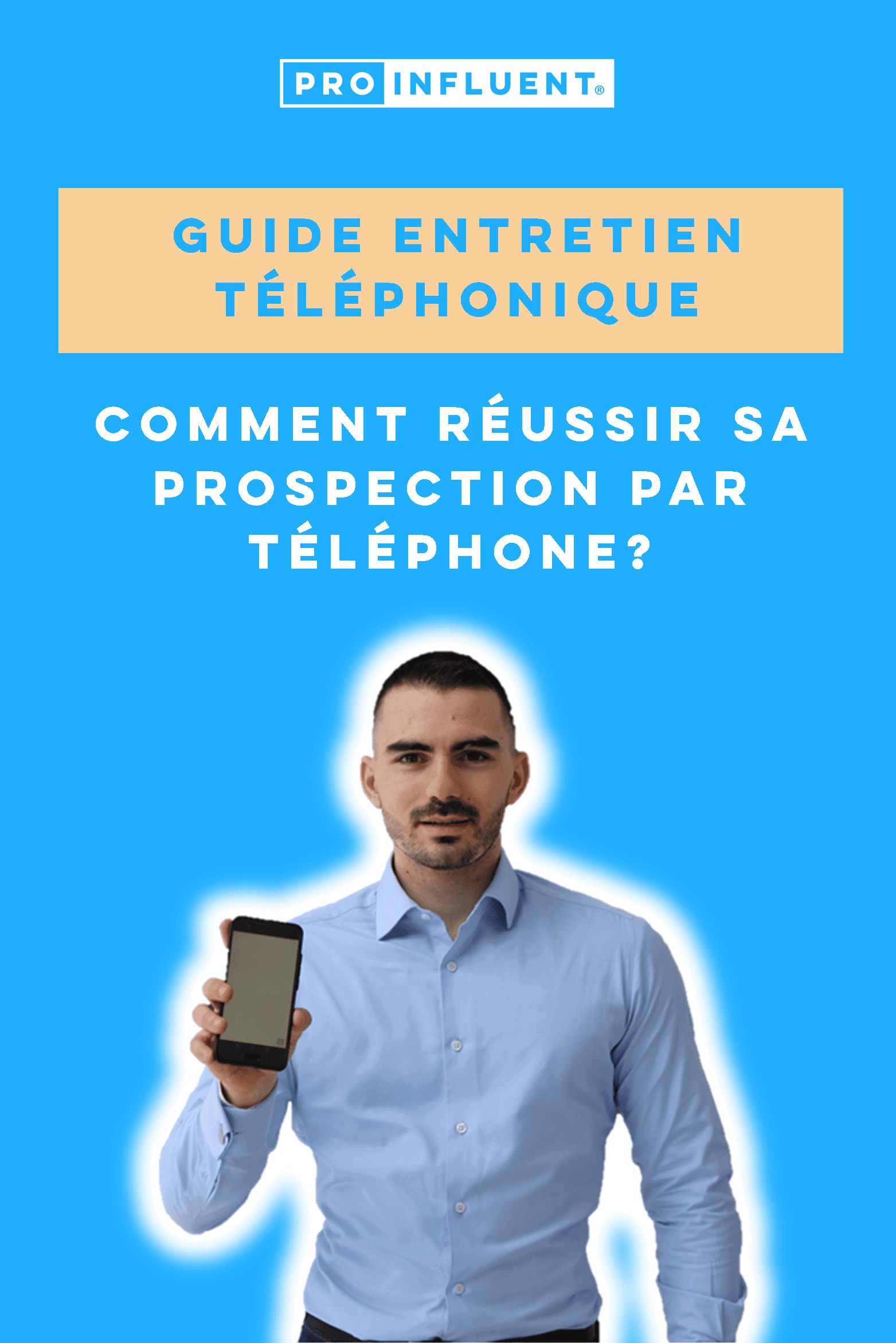 Why set up prospecting by telephone?
Telephone prospecting is an effective way to reach a client. Indeed, the latter allows direct contact with the prospect, unlike prospecting on the internet, for example. It is easy for you to find the contact details of your targets thanks to online directories, moreover, it is just as easy for you to set up your prospecting anywhere, including from home! This is why the telephone is proving to be a popular lever for salespeople to land new appointments. Now is the time for you to know our 10 tips to boost your prospecting by phone !
Telephone interview guide: 10 tips to boost your prospecting
Read our 10 tips to use regularly to boost your telephone prospecting and then discover the 4 infallible methods used by the best salespeople.
1. Define your target prospect
Prepare yourselves ! First of all, take the time to find out about your target by visiting their website or by familiarizing yourself with their commercial environment and their field of intervention. The more you know about your potential client, the more you will be able to empathize with and respond to their objections.
2. Get recommended beforehand
In order to reassure your target prospect on the phone, try if possible to be recommended by someone they know. This is in order to get a foothold in his world and thus gain a little more confidence from the first contact. In your catchphrase, you can therefore use phrases such as: "Hello, I'm calling you from X" or "Mr./Ms. X told me to call you" etc.
3. Organize your telephone prospecting
To start, isolate yourself in a quiet room, close your door and remove all distractions that could interfere with your telephone prospecting session.. It is necessary that you are in the best conditions when you draw your phone! Then, once you are settled in a quiet room, take the time to put yourself in good psychological condition, think positive thoughts and put a smile on your face.
Smiling pushes you to have a happy attitude, which is why it is all the more important. Then, determine in advance the time you will devote to this prospecting time slot, it is essential to know how far you have to go! Once you have done this beforehand, settle into the position that is most comfortable for you in order to increase your concentration and your productivity tenfold.
4. Prepare your catchphrase
Prepare in writing the two or three sentences that will allow you to hook your interlocutor and thus open the conversation with the latter. Write them all down! If necessary in two or three different versions. Then, when making contact, say them naturally, do not give the impression of reading a text.
5. Plan for the assistant's barrage
Prepare to face this first hurdle. Indeed, the person in charge of assisting your target prospect has the role of valuing the latter's time in many ways, so it is normal that this person is the first to answer you on the phone. This is the first filter for calls to your target, so you will have to overcome this obstacle by detailing in a concise, clear and precise manner the subject of your call and by expressing, if necessary, the arguments that can allow you to convince him to let you reach his superior.
If your arguments are good and you succeed in persuading her that your contribution is positive for her boss, she can become your ambassador and thus allow you to have one more weapon to achieve your goal. Also, at the same time, do not hesitate to take information from her by asking her for some information about the company.
6. Set a goal
"There is no point in running, you have to start on time. ". Remember this quote, it can be very useful to you in many situations. Indeed, before you rush to your phone full of ambition and motivation, you must have a goal! Set yourself an achievable goal first and adjust it the following days according to your first results. These are the objectives that will allow you to define your margin of progress. For example, each appointment won can be determined as a short-term objective achieved, the number of appointments had in one day can be defined as your medium-term objective and finally, the number of appointments obtained in one day. week, your long-term goal.
7. Write a phone prospecting script
Write a prospecting script, that is to say a diagram of discussion in order to take the interview in hand and lead it gradually towards the achievement of your objective. Prepare it methodically and make it as readable as possible. Make your personal telephone interview guide and integrate your own script into it. However, be careful not to read it during your interview, word-for-word reading can be heard on the phone and is not pleasant for your interlocutor.
8. Prepare your necessary materials for making an appointment
Use the appropriate media during your prospecting. In addition to your prospecting script, have all the tools and media you need at your fingertips: the list of arguments targeted to your prospect, the CRM you use to enter your target's information into the database, the technical information you have or the agenda to set the appointment with the customer.
9. Use the right tone
At the time of the call, express your enthusiasm! In addition, try to smile during your calls, the smile can be heard on the phone. Also avoid interrupting your prospect, you must listen to him until the end, cutting him off can be unpleasant for him and give you the image of a rude person. Letting him talk is the best way to bring him into the discussion and thus obtain interesting information. Then it's your turn to try to convince your target without imposing yourself too much. Thus, in case of refusal, your prospect will still have a good impression of you. Ultimately, if he doesn't become your customer today, he may eventually become your customer tomorrow. At the end of the call, try to arouse your prospect's curiosity about your service or product.
10. Anticipate objections
Anticipate attempts to evict the potential customer by preparing your responses. Work them into your phone interview guide and add new ones to your notes as you encounter new objections. In short, the more complete your notes are, the more weapons you have to deal with the objections of your future prospects.
Telephone interview guide: 4 infallible business methods for successful prospecting
Here are our 4 infallible business methods to succeed in all your telephone prospecting. Stay until the end and then discover our ultimate tip for winning new BtoB customers!
1. Identify the profile of your prospect: The SONCAS method
The SONCAS method allows you to identify the profile of your prospect in order to adapt your arguments according to the latter. Each letter corresponds to a specific psychological trait:
S for Security: is your prospect worried about your offer? In this case, reassure him to make him feel safe.
O for pride: does your prospect show pride in their speech? Turn your argument around the prestigious and distinctive character of your solution.
N for New: is your prospect looking for innovations? Present your service or product as avant-garde as possible by breaking the codes!
C for Comfort: is your prospect looking for a simple and accessible offer? Emphasize that your offer is practical and convenient on a daily basis.
A for Money: is your prospect looking for a good investment? Make him understand that by subscribing to your product or service, he is getting a good deal.
S for Sympathy: is your prospect sensitive to the sympathy expressed by his interlocutor? Be the most cheerful and cheerful on the phone so that he feels the most comfortable in your presence.
2. Structuring your pitch: The CAB method
The CAB method allows you to define your arguments around three main axes. Each letter corresponds to one of them:
C for Characteristics: objectively define the nature of your offer in order to prove to your prospect the relevance of the product or service you are offering.
A for Advantages: link at least one advantage to each characteristic in order to convince your target.
B for Benefits: you must finally conclude by showing your prospect that the benefits of your offer meet their needs.
3. Negotiate with your prospect: The SIMAC method
The SIMAC method aims to allow you to gradually lead your prospect towards the subscription of your offer. Each letter corresponds to a stage of the negotiation:
S for Situation: ask questions to your prospect in order to define his needs as well as his motivations.
I for Idea: arouse the curiosity of your target audience by presenting them with the idea from which your offer stems, while trying to establish a link with their needs.
M for Mechanism: develop in detail the idea that you have previously stated by showing that your offer comes from the latter. To do this, you can use the CQQCOQP method (How? Who? What? How much? Where? When? Why?)
A for Advantages: show that your offer very clearly meets the needs of your prospect and compare its advantages to those of your competitors.
C for Conclusion: in order to allow your prospect to make a decision, involve him by giving him the choice between two of your commercial proposals.
4. Convert a prospect into a customer: The SPANCO method
Very useful in BtoB, the SPANCO method helps you transform your prospect into a customer . Each letter corresponds to a phase of the sales process:
S for Suspect: define your targets by defining your market.
P for Prospect: identify your prospects by meeting certain selection criteria and then contact them.
A for Approach: learn about your prospect's needs and define the appropriate solution for them.
N for Negotiation: once the needs have been clearly established and your solution has been defined, offer him the offer that best suits him. To stand out from the competition, demonstrate the relevance of your offer as much as possible by using the right arguments.
C for Order: It is then time for you to conclude the subscription of your new customer to your offer. Of course, it is essential that he is always aware of the advantages when signing.
Order Ongoing: once the contract has been signed. Ensure the implementation of your offer by respecting the terms defined in advance.
The trick to winning new BtoB customers: LinkedIn™ prospecting!
Your business requires quality BtoB prospecting, but you still can't make it effective? Have you considered using the professional social network LinkedIn™ for your sales prospecting?
LinkedIn™ brings together an impressive pool of qualified BtoB professionals that you can reach for free through a single profile . Call a Proinfluent expert now and generate an avalanche of prospect appointments! Make an appointment right here!
Telephone interview guide, to conclude
Here are the points to remember for a successful phone interview:
Define target prospects;
Get recommended beforehand;
Organize your telephone prospecting;
Prepare your catchphrase;
Anticipate the barrage of the wizard;
Set a goal;
Write a telephone prospecting script;
Prepare your necessary materials for making an appointment;
Use the appropriate tone;
Anticipate objections;
Use the 4 commercial methods SONCAS, CAB, SIMAC and SPANCO.
Telephone interview guide: to summarize in 4 questions
How to create a telephone interview guide?
To create a telephone interview guide, you must first note all the qualities that you identify in your telephone prospecting, as well as all the faults. To do this, for example, you can use columns and rank your strengths and weaknesses. Then, write texts that can be used as mnemonics during your teleprospecting sessions. There is no good or bad telephone interview guide, only the one allowing you to optimize your prospecting within your activity.
What is a telephone interview guide?
A telephone interview guide is a directory of tips and processes to help you optimize your prospecting. It is essential to use one when your results do not reach the objectives set beforehand. A telephone prospecting guide can take several forms depending on the needs of the salesperson and the nature of his activity.
What is the CROC method?
The CROC method is a successful teleprospecting frame commonly used in commerce. It is summed up as follows:
C for Contact: take care of your first contact by being clear, concise and using the right tone. The first impression is essential, take care of it!
R for Reason: give the reason for your call and arouse your prospect's curiosity. It is necessary that you feel the interest on behalf of your interlocutor vis-à-vis what you propose.
O for Objective: keep in mind the objective to be achieved. You need to remember your goal if you don't want to get lost along the way.
C for Conclusion: end your call by briefly reformulating all your answers and concluding with a simple and natural polite phrase. Leaving is as important as making contact, remember that.
How to follow up a customer on the phone?
To follow up with a customer on the phone, you must meet a certain deadline before your call back and think about your approach in advance. During your call, remind your interlocutor of the reasons for your contact and remind him of your previous call by mentioning that you should contact him again today. Thus, you show politeness towards him by benefiting from a certain professional image and by not being intrusive vis-à-vis his activity.