Prospecting is an essential step for any entrepreneur, manager or business leader who wants to boost sales and find new customers. In order to best reach its target and obtain prospects, a prospecting plan is to be defined. Indeed, it is a roadmap, a guide containing the list of steps that lead you to success. Developing such a plan is the guarantee to prospect intelligently so as not to waste time and energy.
What are the 7 essential steps to set up a relevant commercial prospecting plan and increase your turnover? We reveal them to you in this article so that prospecting will no longer have a mystery for you!
Why establish a prospecting plan?
Remember, commercial prospecting is the art of extending your sales opportunities by going out to meet potential leads and prospects. .
The prospecting plan is used to:
organize commercial actions;
establish a roadmap to guide your sales force;
help salespeople in their daily lives by giving them the means: database, planning, sales script, etc. ;
allocate resources well;
attract more prospects into your sales funnel , in particular through your digital marketing strategy (website, blog articles, social networks, etc.).
Thus, it is easier to structure your canvassing activity as well as the actions around the sales cycle. This plan is therefore the roadmap that gives precise instructions to develop your customer portfolio and boost your commercial performance .
The 7 steps for an effective prospecting plan
1. Set goals for your schedule
Before you start prospecting, define precisely what goals you are aiming for.
Do you want to develop a branch of your business? Obtain more loyalty from your consumers? Boost your turnover? Increase your BtoB clientele? So many questions that must be answered when you establish your prospecting campaign.
Be aware that each objective must be ambitious, but accessible, in order to motivate the sales representatives in charge of customer relations. The SMART method is a tool that helps define attributes. With this method, you hit the mark by characterizing each goal as Specific, Measurable, Achievable, Realistic, and Time-bound. The missions are therefore adapted to each one and coherent in the face of the difficulties which may be encountered in the field.
Setting goals is step number 1 in order to establish a successful and relevant business prospecting plan.
According to a study, a sales team that organizes itself as it wishes to find new customers manages to set 3.6 weekly appointments, compared to 6 for one that is motivated by sales challenges offering rewards!
2. Know your target to set up an effective commercial prospecting strategy
As you know, your target represents your potential customers, the profiles who are likely to be interested in your products or your services. Knowing them well is better to reach them and therefore, promote the growth of your business thanks to an optimal strategy . This prior knowledge provides the basics for building your prospect file.
Then ? How do you create a composite portrait of your ideal prospects, the ones you have no trouble converting and with whom you love to work?
With the tool of persona !
In order to establish your model customer, focus on the following 3 components and ask yourself the right questions:
demographic data: gender, age, marital status, occupation, place of life, geographical area, etc.
psychological information: sport, social media, hobbies, interests, elements triggering decision-making, etc.
needs, pains and frustrations: blockages, objectives, values, concerns, towards what the prospect is projecting himself, etc.
Once you have clearly identified your ideal client, you then establish a prospecting file that is precise and consistent with your offer. To centralize this, use dedicated software and equip yourself with a CRM (Customer Relationship Management) tool. This regularly updated IT tool helps your sales representatives in the overall management of customer relations. It provides contact details (name, e-mail, etc.), hot prospects to contact, appointments made and all other necessary information.
To set up a successful prospecting plan, it is essential to identify and understand your target in order to establish a prospecting file with several characteristics such as their age, social status, hobbies, concerns, values, etc.
3. Choose levers for commercial prospecting
Your commercial prospecting plan becomes concrete: your target is no longer a mystery, you know it by heart and that's good, because you now have to choose which prospecting levers to activate to obtain maximum results . Find out the possible ways below.
The multiple tools of commercial prospecting:
The different prospecting techniques for lead generation that you can implement are:
Cold calling : depending on your target and your offer, a cold calling campaign can yield excellent results. To do this, prepare your phoning script well in advance.
Cold emailing : sending emails is a technique widely used in business development initiatives. It makes it possible to reach a lot of people.
social selling : the use of social networks to make yourself known, to get in touch with your prospects and to support the sale.
the' inbound marketing and a natural referencing (SEO) strategy to position you in the first lines of search engine results pages (Google). The goal is to attract customers directly to your sales pages or to your email database.
online or offline advertising (depending on your budget and target).
direct meetings in the field during trade shows, seminars, conferences, etc.
Adjust your strategy according to your target and your means:
You know the best ways to contact your prospects. That is, where to go to find them, on what platform? For example, if your clientele is between 18 and 25 years old, you distribute your advertising campaign or your content on the web or social networks like Facebook ™, Instagram ™ or Tik Tok ™ to have more impact. You bet on emojis , interactions and fun content!
Of course, it is also a question of taking into account the budgetary aspect that you have!
However, there are a multitude of more or less expensive ways to reach your target and get appointments. Depending on your industry and your market, it's up to you to find the most eye-catchers that appeal to it in order to convert it into leads then as a loyal customer.
Your objective and your target are your starting points to define your prospecting levers. Thanks to them, you know on which media to reach them and what marketing strategies to put in place to accomplish your mission. Make sure that your content is perfectly suited in terms of medium, message and even up to customizing colors that are attractive.
Do you want to generate customers every month, automatically, with a simple and well-tried routine? Take some time in the agenda of a Proinfluent expert who will make an audit of your commercial situation.
4. Define your sales arguments create a sales prospecting plan
Now you are getting to the heart of the matter, the decisive phase of your project: your sales arguments , in other words, your script . This is the content you deliver to your prospects. Whether you choose to make yourself known through canvassing, emailing, social media or sending flyers , it is imperative to study your approach.
To do this, keep in mind that it must contain certain essential criteria:
Favor open questions: how can I help you? What are your needs ? It is a simple and effective method to initiate a conversation whether virtual, face to face or telephone.
Tailor your query and advice if possible, depending on the person or company you are contacting.
Anticipate the common questions of your leads to reflect an image of trust and expertise, and influence their decisions. Identify their needs in order to find solutions to their problems!
Promote your products or services! This is the main objective for which you contact your target, do not miss it! You know your business better than anyone, so you know everything you need to demonstrate why your future customers need you to be successful!
Prepare your argument upstream and valuing your business is part of the implementation of a successful commercial prospecting plan. If you are the manager of a sales team , you transmit with precision and with the help of concrete examples, the axes to follow. To do this, rely on current prospecting models that work (almost) every time! If you choose telephone canvassing, also known as Phoning, discover our tips for prospecting using a foolproof business script ! Your team should benefit from training to understand exactly what are the steps to follow in the prospecting process.
5. Coordinate the actions of your prospecting plan
Now that all the points necessary for the success of your prospecting plan have been worked out, all you have to do is distribute the commercial prospecting actions . You or your salespeople must know absolutely what to do and what tools and software are available to them to carry out their missions.
If you are betting on multiple prospecting media, make sure the team is well trained and understands why it is beneficial to prospect this way. Salespeople are the elements that can bring you success, because they are the ones who communicate the image of your company to the public. They therefore deserve to benefit from meticulous learning of the brand they are going to promote.
No one is more convincing than a satisfied customer. To do this, invite your sales teams to test your products if possible, and convey to them the values that define the company. Transparency must be required so that your employees are also clear and concise in their prospecting efforts.
Are you wondering how to attract between 1 to 10 B2B customers using LinkedIn ™? That's good, our 100% free webinar reveals the 6 infallible steps to find new business customers!
6. Determine a deadline adapted to your objectives in your prospecting plan
Your actions must be part of a schedule. To do this, use software such as Excel, Google Sheets or Trello. It is important to always set a deadline that marks the end of a prospecting campaign. This allows readjustment as needed. For example, if your mission is to retain 200 customers in a month and you convert 400, your target is too low, too easy to achieve. On the contrary, if you only get 70, then you weren't ambitious enough.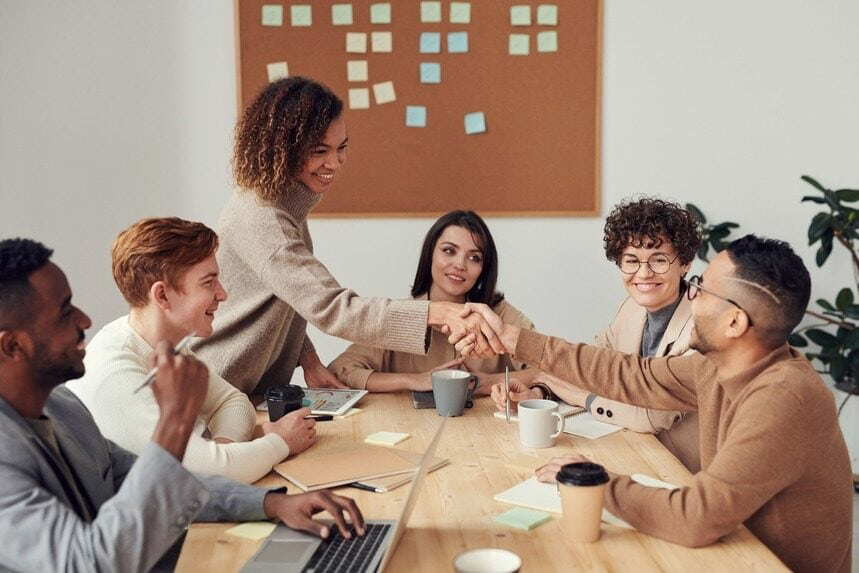 Setting a deadline also makes it possible to realize each action to be accomplished. This highlights what the company is really capable of and identifies its potential as well as its flaws.
When setting the timeframe for your business development plan, make sure it's calibrated against your business goals. Indeed, too limited time causes a feeling of incomplete and frustration for your teams. The objective is obviously not reached (except if it is too accessible) which generates disappointment and a general demotivation.
On the contrary, too long a delay leads to weariness and monotony in the accomplishment of tasks. A slowdown in results is generally observed. Try to be as fair as possible when setting the deadline for achieving a goal, in order to gain productivity and performance.
7. Analyze the results and ensure follow-up
When the set deadline is reached, you reap the results obtained thanks to your commercial prospecting plan. Whether they are positive or not, there is one step that should not be overlooked: monitoring your customers and customer service.
You have found new customers and you can be proud of them, despite everything, even if the sale has already taken place, don't let your buyer go back into nature without keeping in touch! For example, ask him through a personalized email if he is satisfied with his purchase and the customer relationship that your box provides.
In addition, keep him informed of your news and promotions that may be of interest to him! Be responsive to your customers' requests. Pamper your customer relationship so that they make you the benchmark in your field of activity!
Prospecting planning: Conclusion
Carrying out an adapted and efficient commercial prospecting plan is one of the determining steps for the success of your business. Here are the points to remember to establish an effective prospecting campaign:

First of all, define the main objective of your prospecting plan. The goal you are aiming for and which influences the rest of the program. This element must be determined with precision and as accurately as possible. Ideally, it is ambitious, but accessible.
Next, make sure you know your target perfectly, also called a persona. It corresponds to the leads and your potential future customers who are interested in your products, your services. The more you know your persona, the easier it is to convert them into a customer!
To continue, choose the most effective prospecting levers, in order to reach new prospects. To do this, ask yourself what and where? That is to say, what is your objective and where to disseminate your prospecting to reach your target? It also depends on the budget you have.
Now move on to preparing your sales arguments. This is the content you deliver to your audience. It must be relevant and adapted as much as possible to your prospects. Ideally, the arguments are personalized according to the lead to convert.
Distribute the prospecting actions of your prospecting plan among your sales team. Make sure everyone understands the importance of their role in the business, and that their mission is fully integrated.
Set a deadline that marks the end of a prospecting campaign.
Finally, follow up with your prospects and customers, in order to create a relationship of trust.
Prospecting plan: to summarize in 4 questions
C'est quoi un plan de prospection ?
A prospecting plan is all the steps and commercial actions that make it possible to achieve an objective. It takes into account all the stages of the commercial prospecting cycle: prospect database, commercial script, prospecting planning, sales and follow-up.
Comment faire un bon plan de prospection ?
To set up a good prospecting plan, determine the end goal, choose the prospecting channels most suited to your target and your budget, prepare your sales arguments and then establish a follow-up.
Quelles sont les différentes phases à mettre en place pour le plan de prospection ?
• Define the main objective of the prospecting;
• Know your target in order to create a file of qualified prospects;
• Select the most relevant prospecting levers to put in place;
• Prepare your sales arguments in order to anticipate the problems of your prospects;
• Distribute the various prospecting actions within your sales teams;
• Ensure commercial follow-up.
Comment faire un plan de prospection téléphonique ?
• Determine your telephone prospecting objective;
• Target loyal customers or those likely to be interested;
• Prepare a coherent and personalized script;
• Design a clear and attractive message;
• Offer real solutions to audience issues.
Source: Nomination.fr