MOO is a site for creating professional, modern and elegant business cards. It sets itself apart by the quality of its models and by the wide choice it offers. This start-up is in the process of dethroning all of its competitors! It brings business cards up to date with an easy-to-use editor. Let's find out together why this site is magical.
MOO design business cards
Visit card is one of the essential communication media. If today it is important to communicate on the web, we must not neglect Print media. They are the guarantors of your image. Whether you are a salesperson, communications manager or designer, you will need to differentiate yourself when you hand in your business card. To prevent it from ending up folded in half at the bottom of the wallet of your eventual prospect , MOO offers you a wide range of card models that will put you forward. Originality, elegance and finesse, you will inevitably find your happiness for develop your professional network !
What attracted me was the design of the business cards and the choice of media. Although I am 97% digital, the only paper medium I have is a business card. And guess where I was inspired by the design?
Featured products
They include the main uses: loyalty cards, posters, date change cards, correspondence cards, notebooks, flyers , menus… With MOO you have no other choice than to think of everything! And we must admit that we also find it very practical!
MOO business cards
If you are looking for business cards worthy of the name with original designs that will make a difference, you have come to the right place. From ultra design business cards to embossed typography, including gold leaf or a standard format, there is something for everyone! No need to go through all the unimaginable business card sites, MOO is positioned as THE benchmark in terms of design and graphics. In addition to the "classic" business cards MOO offers different styles.
Square business cards
With a card format of 65 mm × 65 mm, it is a rather chic model that MOO offers us. You have the choice between several papers: Cotton, Supra and Luxe (more or less thick).
MOO MiniCards
With a 70 mm × 28 mm format, these small business cards stand out for their size for a very designer and eye-catching effect.
Luxury business cards
A very thick paper, an elegant texture, a natural effect, everything has been studied so that your business cards are up to your image! If you want to claim the "top of the range", the edition MOO luxury will not leave you indifferent! Find two possible formats: 55 mm x 84 mm or 65 mm x 65 mm.
Gold and silver foil business cards
Showcase your business with a few silver or gold accents for irresistible business cards. For example, you can select a single area to apply this type of finish.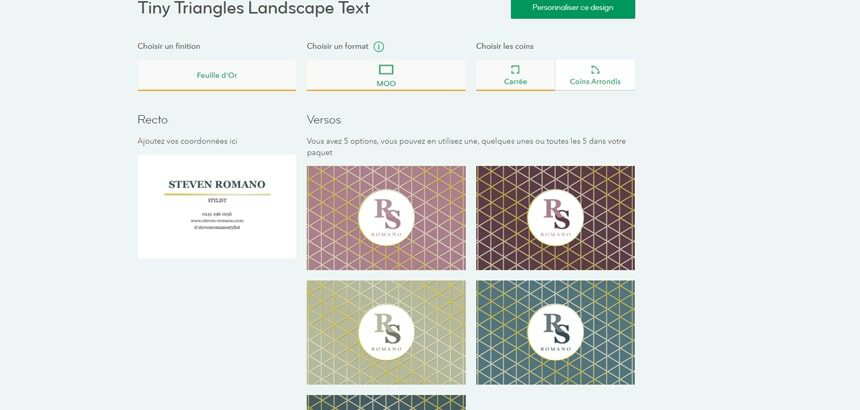 Typographical business cards
Choose with MOO to make a relief effect with a textured paper on certain elements for original business cards. Pleasant to the touch, the typographical business cards will make it possible to make a privileged place among the forgotten ones of the purse!
Why use MOO rather than another site to design your business cards?
MOO is talking about him! If it remains more expensive today than its competitors, it is because its original models already made and its choices remain much wider.
Excellent reviews
Out of 14,112 reviews, 90% of people rated their service "Excellent" with fast delivery. Vista-Print, meanwhile, represents 70% of excellent reviews out of a total of 4,331 (source: Trustpilot ).
Simple and efficient ergonomics
MOO offers several types of use for each medium. You have the option of using your templates by uploading them, creating your design online, or taking a ready-made mockup. You can also print a different design on each card for free.
How to make a business card in MOO with a magic trick
Nothing's easier ! We guide you step by step to make THE business card that you can proudly give to all your future customers!
First step: select your theme
Want a unique business card? Your choice therefore stops on an elegant theme with a selective varnish. In this case, you click on the category "business card" and "special finish" to have this glossy lamination.
You then choose the format of your card. MOO offers you either rounded or square angles with different business card designs.
If you go a little further down, the editor gives you a handy summary that recaps what you've selected.
Second step: choose the model and make two-sided design business cards on MOO
You have two choices: use the MOO presentations or download your model to print your cards (you can make your template for example on Photoshop or Illustrator). If you have a creative soul, you can download your template with just a few clicks. If, on the contrary, you have no idea what you want, MOO has created all types of double-sided graphics for you, from business cards to classic business cards!
MOO offers you several selection criteria to check:
The format of the cards: square or rounded;
The paper;
Layout;
The fields (marketing, commerce, recruitment …).
Once you have made your choice, just let yourself be guided. The system is quick and easy for a "classic" business card. If you choose to create a more elaborate business card, we have tested the category " Selective nail polish ".
In this case, the presentation is different. To edit your business card, MOO offers you different templates with themes with inspiring names. For our part, we will indulge in "How many ways" which has aroused our curiosity and which makes us want to let ourselves be carried away …
MOO offers us a theme in line with the name, a mixture of paradisiacal settings and rough seas to make design business cards.
We just have to click on "Customize this design". Everything is then indicated, all you have to do is follow the directions and replace the front with our contact details to edit the business cards.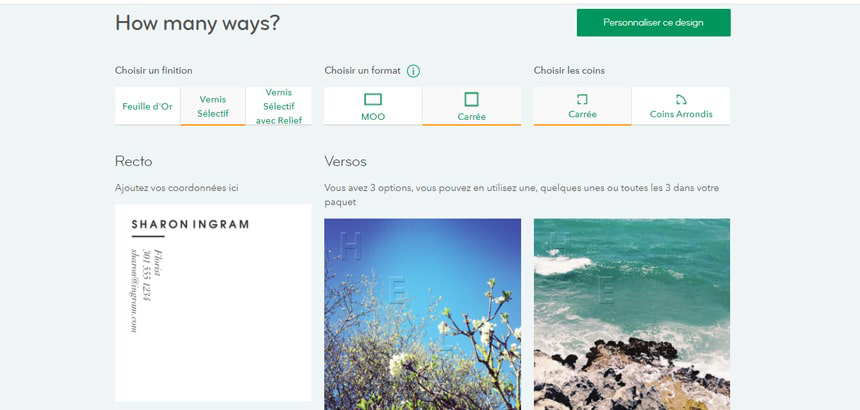 A "selective varnish" tab allows you to view the area that will be used. You can also use multiple templates for your back cover for the same price or choose to remove them using just one image. You will not be disappointed with the final rendering or the printing service according to the positive reviews!
Third step: special finishes
MOO offers you the opportunity to choose the latest finishes for your future professional business card. Square or rounded, glossy varnish, rather matt, matt coated … It's up to you and above all to choose! Without forgetting to select the number of cards you want to have printed, with the added bonus, some reductions!
Then click on "preview and purchase" to view your creation one last time, then "add to cart". Once your cards are received, distribute them to your network, customers and your partners .
PS I am not paid to say this.
MOO business cards. Why is this site magical? To sum up in three questions
Pourquoi MOO devient-il le référent des cartes de visite en ligne ?
MOO, site de cartes de visite en ligne, s'impose comme le référent. Concevoir sa carte de visite personnalisée sur MOO reste plus cher en termes de tarif, mais cet outil de création propose néanmoins une qualité d'impression d'excellence d'après les nombreux avis positifs. Haut de gamme, il est le juste milieu entre l'imprimeur physique et les concurrents plus « basiques » du type VistaPrint. Créez votre carte de visite moderne avec MOO !
Pourquoi utiliser MOO plutôt qu'un autre site d'imprimerie en ligne ?
Simplement parce que c'est le site le plus complet d'impression de cartes de visite qui propose le plus de modèles design et « haut de gamme » avec une qualité professionnelle indéniable ainsi qu'un grand choix de format de cartes de visite. L'ergonomie dispose d'une facilité de parcours et d'édition qui vous permet de créer rapidement votre carte de visite personnalisée. Grammage, dorure, imprimés, pelliculage mat ou satiné, soft touch, gaufrage, brillance il y en a pour tous les goûts avec un papier de qualité au choix, alors faites-vous plaisir !
Quel modèle de cartes de visite utiliser sur MOO ?
Les modèles de cartes sont nombreux et il est parfois difficile de faire un choix quand il y a trop de possibilités. Concevoir une carte de visite n'a jamais été aussi simple même avec toutes les options que propose MOO. Le conseil le plus adapté : ne pas trop s'éparpiller et rester dans la logique de votre entreprise. Vos couleurs, votre typographie en bref vous devez respecter votre charte graphique ainsi que votre identité visuelle !
Le petit plus de MOO : la carte de visite électronique !