WhatsApp Business for boost your sales and your customer relationship!
In recent years, with the rise of social networks, instant messaging applications have multiplied and have become essential in communication, both in the private and professional spheres. Among these applications there is WhatsApp.
How to use WhatsApp to sell and to keep a customer relationship in top form? Follow the guide.
1. WhatsApp: what is it?
The principle is simple: if you have a smartphone and a package allowing you to have access to the 4G network, you can communicate via the application without having to make calls or send SMS with the package from your operator. The founder of the app, Jan Koum, came up with the idea for WhatsApp thanks to his parents: settled in the Communist USSR, Jan Koum and his family avoided telephone communications as much as possible, the latter being monitored by the Communist authorities. From there was born the idea to create a means of communication that would not be wiretapped or recorded.
Indeed, to use WhatsApp, just download the application on their smartphone, to be connected and to enter their telephone. The app then syncs with your existing contacts, and you can then communicate with those who also have WhatsApp, for through the platform.
Particularly useful when communicating abroad, WhatsApp only requires a wifi or 4G internet connection to function. Thus, no need to pay astronomical sums for packages valid abroad: a free wifi terminal and the tour is play ! You can communicate with someone on the other end people without seeing the bill go up.
WhatsApp is also the possibility to create groups for interact with several people at the same time. The ideal way to exchange effective with your family, your colleagues… and your customers!
WhatsApp: two uses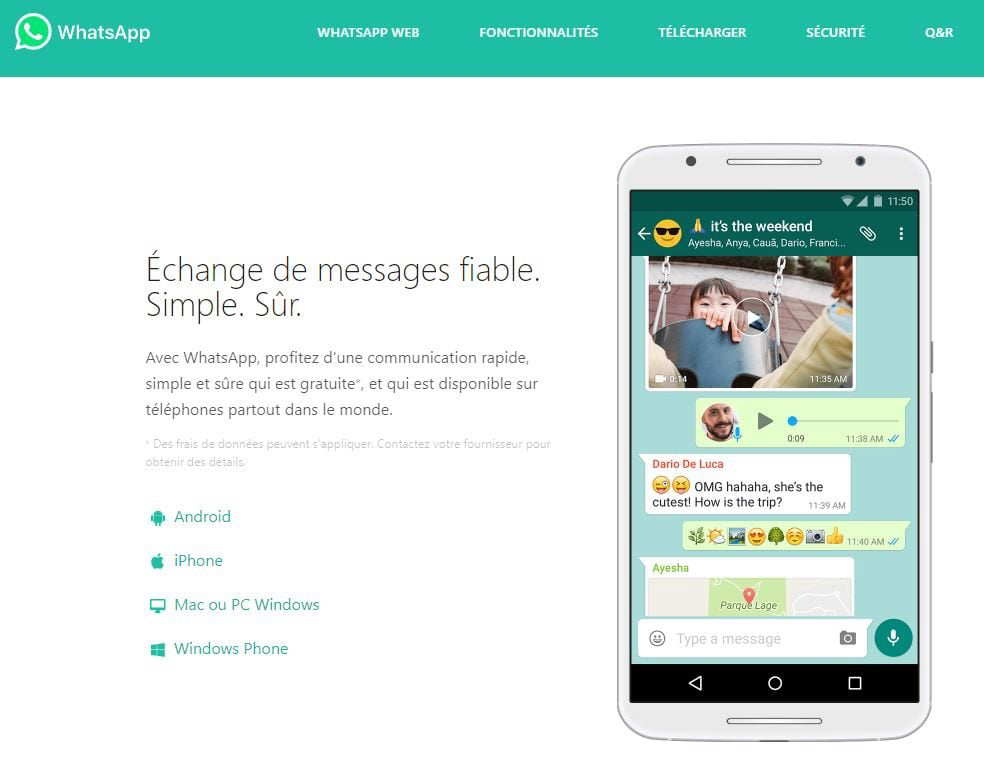 With this version of WhatsApp, you can communicate with your contacts and create groups. For example, in a family setting, WhatsApp can be very useful for keeping the link between all the people in a family, especially when some of its members are abroad and communication with them is sometimes difficult. Sharing photos, videos and content with your group of friends is also very fun.
This is the category that interests us to boost your sales, so let's take a look at its use and characteristics …
NB: some small businesses use classic WhatsApp to answer their customers' questions, but it is not possible to send mass messages to all customers without it becoming unmanageable …
2. WhatsApp business for customer relations and sales opportunities
Initially, WhatsApp was not intended to reach out to professionals. But, in view of its development and popularity growing, the application has varied its operating modes and therefore launched in January 2018 WhatsApp business, specially designed for businesses.
This version includes basic functions for professionals, such as a profile including contact details, descriptions and a automation service for small tasks.
WhatsApp business is very useful for delivering to your customers and partners relevant information. For example, you can schedule absence messages, automatic responses to the most frequently asked questions by your customers, and ensure your presence on a popular and responsive messaging application. With WhatsApp business, users will know they are talking to a business… yours!
3. The advantages of WhatsApp business for your business
For your business, WhatsApp business has several strengths. First of all, the application allows your company to be "officially" on a modern communication system. Reliability, responsiveness and credibility are then immediately associated with the name of your company and the information you provided about it in the profile. Headquarters address, logo, description or slogan , phone number and website address, everything is gathered on WhatsApp business so that your customers have all the key information about your business.
With the application, you also have the possibility to define a welcome message for your customers, to indicate a response time approximate, to send automatic replies, in short to facilitate exchanges with your customers.
The free application is a real asset for small children businesses, traders, artisans, etc., who do not always have the possibility of investing in expensive automation tools.
4. Boost your sales and retain your existing customers with WhatsApp business
In order for your current and future customers to find you on the WhatsApp business platform, they must have your phone number. This is where WhatsApp business will prove particularly useful for managing your customer relationship, which itself, if successful, will boost your sales and promote your Business Development .
More modern than an email and less intrusive than an oral call, communication with WhatsApp business even has a fun side that your prospects and customers will greatly appreciate it.
Are you launching a new product? Send a message to all of your customers.
Did you just close a sale with a brand new customer? Chat with them via the app with a little personalized message.
You no longer hear from a former client? Contact him with WhatsApp business and start a simple chat.
A prospect contacted you for more information? Communicate in a less formal way than through an email using the app.
With WhatsApp business, you have a good interface available made, very intuitive, personalized with your logo display, etc., and the conversation has an "intimate" side that will allow your customer to feel privileged.
Depending on the nature of your services, an after-sales service may be one of your services. Use WhatsApp business to track your existing sales and that your products run smoothly is a very good idea. Indeed, with application, you can provide quality after-sales service, by responding quickly to questions and creating a climate of conversation personalized and modern.
5. How to use WhatsApp to sell and retain customers?
To make the best use of WhatsApp business in the development of your sales and extend collaboration with your customers, there's nothing like a tool that centralizes your communications and that you can use on your computer.
Using WhatsApp Business for computer
First of all, and if you mainly work on a computer, use WhatssApp web, the desktop version of WhatsApp or WhatsApp business. Using the smartphone app is time consuming if you intend to send personalized messages to each of your contacts. On a computer, you will have a more comfortable visual space than on your phone screen and a physical keyboard that is less prone to typing errors than a small, tactile keyboard.
Please note, you will still need the smartphone on which the application is installed is connected to the internet.
Using software third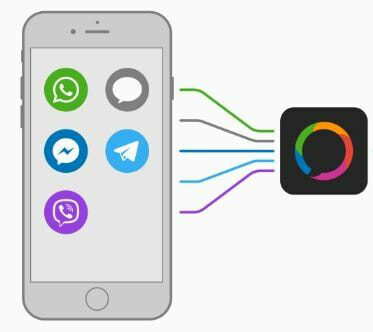 It is possible to synchronize all instant messaging sources such as as WhatsApp, Facebook Messenger, Apple Business Chat, Telegram and Viber with tools such as Messenger People .
Messenger people is a tool created to precisely optimize using WhatsApp for your business needs. Use the application is to ensure a presence on a platform used by hundreds of millions of people around the world. In addition, WhatsApp has been designed by its creator with a view to ensuring the safety of its users: in the era of digital and digital security, in full period of repeated media scandals over data personal data, and with the RPDG law which was tightened up in May 2018, use WhatsApp is a guarantee of professionalism.
With the tool combined with WhatsApp, it will be very easy for you to automate responses, send confirmations (reservation, payment, follow-up delivery, etc.) and to communicate about the news of your company so that your customers are always closer to you!
WhatsApp business is a very relevant channel if you place your customer relationship at the top of your objectives. And you have every interest in it to do !
To prolong the conversation with your customers and retain them as much as possible, WhatsApp business is a real nugget. Its ease of use and the proximity that it establishes and you and your customer allow you to establish a real relationship with him. You can suggest, in the course of a conversation that began for example with "could I have some information about your product? », A promotional code to your customer with a deadline, a link directing them to the new article of your blog , the video you just posted on Youtube , an invitation to your next event to celebrate the release of a new product, etc. While remaining in a professional relationship, WhatsApp allows you to communicate in a less formal, less codified, and above all less rigid way than through other communication channels. Having direct contact with you is a plus!
6. WhatsApp business: a big success abroad
In Latin America, Spain and Asia, WhatsApp is enjoying tremendous success. Indeed, to interact with their traders, the inhabitants gladly use the application to ask questions, and the professionals do everything to be reachable. Displayed on storefronts, the WhatsApp logo accompanied by the phone number invites sharing!
In Brazil, WhatsApp is the most frequently used means of communication by the population, and retailers have understood this well. Restaurants, artisans, traders and other sales professionals use the application to be always closer to their customers and do everything to be reachable on WhatsApp by those who are not yet customers, but who could become so by exchanging on the platform ! In Peru, it is mainly travel agencies that have started using the application to provide their customers with a whole new approach to communicating between themselves and tour guides.
7. WhatsApp business: in France, Myprotein is launching
MyProtein is a company specializing in sports nutrition. Modern and innovative in its desire to manage its customer relationship, MyProtein stands out from the very classic newsletter sent by email by launching into the WhatsApp niche (they still have the Newsletter, WhatsApp being the means of pushing content directly into the pocket of their prospects).
By offering its customers (and simple visitors to their website) to add MyProtein to their WhatsApp contacts, the leading company in its market in Europe avoids the usual spam and the sending of promotional offers through the classic channel of mailbox. By using the word "community" when it comes to offering its customers and visitors to add Myprotein to their contact file, this company stands out and offers very personal communication. It is then easy for the consumer to contact the company for information, placing a new order, updating a delivery address, etc.
8. WhatsApp business to sell and retain customers: the opinion of Proinfluent
Always in search of new knowledge and eager to adapt the human dimension to the ever growing development of digital technologies, I think that WhatsApp as part of your business and customer loyalty is a tool to be tested. If you are a small business, you will only benefit from it, since the simplicity of its use and especially its free nature make it a tool with which you will take no risk! If the classic application is not suitable, or even truly thought out, for an extended marketing campaign, WhatssApp Business allows you to reach all your customers directly in their pocket.
I am convinced that WhatsApp business fits perfectly in the continuity of an approach of Social Selling , and that it is quite possible to boost sales and maximize the potential of your customer relationship by using the application with intelligence … In addition to your usual tools!
Be careful though, keep in mind if you decide to use WhatsApp, those who will contact you do so in order to get a feedback very fast. So be on the spot and make sure you can answer almost immediately to requests. You can configure the application so that absence messages are generated on certain time slots, but I think that using this kind of tool to communicate with its customers will only be positive if you are sure you can use it without disappoint your interlocutors, who will expect you to be very responsive important.
A little advice if you decide to embark on the WhatsApp adventure for your business: indicate on your site and your LinkedIn profile that you are reachable on the application.
Do you use WhatsApp in your private sphere? After reading of this article, are you interested in testing WhatsApp as part of your business development? Tell me everything in the comments and do not hesitate to contact me to exchange?