40 seconds. According to a study , this is the average time it takes a recruiter to read your CV! He must therefore quickly convince your interlocutor. So how do you stand out? What CV template should you adopt to make the recruiter's job easier and be at the top of the pile?
Are you looking for a job or an internship, but your applications are never accepted?
Imagine the recruiters offering you interviews. It is possible and it starts very simply with the creation of your curriculum vitae in the rules of the art. Discover our 5 expert tips as well as our free CV templates to download in our CV Template article!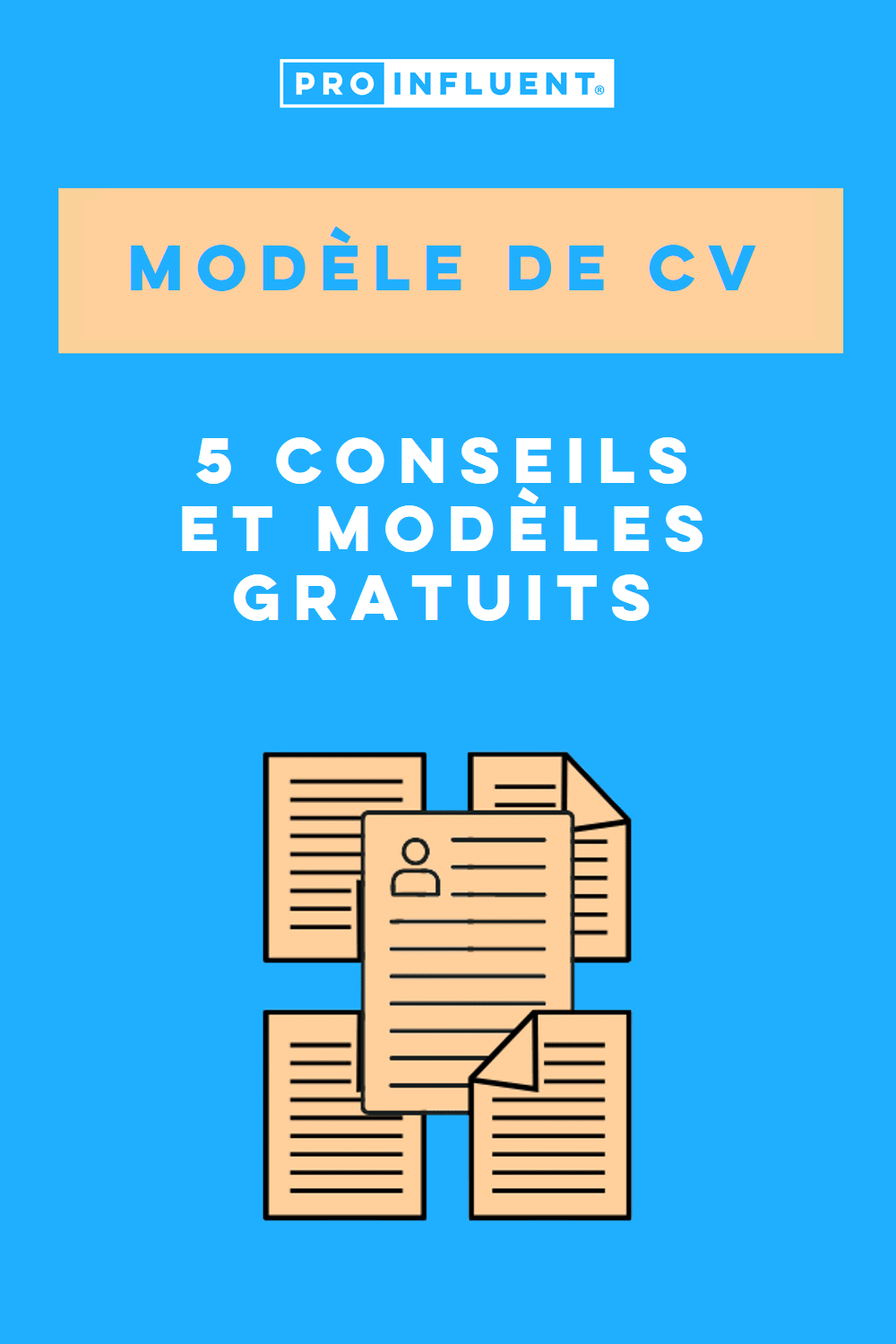 The 5 tips to follow to create a perfect CV!
1. Create a sober and attractive visual
The visual is the first thing recruiters look at. Sometimes it is even an eliminatory criterion. However, the design must always serve the reading. Indeed, when information is difficult to identify or understand, the recruiter does not waste his time trying to explore your idea and he goes his way.
Taking care of your CV is therefore essential to make a difference! For this, starting from a CV template is ideal, because the graphics are generally sober, refined and studied to highlight key information (such as skills for example).
When developing your CV, keep in mind that it is a professional document which, if done well, will facilitate your recruitment. Don't make the mistake of wanting to be too original to stand out!
Yes, eccentricity is not recommended on a CV (unless you are a designer or in a creative sector). So too many colors, patterns or inappropriate information only serve you poorly. However, if your profession touches on the artistic field, certain rules can be ignored and your CV can reflect a little of your personality. If you have a graphic charter , adapt your CV according to it.
Otherwise, sober colors (3 maximum) are highly recommended. In addition, avoid dark shades (navy blue, red, brown …), as they are often too aggressive and too present.
Even if the visual is important, remember that it is there to enhance your text, and not the other way around!
2. Add a professional and engaging photo
Placing a photo on a CV is not mandatory, however, depending on the position and the sector of activity you are targeting, it is generally an element appreciated by recruiters. Indeed, a photo humanizes your information and allows you to put a face to a name.
In any case, your photo must absolutely make a good impression! A person who seems tired has no chance! Nothing should be left to chance!
Regarding the framing, avoid close-ups and prefer the "chest shot" (face and bust), which allows you to show more of yourself. Also remember that it is imperative to be alone, have good lighting and adopt the right posture, that is to say, back to the wall (about 2 meters away to avoid shadows), shoulders 3/4 turned on your left. It is a strategy that encourages the user to look at your content on the right.
A warm gaze turned towards the objective is more appreciable than a cold and fleeing gaze. This allows you to express your ambition!
The location of the photo is also important. The background should be as sober as possible and the room bright. If you are skilled with digital tools, you can rework the background to erase certain elements, but always favor a neutral background.
Discover all of our tips for a professional photo here !
Looking for resume templates to download for free? Don't move, we have perfect CV examples for you!
3. Keep essential information
On a CV, it is not always wise to write too much information. To make it easier to read your CV and make it more readable, keep only the essentials in order to meet the expectations of a targeted position. It is about adjusting your CV to the prerequisites of a job.
There is a real work of reflection to be carried out upstream to sort and retain your skills , experiences and training that serve the position for which you are applying. The goal is therefore to keep only the elements that show recruiters that you are qualified.
However, it is possible and advisable to leave experiences that are unrelated to the job you are aiming for, provided that they reveal important facets of your personality. For example, a volunteer internship.
Putting figures on your CV is always a plus. This helps to better understand what role you occupied. For example, instead of "Manager", write "Manager of a team of 30 people".
Also, never speak in the first person, but rather use an impersonal tone with infinitive verbs.
Do not share too personal information that could serve you! Indeed, you are not obliged to indicate your age, your date of birth, your nationality and even your personal situation (dependent children, divorced, single…).
4. Write readable and structured content
Structure your information on your CV in such a way as to make it readable for the recruiter and organize your content to highlight key data!
To make your CV clear and readable, do not place them randomly. Precisely, when you start from a CV template, the categories are already organized! A real time saver that makes it easier to obtain a professional result.
In addition, certain sections must be present:
Your contact details (telephone, e-mail address, postal address, driving license if you have it);
Skills (human and technical qualities);
Your professional experiences classified from the most recent to the oldest;
Your recommendations (if you have any);
The sector of activity and the position you are aiming for;
The languages spoken and the level of proficiency for each of them;
The training and diplomas obtained;
If you have one, the address, URL (or link if it's a digital CV ) of your website;
The web address of your social networks according to the position sought. Put a clickable link to your LinkedIn™ profile.
Don't forget that an effective CV is based on a single page! Of course, for senior and very experienced profiles, there are exceptions to the rule.
Regarding the structure of the CV to adopt, you can opt for a CV:
Chronological or rather anti-chronological;
or by skills (reserved for experienced profiles).
5. Be honest!
Finally, be honest with yourself! Don't underestimate yourself, but don't brag about the qualities and skills you don't have! At best, it may get you an interview, but it's better to be honest and build a relationship of trust with your recruiter.
Don't gloss over your real abilities, as it's easy to gauge some of them during an interview. Your level of English for example!
Free Resume Template in Microsoft Word
The Microsoft Office Pack is a widely used work tool. Word processing, spreadsheet or PowerPoint, it allows you to create the layout of several types of documents. You may not know it, but this tool also offers many free resume templates to download! About 90 resume examples are available to you and they are all free! And because a resume usually comes with a cover letter, you'll also find a large free collection.
How to download a resume template for free in Microsoft Word?
Start by opening your software.
Click on "New" in the menu on the left.
Then in the "CV and cover letters" section.
Note that it is also possible to type "CV" directly into the search bar.
Many CV templates appear. Just select the one you want and customize it your way right in Word.
Then save your file in PDF before sending it to recruiters by email!
Free CV template in Word, examples
Here are 3 examples of professional CVs that allow you to stand out and get a job faster! The content is well structured, and the important sections (experience, training, sector of activity, skills) are present. In addition, the design is current and refined. These 3 CV models work to prove your motivation, affirm your personality and position you as a real professional in your field of activity.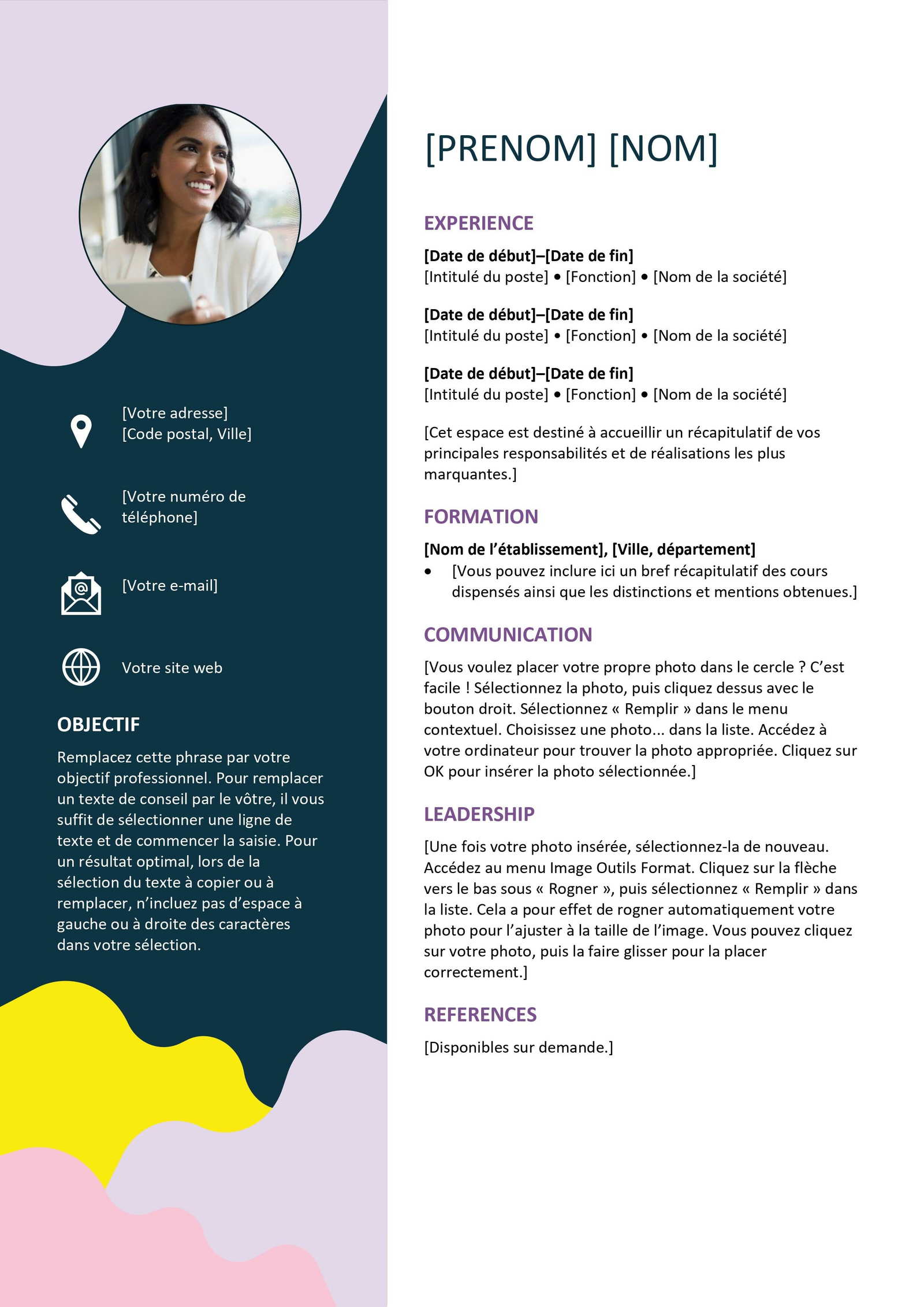 Free Resume Template on Google Docs
Google Docs allows you to write content directly online. Free and interactive, Google Docs is very popular with professionals, because it is possible to share your writing with other users so that they can comment and give their opinions directly on the original file. It's a really practical format for teamwork.
Furthermore, with its online tools, Google™ competes with Microsoft's Office Pack. Google Docs, Sheets, and Slides create content the same way Word, Excel, and PowerPoint do. It is totally free, you just need to have or create a Google™ account.
However, when it comes to free CV templates, there is a clear difference between those on Google Docs and those offered by Word.
Only 5 very basic models are available. None have a photo, but of course you can add it yourself.
How to download a resume template from Google Docs for free?
Open the Google Docs application, then go to "New";
In "Models", all you have to do is view the CV section and choose the CV model of your choice;
Select it to personalize it and save it and voila, your professional CV created super quickly;
Save in the format that suits you: pdf, docx, odt, txt, rtf…
And send by email to recruiters, do not forget to follow your applications and to send reminders by email .
Are you looking for the perfect resume template? Proinfluent has found it for you! Find out in this article!
Free Resume Template on Google Docs, Examples
Here are also 3 CV templates to find on Google Docs. The content is well organized and the structure very little worked. Also, feel free to add your professional profile picture. The colors and the font can also be changed, you have carte blanche! Think, however, that it is about finding a job, so favor a sober, current and structured layout.
Free Resume Template on Canva
Canva is a software that allows you to create sublime visuals, no matter what type of medium you want. Business card, content for social networks, invitation letter, newsletter… With Canva, creating your CV online has never been so fun!
Canva is a safe bet for making a beautiful professional resume and setting yourself apart from the competition. Indeed, this online software is specialized in the creation of visuals, if the aesthetic aspect concerns you, it is perhaps the most suitable tool for you.
Canva is available in both free and paid versions. In reality, some elements are chargeable; a typography, an effect, an example of a form…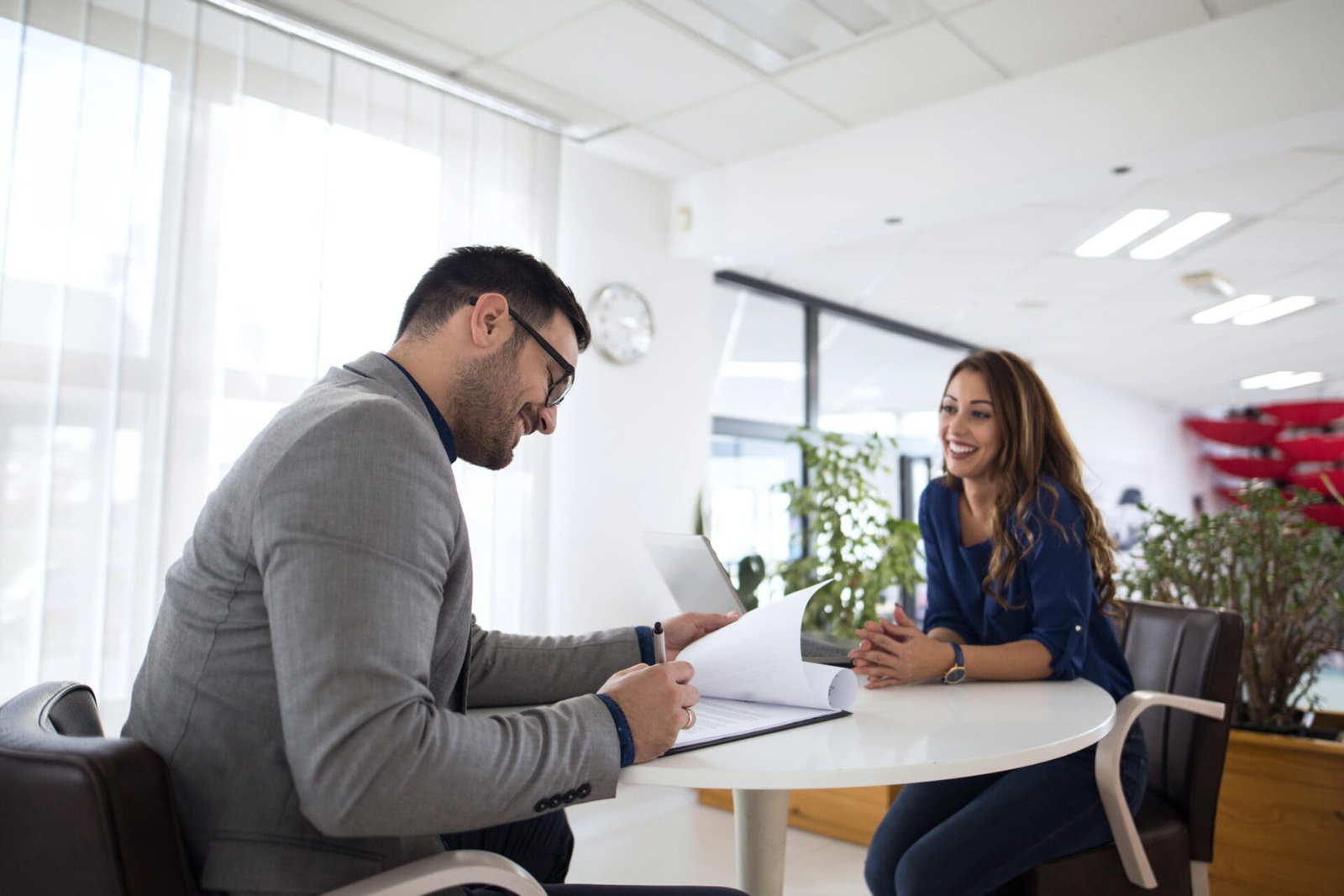 How to download a resume template from Canva for free?
Go to the Canva website and then in the search bar type "CV".
A multitude of resume templates are also available. Just click on the one that matches your criteria to customize it.
Until then, a connection to your space is not necessary, however it becomes mandatory when you want to save your curriculum vitae.
If you have chosen a free template and elements, just select the save format (PDF, PNG, JPG…) and your online CV is directly downloaded to your files!
On the other hand, when a crown is present on one or more visuals, it means that they are paying. If you have a Canva Pro account, there is no additional expense.
Free Resume Template on Canva, Examples
Discover our selection of free online resume templates! The visual is distinguished and neat, which can be an asset if you are looking for a job in the artistic world (graphic designer, designer, tattoo artist, actor, etc.), but also to make a difference. However, be careful not to overload by adding too many graphics and colors, the result must always be sober, clear and readable.
The article contains some affiliate links, but this does not change our recommendations because we really recommend the tools. This means that we earn a commission if you purchase the product after clicking on our link. The price remains unchanged for you.
Proinfluent unveils the ideal CV template
Don't have time to search for the perfect resume template? Do you want a pleasant, readable and easy to modify CV in a few clicks? Look no further, Proinfluent has designed it for you!
This is the CV model most appreciated by recruiters. Perfectly structured, it greatly facilitates the reading of the interlocutor who immediately identifies the key words and the relevant categories.
Sober and modern, the Proinfluent CV respects the current codes of an attractive and effective CV.
It's an ultra-visual resume that:
✔ Immediately grabs attention;
✔ Highlights your skills;
✔ Adapts to all industries;
✔ Facilitates the work of recruiters.
Another advantage: this template can be downloaded and modified in a few minutes in PowerPoint.
Don't wait any longer and find the approved CV template that generates job interviews here !
CV template to conclude
Applying with a CV that catches the attention of recruiters is essential to get interviews… and get the job of your dreams! Here are our tips for creating the CV that makes the difference:
For the visual, stay sober with a maximum of 3 colors and always light shades.
A photo is generally recommended on a CV. Make sure you look your best (professional attire, hairstyle, look good, etc.) and in a bright room. In addition, the background must absolutely be neutral! Don't hesitate to smile, it's much more engaging for a first contact!
Structured content is essential to make your CV easier to read. Take care with your text and don't forget the following sections: skills, experience, training, diplomas and your contact details.
Be relevant and keep only essential information.
To start on a solid foundation and establish a climate of trust, stay honest! It is better to confess and misunderstand something and show good faith.
Word, Google Docs, and Canva offer free resume templates to download.
CV template to summarize in 4 questions
How to make a resume in 2022?
Opt for a sober and neat visual;
Add a professional and engaging photo;
Organize your information to make the CV easier to read;
Keep only the information useful to recruiters;
Place your telephone, postal and digital contact details (website, email address, etc.), your skills, the position you are looking for, your experiences, your training, etc.
Add your professional objective or a profile summary at the top of your resume.
How to make a simple model CV?
To create a simple and clear CV, it is best to use an example of a CV that meets your criteria. CV templates can be downloaded for free online, on Google Docs, Canva or Word for example.
Otherwise, a simple CV: it is a structured CV, not overloaded, which contains the essential information with a very sober visual and light colors.
Where to find free resume templates?
Many sites offer free downloads of resume templates. This is the case for example of Canva, Google Docs, Word and Libre Office. In addition, websites also make it easy to find examples directly online.
How to make a good CV with Word?
To get started, choose the resume template that matches your criteria. Indeed, Word offers many templates to customize. To find them, simply go to "New", in the menu on the left, then to the "CV" section.
Select it then start writing your skills, your experiences (previous jobs), your training… It is possible to change the font, the color, add or delete a text area. Word allows you to create a completely personalized CV that you can then save as a PDF.