What does it mean to be a good salesperson? What skills are needed? How to get out of the game? We give you, in this article, the 20 skills of a salesperson to add to your profile LinkedIn ™ .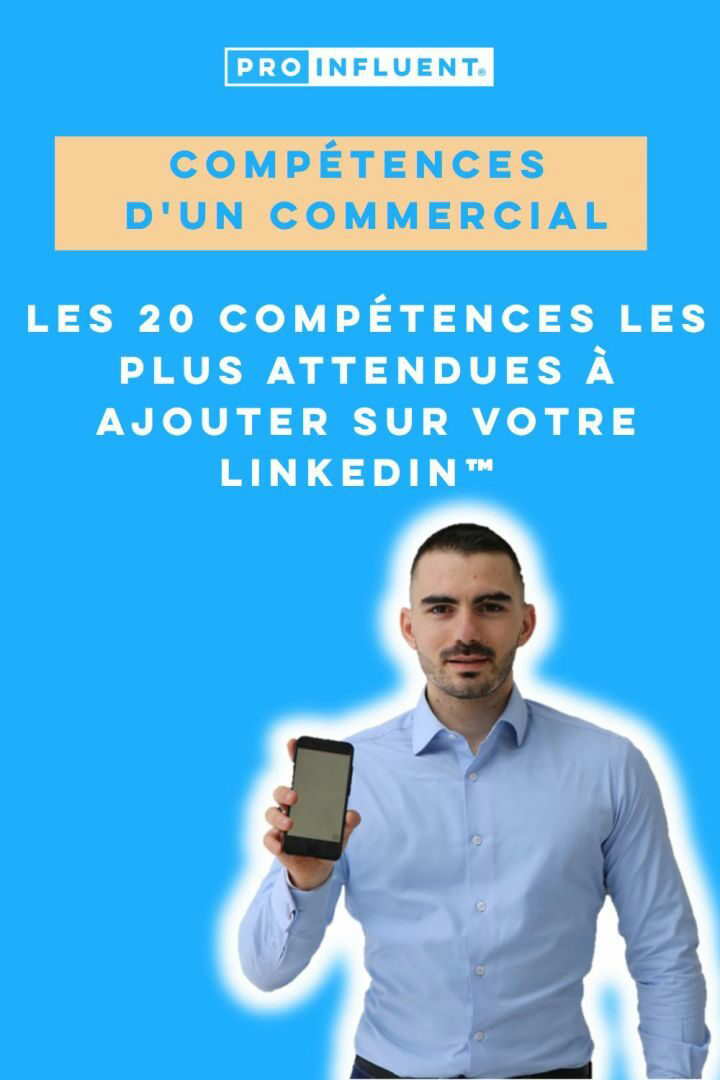 Business skill # 1: interpersonal skills
Having good interpersonal skills joins the idea of adapting easily to your audience . Indeed, being that commercial you interact easily with all your targets. You tune in with the person you're talking to, so you don't talk to the marketing department in the same way as you do to the manager of a company. It is no longer just a know-how, but an important skill that can be learned.
The way to communicate, listening or even proximity are the ingredients of the recipe for success. You just have to find the right dosage for it to be 100% successful. To be comfortable yes, but with accuracy. Being too "friendly" or too casual can hurt your professional relationships.
Highlighting your interpersonal skills on LinkedIn ™ is a significant asset for a business profile.
Business Skill # 2: Empathy
Empathy is the ability to feel and understand the emotions of your interlocutor. A salesperson who shows empathy knows how to listen to the person in front of him in order to understand his needs and thus adapt his speech.
Empathy occurs at all levels of the sales journey:
During a first contact, empathy is used to break the ice and create a relationship of trust. Indeed, by feeling the emotions and difficulties of the prospect, you adapt your attitude and speech to promote a feeling of closeness.
An empathetic salesperson is interested in his prospects (and his customers) by asking a lot of open-ended questions to clearly identify the problems and their needs. All the information collected is then used to feed the prospect with useful and appropriate content.
Finally, you help him to take the decision course, because you feel his fears and blockages that you can easily reassure.
In short, empathy is a more than important skill for successful sales. Based on trust and understanding of the other, it is the opposite of "aggressive" sales. Selling smoothly while being efficient is possible.
This rare and sought-after skill allows you to make a difference on your LinkedIn ™ profile.
Business Skill # 3: Active Listening
What is active listening?
Active listening is a communication technique used during what is called the "phase of discovering the needs of the future client" . As its name suggests, active listening is based on listening to your interlocutor in depth (and not just on the surface). This is why it is also necessary to decipher the non-verbal: arms crossed, shrug of the shoulders, movement of the eyes, intonation of the voice, etc. The goal is to clearly identify the real expectations, the real problems, the needs and the blockages of your prospect.
How to use active listening?
During your exchange, establish a dialogue and make your interlocutor speak using a well-structured questioning of the type: "why is it important for you to…?" What could allow you to achieve such a goal? ". For example, we recommend the method of Spin selleng which offers a questionnaire structured in 4 phases (opening, investigation, demonstration and engagement) to gently transform prospects into customers.
Each time your interlocutor expresses an idea or a need, you rephrase his remarks like: "if I understood correctly, you think that …". You can also verbalize the emotions and feelings that you perceive. This promotes synchronization with the person opposite and builds a climate of trust.
To succeed in your commercial exchange with active listening, forget too intrusive sales methods and opt for a benevolent interview , which we could rather qualify as an exchange. For this, there is the BEBEDC method (Need, Issue, Budget, Deadline, Decision-makers, Competitors) which provides a framework to follow to guide your interview.
So you understand that knowing these methods remains a real asset for you! According to a study published in Harward Business Review , 40% of buyers want to be in contact with a salesperson who knows how to listen to them and understand their request in order to provide a suitable solution. 30% need to be confident in order to have a long-term solution. Finally, the remaining 30% need a salesperson who thinks outside the box and wants a very innovative solution.
So most buyers need to feel some confidence before they make a purchase!
These skills are called "soft skills". These are essential transversal skills: adaptability, communication, emotional intelligence… These behavioral skills complement technical know-how ("hard skills"). Highly sought after, it is essential to highlight them on your LinkedIn ™ profile!
Business Skill # 4: The Power of Persuasion
To properly sell a product or service, the salesperson must be a persuasive force. Above all, this means that you have to have a perfect command of what you are selling in order to send a coherent message. By preparing your sales arguments in advance, you know how to meet the customer's needs.
Be careful, persuasion does not mean being too pushy! And here is the whole difficulty, with finesse and enthusiasm, a good salesperson manages to counter the client's objections and reassure him without aggressiveness.
Business Skill # 5: Adaptability
Adaptability, what are we talking about exactly? It is the ability to adjust to a situation, a new challenge, a change of conditions, a different interlocutor …
This behavioral skill is essential for a salesperson. Indeed, this one is brought to meet various personalities throughout his career. He must therefore quickly adjust to the person in front to meet his needs.
The business world is changing fast and the strategic decisions of prospects and customers are changing just as quickly. Their needs are constantly changing. A good salesperson knows how to be comfortable in any new situation. Thus its daily challenge is to identify new problems in order to adapt to them in order to respond to them with adequate solutions.
If you have such a skill, don't forget to add it to your LinkedIn ™ profile!
Commercial skill n ° 6: organization
Now let's tackle a subject that may annoy some: organization! A natural skill for some, it is much less so for others. However, it is necessary to put in place a minimum of method and procedure to be effective in your daily commercial life.
For a salesperson, the two axes that require rigor and organization are:
Time management: properly plan your appointments in your diary and plan time slots for your other assignments. Do not forget to anticipate your trips and organize your visits in advance (grouping them by geographical areas).
Managing your customer portfolio: for this, rely on a CRM (see skill n ° 7).
Commercial skill n ° 7: knowledge of CRM tools
A CRM (Customer Relationship Management) is a customer relationship management tool. It is software that structures and brings together all interactions between the company and customers (and future customers). It allows you to manage contacts and sales.
CRM is used by several departments of a company such as customer support, sales force management, marketing and of course sales representatives.
A salesperson is required to know how to manage this type of software in order to generate leads, personalize follow-up messages, prepare for customer visits, etc. It is a technical skill to integrate into your LinkedIn ™ profile.
Business skill # 8: team spirit
There is an African proverb which says: "Alone, we go faster. Together, we go further. »A close-knit team moving towards a common goal helps to develop business. So, stop the preconceived ideas of the salesperson who works alone! Team spirit must remain a pillar within the company.
As a salesperson, you are in constant contact with other departments: the marketing department, communication, after-sales service, purchasing department, etc. You are called upon to provide feedback and share your knowledge of customers.
This know-how is highly sought after. A salesperson is not only a person who brings in turnover, he is a full-fledged employee who integrates into the workforce.
Business Skill # 9: Fluency in Grammar and Spelling
Writing emails, instant messages, contracts … writing is at the heart of your business. You don't have to be Voltaire, just write without spelling mistakes and with correct grammar. Proofread yourself and use (if necessary) a spell checker such as Scribens .
What could be more unpleasant than receiving an email with several obvious mistakes? This takes away the credibility and the seriousness of the company. Writing without fail has become a very rare skill due in particular to the digitization of content.
Business skill # 10: honesty
It might sound obvious, but honesty is more than a skill. It's a value that your customers appreciate. Although you are there to sell a service, a service or a product, do so without lying or manipulating your interlocutors.
Know how to sell while remaining lucid and honest, you will largely win the game compared to your competitors.
Commercial skill n ° 11: the network
The network, to do business, is essential. The more people you have, the more potential customers you have. That is why the salesperson must be able to rapidly develop his network, whether through LinkedIn ™ or live.
So how many connections do you have on LinkedIn ™? To develop your network, see our article on this subject: develop your professional LinkedIn ™ network in 12 steps.
Commercial skill n ° 12: be comfortable with digital tools
Digital tools integrate our daily lives both in the personal and professional spheres: internet, social networks, mobile applications, etc. Your customers and prospects are, like you, users of these tools.
With communications becoming increasingly digital, you must master the rules and codes of digital practice.
On LinkedIn ™ (the largest professional social network), you can:
develop your business network;
find your future BtoB customers;
maintain the relationship with your current customers.
Practices on the internet and on social networks are constantly evolving. If you are still unsure, it is still time to train yourself in social selling with our LinkedIn ™ prospecting training .
Business Skill # 13: Managing Emotions
What does "to be pressure resistant" really mean? It is the ability of an individual to manage difficult situations without suffering the negative effects of stress (insomnia, loss of appetite, shaking hands, pain, nervousness, etc.). Obviously, no one reacts in the same way to stress.
As a salesperson, you are under pressure on a daily basis: objectives to be achieved, customers to be convinced, turnover to be achieved, urgent problems to be dealt with, etc. This can generate a great source of stress. Controlling your emotions in all circumstances is therefore an undeniable skill for a salesperson. You have the option to add it to your skills list on LinkedIn ™.
Commercial skill n ° 14: knowing how to question yourself
Throughout your career, you encounter successes, like failures. You don't have to have fun counting all your successes, but rather analyze why and how you reach your goals.
We do not teach you anything by telling you that there is no real failure … The salesperson must therefore be lucid about his sales, his way of doing things, but also be able to recognize the mistakes made or rather the avenues for improvement in order to be more efficient.
Questioning yourself therefore means doing a little introspection and asking yourself the right questions to move more serenely towards your goal, leaving your ego aside a little.
Business Skill # 15: Optimism
What is optimism? "A pessimist sees the difficulty in every opportunity, an optimist sees the opportunity in every difficulty", famous quote from Winston Churchill.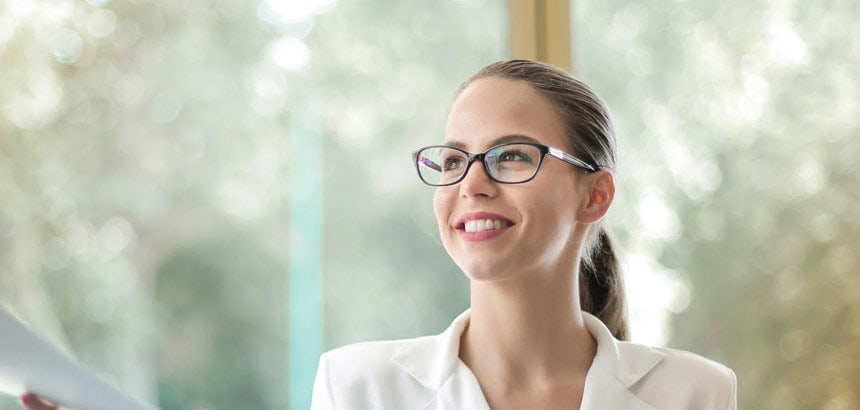 As a salesperson, stay optimistic! This ensures that you will achieve your goal despite the difficulties. Being optimistic does not mean not being realistic, on the contrary, it is knowing how to gather your weapons so as never to give up your goal. . It is also about finding the best way to get there, by visualizing your objective while being aware of the potential "grains of sand" which could come to hinder your progress. Optimist or enthusiasm are therefore values that can be transformed into skills.
Commercial skill # 16: analytical skills
Analytical skills are the ability to accurately understand a situation and assess problems. This is a key skill in a salesperson.
Knowing the market is the basis of a good sale. Indeed, you must analyze your competitors, market shares, needs, customer types and very quickly to be operational.
Business Skill # 17: Persistence
"Patience and length of time are more than strength or rage". Does this proverb speak to you? Here it is perfectly suited to the commercial profession. Indeed, if there is one essential skill, it is that of being persevering. This means that you don't let yourself down at the slightest difficulty. On the contrary, you are driven by a taste for challenge and nothing can stop you. But sometimes it's also helpful to be patient and let the customer get the hang of it.
You are therefore persevering, while managing to identify the person in front of you and to judge when and at what time you can revive your future client. Perseverance is a significant skill for a seasoned salesperson that you owe it to yourself to highlight on your LinkedIn ™ profile!
Business Skill # 18: Creativity
Need to differentiate yourself from your competitors? To hit the mark with a prospect? To surprise a weary customer? Be creative in selling your products or services. Let your imagination and your emotions speak: new communication tool, different approach, varied communication, etc.
Very often in conjunction with communication and marketing teams, being creative is a skill that allows you to show a more modern profile and far removed from clichés.
Creativity is a skill to add to your LinkedIn ™ profile.
Commercial skill n ° 19: be a challenger at heart
What would a salesperson be who does not have the taste for a challenge? Even though business goals can be a pressure, it's what turns you on (or even gives you wings).
Being challenged every month is often enough motivation to boost you. Thus, you deploy all the means necessary to achieve the objectives. This is why you must put forward this skill which is in you and which allows you to overcome all obstacles.
Commercial skill n ° 20: management
Even if you like to run your boat alone, a salesperson needs managerial skills. Whether or not you are coaching a team, these skills are essential. Indeed, they are required for any project management: informing, communicating, knowing how to delegate, having to work in a team, convincing, defusing conflicts, planning, motivating, etc.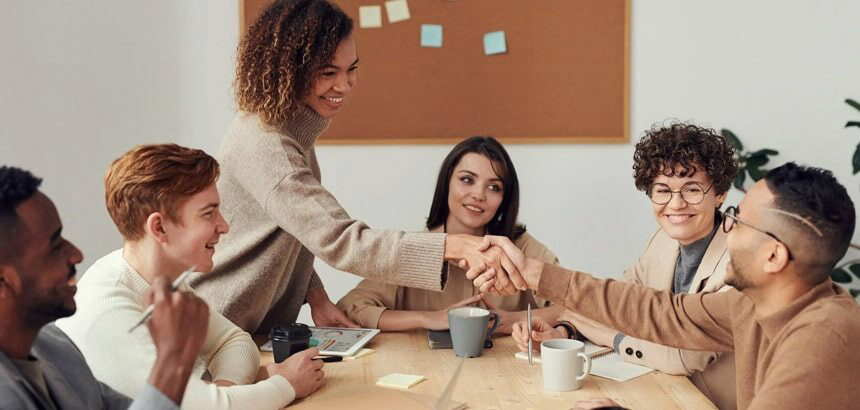 A good sales manager is one who will succeed in motivating his employees while being factual with objectives to be achieved. . This does not prevent you from being understanding and listening. This skill is a real asset that will allow us to go beyond the "simple position" of sales.
How to add sales skills on LinkedIn ™?
You have several levers to integrate your skills into your LinkedIn ™ profile:
insert them in the upper part of your profile: banner or title;
write them in your abstract ;
slip them into your professional career;
display them in the section dedicated to this: "skills".
Click on "Add a new skill". Then in the search bar: enter your query.
LinkedIn ™ suggests several skills.
Only 3 skills are displayed on your profile (if not, you must click on "more"). Each skill can be recommended by members of your network.
Do not hesitate to read our article: a Perfect LinkedIn ™ Profile in 10 Steps
Skills of a Salesperson: The 20 Most Expected Skills to Add to Your LinkedIn ™: In Conclusion
Get out of the game and showcase your skills on LinkedIn by following our tips:
Highlight the skills that resemble you;
Refocus on your experiences and argue your skills with concrete examples;
Empathy, active listening and adaptation are very popular soft skills;
Think "know-how" and "know-how";
Be clear-sighted and honest about your skills.
Skills of a salesperson: to sum up in three questions
Qu'est-ce qu'une soft skill?

A soft skill represents an interpersonal skill, that is to say a know-how: knowing how to communicate, knowing how to listen, being benevolent, knowing how to delegate, working in a team … These behavioral skills complement the technical skills (know-how) named "Hard skills".
Quelles sont les compétences indispensables pour un bon commercial ?
The 20 skills of a salesperson are: interpersonal skills, empathy, active listening, persuasiveness, adaptability, organization, knowledge of CRM tools, team spirit, mastery of grammar and spelling, honesty, networking, mastery of digital tools, management of emotions, knowing how to question oneself, optimism, analytical skills, perseverance, creativity, the taste for challenge, management.
Quelles compétences dois-je mettre en avant sur LinkedIn™ ?
On the LinkedIn ™ professional network, put the skills that are most like you. Depending on your sector of activity, certain know-how and interpersonal skills are more in demand. Remember that it is important to put before your technical skills such as mastering CRM software, but also to add "human" and "relational" skills.