You want to grow your B2B sales, and you know that targeted emails are essential. To maximize your efforts, it's imperative to identify the right contact and successfully engage them. It's hard to find reliable information about your prospects and just as hard to personalize your contacts. Nomination is a software for lead generation and marketing campaign efficiency. Here is our review of Nomination.
Presentation of Nomination
Nomination is an online B2B business prospecting platform. It was created by Serge Papo and Louis Barbeau, initially to be alerted to the appointment of executives to a new position, that key moment when business opportunities are increased and it is opportune to attempt a commercial approach. Nomination is a prospecting solution designed to get to know the customers in your market, and identify the best opportunities. It features prospecting tools, with automation, eMailing and a CRM connector. This all-in-one French marketing solution is a reference platform for B2B prospecting, combining data and tools, with up-to-date, structured, RGPD-compliant data on over a thousand customers.
This solution allows you to create prospecting lists with more than 50 criteria (functions in the hierarchy, sector, clientele…), to qualify the account (subsidiaries, organization charts, news) and the contact (bio, contact information…), to set up alerts on current events (fund raising, appointment, project, development…) while automating your prospecting (more than 100 automatic emails per day with personalization of the messages and telephone reminders).
Install Nomination
As it is a SAAS software, you don't have to download it to your computer, and its page is compatible with most operating systems. It works as long as you have an internet connection and a web browser. This flexibility allows Nomination to be used on all devices: tablets, smartphones and iPhones. It is available on the PlayStore and the AppleStore.
To get started with Nomination, simply go to https://www.nomination.fr/ and click on Free Trial. Then simply choose the package that suits you best from the Solutions menu:
Sales Intelligence (b2b prospecting);
Sales Automation (cold emailing);
Smart Mailing (marketing campaigns);
Hubspot Connector (improve Hubspot performance);
Smart CRM (use nomination with your CRM);
Data Cleaning (update your commercial database).
A reliable, RGPD compliant database
The available data is numerous and efficient (entry points to an account, business opportunities, potential of prospects). They are classified, clear, immediately exploitable and the targeting is precise.
All French companies are covered, Nomination collects the data, enriches it, verifies it with the help of a team of 60 experts, and updates it regularly. And to top it all off, Nomination has been awarded the Privacy Protection label (GDPR compliance, France DMA).
An ally for your sales approaches
With Sales Intelligence, Nomination details the organizational chart of companies and, above all, identifies the common contacts of each company with your own network. This is a definite strategic advantage.
Sales Intelligence is also a real lead scout, which in B2B prospecting is perhaps the most important job to develop and maintain your business.
This Nomination module is therefore an indispensable tool for your sales force. It is more qualitative than quantitative, you improve your understanding of contacts and organizations, you become more agile and reactive on the markets. In addition, you can reach out to small and medium-sized businesses as well as large accounts.
Smart mailing
Many tools on the web allow you to do emailing, but you can choose the "smart mailing" subscription and do it "intelligently". This means that you have the possibility to target very precisely with almost 50 different criteria in order to identify the contacts most in line with your marketing strategy.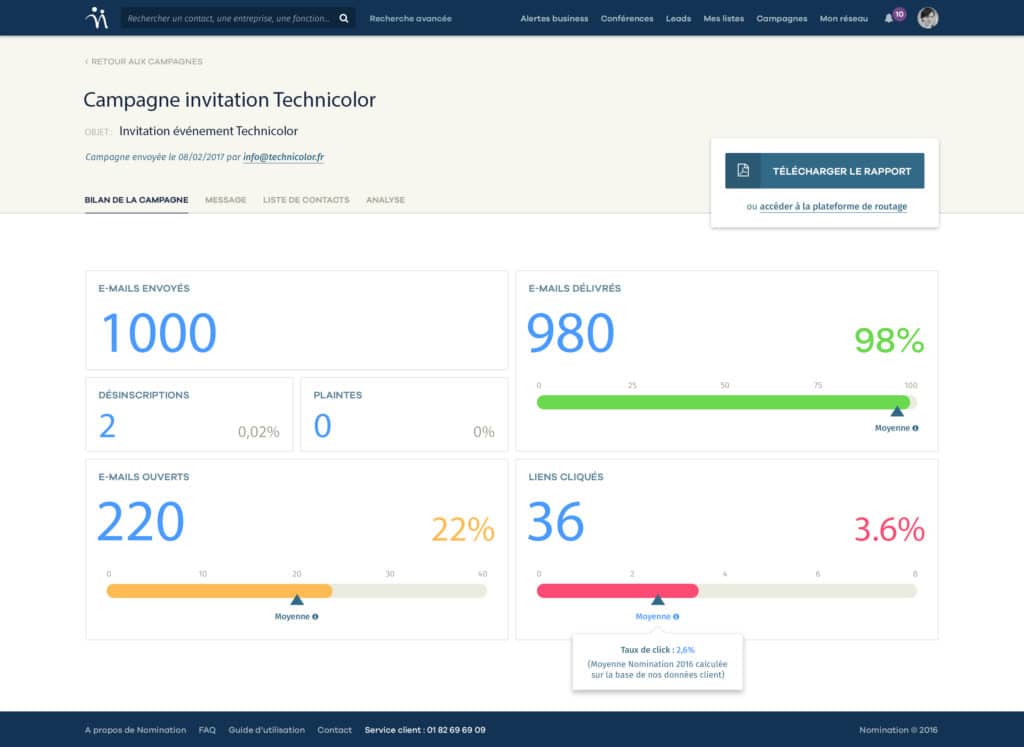 Then, the emailing campaign is created with an intuitive drag and drop and you can obviously measure its performance with statistics of email openings and clicked links. The plus is the analysis of the profiles of the people reached, which allows you to re-launch your campaign and improve it.
CRM connectors
Entering and updating data is absolutely time consuming for your teams. That's where Nomination comes in. By integrating Nomination's smart data into your CRM (Customer Relationship Management), you save precious time because Nomination takes care of everything.
It provides APIs to integrate with others such as Microsoft Dynamics. These integrations synchronize the databases and make Nomination a plugin to act in symbiosis and increase the power of both.
For example, you can connect Nomination to Salesforce, which brings you all the useful data: business opportunities, organization charts, appointments, etc.
It is also possible to boost Hubspot with Nomination through three modules: Enrich (targeting and importing your prospect lists), Smart Campaign (engagement scenarios based on your targets' news), and ABM Insight (decision-maker organization charts to approach key accounts).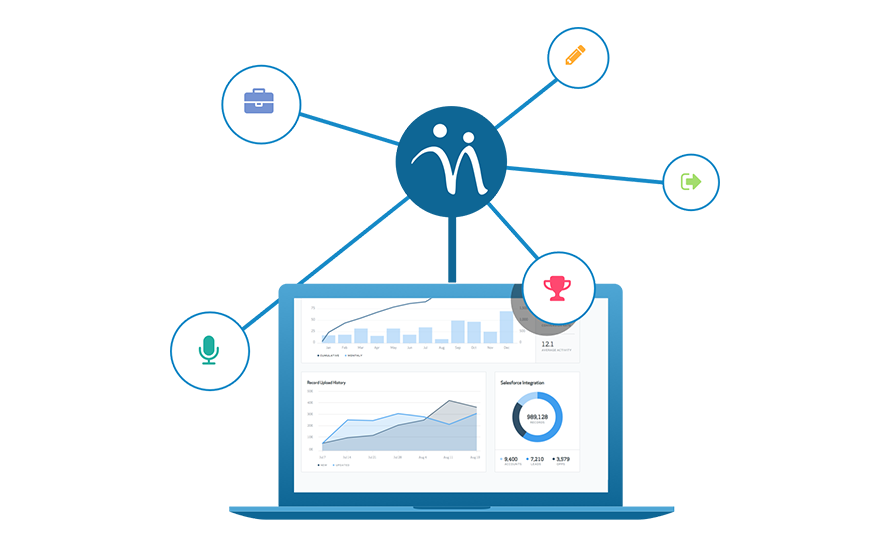 Inbound marketing is a powerful strategy to attract qualified leads. So do content marketing by creating quality content on your website, blog or social networks. This free, interesting and relevant content attracts people who are likely to become your customers.
Nomination and LinkedIn™?
LinkedIn™ is the ideal tool for gathering valuable information to extract for your business prospecting. It is the world's largest professional network with over 850 million users representing all countries. But can you use LinkedIn™ with Nomination? The answer is yes, with just one click, it's possible to view LinkedIn™ team organizational charts.
Proinfluent accompanies you in the evolution of your company. Discover the Proinfluent® Method that allows you to have a predictable flow of customers without forcing you.
Customer Services
Nomination has 24-hour support Monday through Friday, via chat or email.
Finally, they provide you with a large number of resources and best practices to follow, as well as a white paper.
Nomination pricing
Nomination offers a free trial version, prices are not publicly displayed, you need to contact them to know the packages.
Two subscriptions (Sales intelligence and Smart mailing) give you the possibility to make the most of the appointment database and the targeted emailing.
To conclude, our opinion on Nomination
Our opinion on nomination is that it is a reliable software. It is an ideal prospecting solution for lead generation:.
Nomination is an online B2B sales prospecting platform that combines data and tools.
It is a SAAS platform, no need to install it to use it, a subscription is enough.
You choose the formula that suits you best: B2B prospecting, cold emailing, marketing campaigns, Hubsbot connection, CRM, or updating your commercial database.
The database is large, reliable and GDPR compliant.
With Sales Intelligence, you detail company organization charts and use your network to approach your contacts.
Email campaigns are easy to set up, and you can analyze the profile of the people reached.
Nomination provides you with APIs to integrate with your CRM: Hubspot, Salesforce, Microsoft Dynamics…
The customer service is responsive and very professional.
Nomination review, to summarize in four questions
What is Nomination?
Nomination is a lead generator. It's a B2B platform that targets companies and decision makers, monitors their activity to create effective sales prospecting lists, be responsive to events, and be able to leverage your networks to contact the right people at the right time.
To do this, Nomination has a reliable database, guaranteed GDPR, and updated regularly.
Who is the Nomination for?
Nomination is a sales prospecting tool, a lead generator aimed at professionals, decision-makers, companies and salespeople who want to develop sales by following their sales strategy.
Nomination is a solution for anyone who needs reliable company data, to collect company organization charts, and to set up business alerts on decision makers, contact and qualify leads.
How to make money with Nomination?
According to www.logiciels.pro/, Nomination provides sales effectiveness solutions that help companies achieve up to 30% additional performance. The time saved and the quality of the leads generated help to increase sales.
Making contact by means of relevant information and targeted emailing campaigns, business alerts, the exploitation of appointment data in your CRM, allow you to earn more money.
What are the main features of Nomination?
Contact information: biography, position, hierarchy, contact details…
Company information: turnover, collective agreement, year-end, organization chart, subsidiaries…
Targeting criteria;
Create prospecting lists;
Portfolio analysis;
News alerts: fund raising, appointment, external growth, marketing project, recruitment…
Sales automation: automatic cold emailing;
Targeted emailing campaigns;
CRM connector: Hubspot, Salesforce, Microsoft Dynamics.