Schedule a LinkedIn post: pros, cons and tools.
LinkedIn is the leading professional social network on the web . Every day, hundreds of millions of Internet users connect to it and use it in the course of their professional activity. With its network, its many tools and the quality of the information that circulates there, LinkedIn is very popular with players in the world of work: recruiters, decision-makers, salespeople, managers, students, etc. The user panel is rich and varied, thus offering a maximum of sharing and interaction.
If you use LinkedIn, the very first thing to consider is creating the ideal LinkedIn profile. To help you, I invite you to download for free the checklist to have a perfect LinkedIn profile . Once you have your flawless LinkedIn profile, it's time for you to post content on LinkedIn to deploy your marketing strategy. social selling with LinkedIn and use the network to boost your sales, recruit or make you 'buy'.
It is possible to schedule a LinkedIn post with different tools external to the social network, if you want to gain time and enjoy working with marketing aids for your marketing strategy. sale on LinkedIn. Let's find out all there is to know about the programming of LinkedIn publications.
1. Good reasons to schedule a LinkedIn post
Managing a marketing strategy on LinkedIn can quickly become time consuming if you are the type to get overwhelmed or if you don't have a quasi-military organization. The programming of LinkedIn publications will take care of the management of your content publications on LinkedIn according to your objectives and your editorial strategy . Social selling with LinkedIn is a strategy in its own right, which should not be taken lightly and which requires constant effort. To help you, it may be a good idea to look into a suitable solution for scheduling your LinkedIn posts.
In addition to saving you time allowing you to automatically publish all the content you want to the when you wish (we will come back to this point at the end of the article), programming offers you a significant ease of organization. In indeed, you can devote an hour per week / month to creation of a calendar specific to the planned period. The publications during of the month of December and the end of year celebrations will not be the same as August, when activity slows down with most workers in period of annual leave. A reflection on the programming of your publications by having a global view on the temporal aspect will allow you to follow a common thread that can only gain in relevance.
2. Scheduling a LinkedIn post: limitations and drawbacks
If content programming LinkedIn is favorable to the optimization of your time, it is on the other hand much less practical if, by a combination of circumstances, your programming does not correspond to what is happening at time T.
For example, the news can "Force" to post specific content at the last minute. Integrating it into the rest of your programming can confuse all the work that you have done upstream for the smooth running of your publications and affect some logistic. Likewise, a sudden impediment could force you not to not be present on LinkedIn when your content is published, and leave your subscribers and members of your network a little alone if they ask you questions related to your publications that you are not available to provide them with answers.
Finally, and this is the major drawback of scheduling LinkedIn posts, the LinkedIn algorithm will prefer to highlight "natural" publications, generated directly from its interface, rather than programmed content that will go through a tool to be displayed on its news feed. This is information that should not be overlooked, since the goal of your publication strategy on LinkedIn will be to obtain as much visibility as possible …
Must read: how the LinkedIn algorithm works .
3. How do I schedule a LinkedIn post?
The social network LinkedIn does not allow no programming your publications from its site, unlike Facebook, for example. To schedule your LinkedIn content, you will need to use tools specially intended therefor. Some are free, others paying. What are these tools that allow you to schedule publications LinkedIn?
Schedule a LinkedIn post with Buffer
Very easy to learn, Buffer is undoubtedly the darling of the web, since it is massively recommended by Internet users who schedule their LinkedIn publications. Buffer does not bother with very extensive features, which makes it simple of use: it does its job, and it does it well. On his platform management of social networks, in our case LinkedIn, you can if you have collaborators add them to the interface so that they can also have access to the tool and participate in your social selling strategy (paid subscription). With Buffer, you can even analyze the results of your publications, and thus adjust your strategy according to your objectives . Buffer is available for free for up to three social media accounts different, only one administrator member and within the limit of ten publications monthly . Premium offers range from around ten euros to nearly 90 euros, with more extensive functions depending on the price of the offer. Personally, it's my little favorite!
Schedule a LinkedIn post with Agorapulse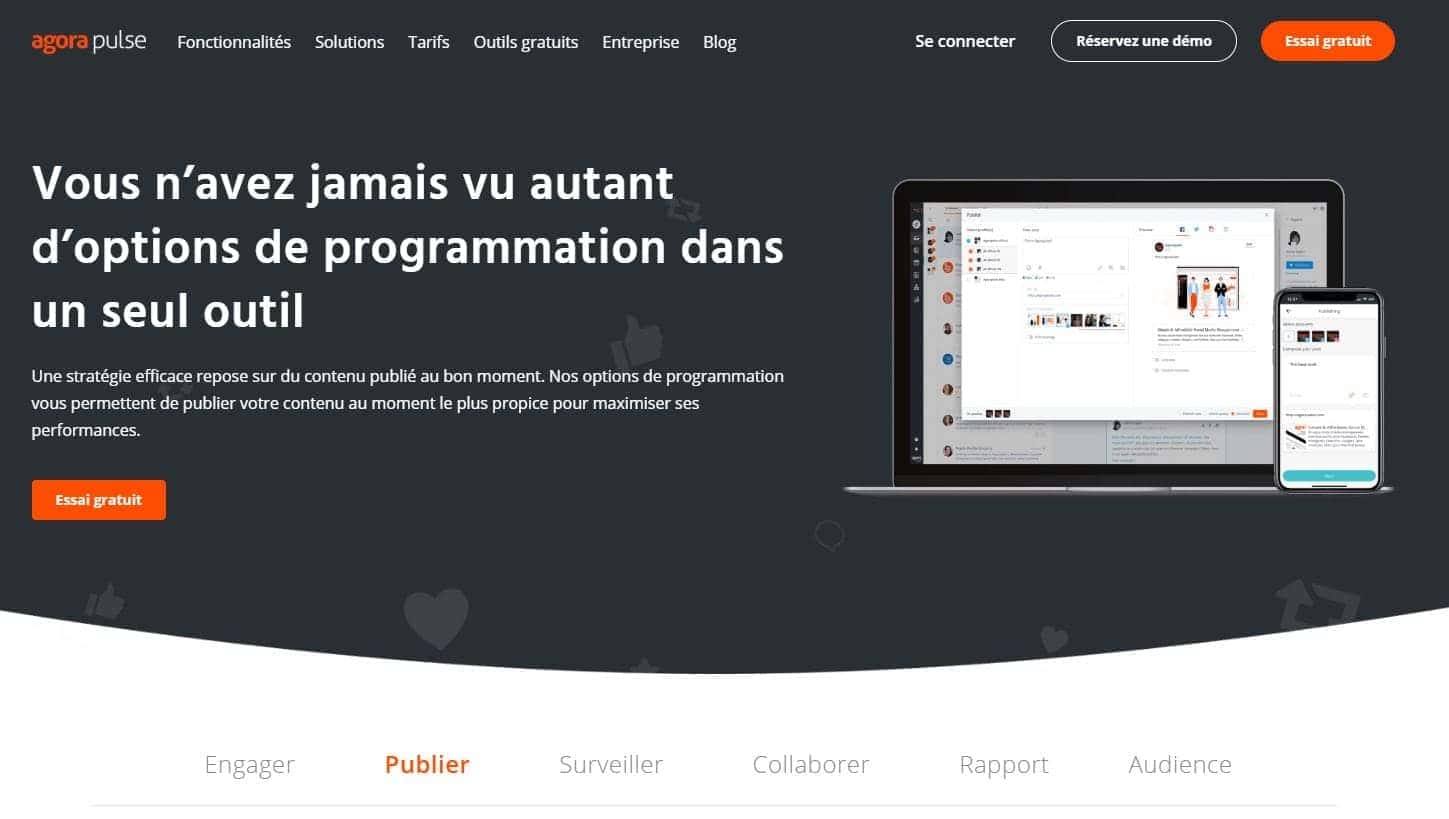 This programming tool adapts to your needs and will allow you to create an editorial calendar that suits you and your brand image! Very well designed, Agorapulse offers you many options to optimize your use: saving specific hashtags, multiple publications, classification by categories, possibility of repetition, etc. Like Buffer, Agorapulse is equipped with a tool for analyzing the results of your LinkedIn publications, so that you can know the ROI of your social selling strategy on LinkedIn. If you work together on the content of your LinkedIn Company Page , the software interface is designed to give you a precise overview of the actions carried out by your employees. Ideal for knowing who did what, and when! The tool also benefits from an internal mailbox which groups reactions to publications, in particular comments. The most of Agorapulse? A feature that allows you to determine who are the most receptive Internet users to your scheduled publications, which allows you to adjust your strategy according to the results obtained and to turn to the right people at the right time. You can test Agorapulse for free for 28 days, then, if you are happy with the service, you can upgrade to a subscription: 79 euros per month for the Medium subscription and 159 euros per month for the Large subscription.
Schedule a LinkedIn post with Swello
It is the French equivalent of Buffer. It offers the same functionality, the same tracking, and an interface just as easy to use. You can use Swello for free, for schedule up to forty monthly publications, or turn to a paid subscription. The Medium subscription at 9.90 euros per month allows program 400 content, and the Large subscription at € 29.90 offers unlimited programming!
Schedule a LinkedIn post and monitor your network with Hootsuite
Certainly the most complete tool to schedule your LinkedIn posts. In fact, if you wish use it, its handling will take a little more time than Buffer or others. More than a content programming tool, Hootsuite is a real program that manages both your posts, but also prospecting resulting final. Its main advantage: it boosts the reach of your publications (for a fee!) to defy the rules of the algorithm, which prefers "natural" posts. Corn Hootsuite also protects your business and branding by ensuring that all your publications meet current standards. Of plus, the tool alerts you if it detects a suspicious presence on your account LinkedIn. Obviously, Hootsuite also gives you access to a table analysis and monitoring of your publications and team management. Very full, Hootsuite is available from 25 euros per month for the basic plan (limited programming and only one user), then 109 euros per month for the Team package, which allows unlimited content programming and three platform users. These two packages are available on a trial basis free for thirty days . There are also two other packages: the Business at 599 euros per month, and the Business package, the price of which is only communicated on estimate.
These tools are the most efficient market, it's up to you to test them in a free version or for a period test to get an idea if you want to schedule your publications LinkedIn.
IMPORTANT: whether your publications are scheduled or you post them spontaneously , it is essential to publish your content at the right time on LinkedIn . Otherwise, your posts may pass through your target audience… Depending on your target audience, the ideal posting schedule may vary. Learn about your prospects' habits so you can post on LinkedIn at the best time. Some schedules are more productive than others, regardless of the target: in the morning between 7 and 8 a.m., midday between 12 and 1 p.m., and in the late afternoon between 5 and 6 p.m. Tuesday also seems to be the most effective day of the week in terms of visibility on LinkedIn. To learn more and know when to post on LinkedIn, I invite you to read the article " When to post on LinkedIn? ".
Scheduling a LinkedIn post: in summary
There are many tools available to help you establish an effective posting schedule on LinkedIn. Nevertheless we have seen that the LinkedIn algorithm don't really like these tools. Although it takes them into account, LinkedIn will decrease the organic reach of your posts.
For successful social selling, nothing like regular publications and who follow a precise strategy! Better publications natural … But if your time is taken elsewhere: don't publish and publish with a tool … Better to publish with a tool even if it means having less range.
It's up to you to boost your visibility through your publications on LinkedIn. If you also want to develop your knowledge and techniques of social selling on LinkedIn, take a look at my LinkedIn online training , my personalized support Where ask me for a quote !