Visit card is a communication tool. A true professional document, it leaves your prospect your contact details and gives a positive first image of your business. In an increasingly digitalized world, a good number of paper supports are becoming digital. Hence the question that some business leaders ask themselves: is it really still useful today to have a business card?
We respond that it remains essential to have a business card during your interviews and physical events. This in order to create a link with your future employees, customers, partners and to leave them your contact details in addition to a dynamic image. Discover in the article 11 models and sample business cards creative to make you stand out.
What is a business card used for?
The business card is a professional support whose small format allows you to slip it into a wallet. It contains essential information such as your name, first name, telephone number, e-mail, logo, slogan … And, she must always accompany you during your professional meetings.
The business card includes your contact details so that your contact can call you back to discuss your future collaboration .
It is one of the personalized communication tools that must be carried out with care. Showcase of your company, it conforms to your graphical charter .
How to create a business card?
The classic business card
The classic business card has a size 85×55 cm, a thickness of approximately 350 g, in color, without lamination and on standard paper.
The more banal your business card, the less it is retained by your prospects. We therefore invite you to discover how to create a memorable business card with professional and original examples! To create a business card, you have several possibilities: DTP software, online editors or directly on the websites of printers.
Design a business card with software
To design your business card yourself from your computer, several software are suitable such as:
Microsoft Word : This famous word processor is easy to use and offers business card templates to personalize.
Adobe InDesign : this DTP software is acclaimed by graphic designers for the creation of communication media. It is the reference and the ideal tool for the graphic design of business cards.
Adobe photoshop : this photo editing software offers many features and remains an effective solution for creating business cards.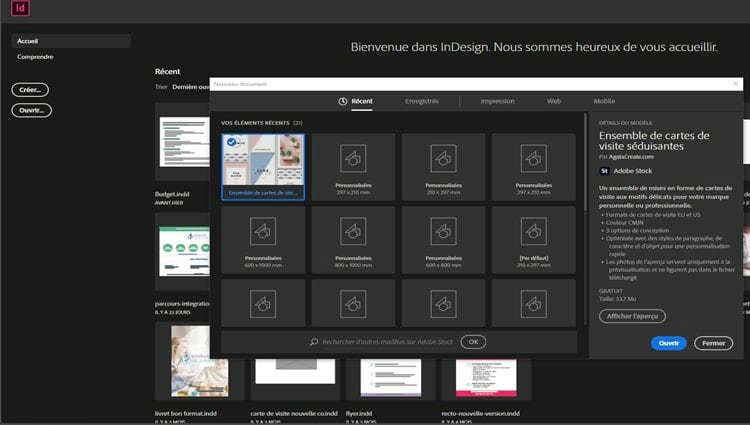 Before starting to create graphics, correctly define the format (size, bleed and margin). To do this, check or download the template from your printer's website. Then from a blank document or a template, create your personalized business card.
Online business card creation site: Moo and Canva
An easier method is to use an online business card maker site.
We recommend MOO, which is very intuitive and ergonomic. Go to the home page of the site and let yourself be seduced by their ultra trendy models. To create your business card with the MOO site, we advise you to read our article dedicated to this.
We also recommend you Can go which is a tool for creating online communication media. It is very easy to use and has many templates ready to be personalized.
Some of the links in the article are affiliate links (meaning we get a commission when you buy the product by clicking on the link), but that doesn't change our recommendations because we really recommend the tools.
Virtual business cards
LinkedIn ™, a professional social network, is like a virtual business card available 24 hours a day, 365 days a year. In fact, your LinkedIn ™ profile includes your contact details, what you offer, your background, recommendations and the ability to download documents. And the advantage of this virtual business card is that it does not risk getting lost in the back of the wallet!
Essential today, online networking is essential to find new partners , collaborators or clients. In order to build an effective LinkedIn ™ profile, to attract the right people and inspire confidence, discover the Proinfluent® Profile .
11 creative business card templates
Differentiate yourself!
All business leaders have a business card. You have to stand out from your competition. For that, you have a large choice of materials, graphics, formats… Read on to discover 11 examples of business cards.
Example of an ultra-design business card
As a business manager, having an ultra-design business card is the guarantee of making an impression. If your graphic charter is fluid, lightly colored and without too much frills, then this business card template fits perfectly to your positioning. We purify, we space, we keep only the essentials for a light and optimized graphics to the maximum.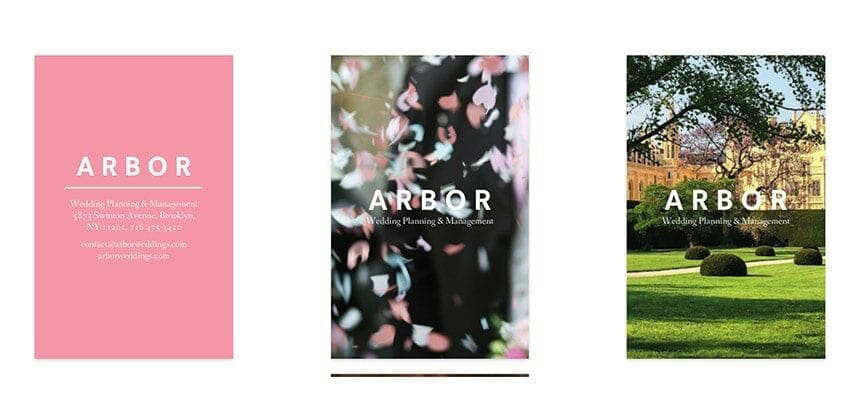 Source: Moo Arbor Theme
Example of a round business card
An unconventional format that will not leave your future customers indifferent. This round model ensures you stand out from the crowd while giving a dynamic and modern image. You can add a touch of originality by choosing a matt or glossy lamination.
Source: Imprim'Up
Example of a typographical business card
The typographical business card stands out thanks to its touch. This is not about standing out with a font, but with a relief effect that is slightly visible to the eye and sensitive to the touch. It is the LetterPress process that creates a slight hollow in the paper to mark a shape or text. To do this, choose a weight that imposes it! Surprise your future employees with an original business card full of finesse … Bring out the initials of your company, for example.
Source: Moo Letterpress Theme
Luxury version business card example
You are a business manager of "high-end" products or services, in this case, your business card must be clean and meet luxury standards. Luxury is most often determined by little content, an airy space, sober colors and a chic little detail that makes the difference.
Bet on:
An unusual format, for example a square business card;
A sumptuous texture, we forget the fine papers and we opt for a fairly high grammage (greater than 400 g);
A gold or silver finish for an elegant touch.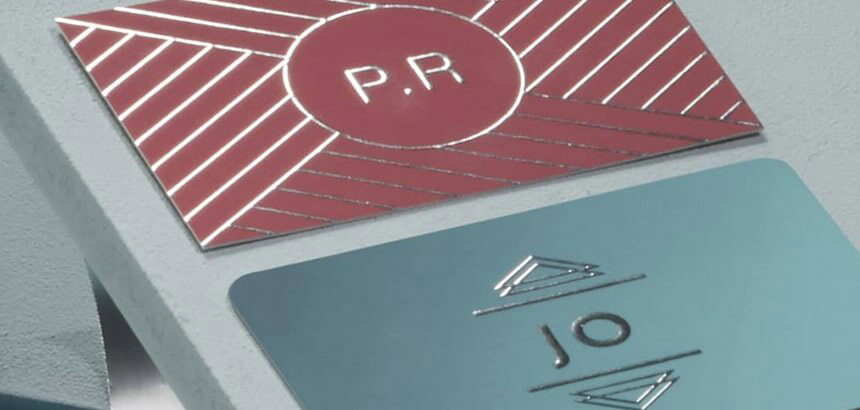 Source: Moo Luxe business cards
Example of a recycled cotton business card
You advocate sustainable development, and you have made it your trademark. Then this recycled cotton business card template is for you!
This new type of paper is creative, recent with a texture that differentiates you from your competitors, while taking care of nature! Ideal for a natural effect and to respect your commitments.
Source: Moo recycled cotton business card
Example of an original business card
Get off the beaten track! Opt for a 100% original format! The Luxe minicard offered by MOO is a card that you can't see everywhere! It is ideal for creatives who want to be successful! With this unusual business card template, you will not go unnoticed!
My advice: always keep a harmony on all of your communication media in order to be in accordance with your graphic charter. Put the essentials on your business card. Always remember to ventilate the space so that important information can be easily found.
Source: Moo Minicard
Example of a graphic business card
Geometric lines, dotted lines, square or rectangular shapes, the graphic business card knows how to make the difference with a striking design! This card is perfect for catching the eye without going overboard. If you prefer this model, be careful not to use too many colors and too many shapes. Bet on simplicity, for example, create diagonal lines for a very graphic effect.
Source: Moo CrossTown theme
Example of transparent business card
There are countless creative designs for business cards today. The transparent business card is one of the most unusual! What attracts the eye directly with finesse and elegance. In translucent PVC, rounded or square corners, your business card adds a contemporary touch, in complete transparency!
Source: Cartedevisite.com
Example of a business card with QR code
Do you want to put more information on your business card? What if you use a QR code?
Its principle: redirect the user to your website or to your social networks. An easy way to generate traffic fast. In addition, the QR Code allows you to have a dynamic and modern image of your company.
The QR code also offers the possibility of adding your details automatically on the smartphone of your interlocutor. That way, he doesn't have to do it manually. Saving time and avoiding errors or data loss: it's the winning combo!
Source: Khilim Printing
Sample retro and vintage style business card
For a style that is both baroque and old, there's nothing like a vintage business card. The kraft is notably one of the timeless. However, you can also play with the colors to adopt a slightly retro style. Be careful, you must always respect your graphic charter. If your colors don't match, it's best not to attempt a vintage business card, or you risk sending the wrong image.
Source: Vista Print
Example of a business card document
The document business card is ideal if you need to put more information. Unfoldable like a flyer , it is a rather rare and interesting format. When folded, this business card keeps credit card size easily transportable. So enjoy it !
Very corporate, we recommend it!
Source: Vistaprint
Business card example: 11 creative card designs to inspire yourself: in conclusion
For a memorable business card:
Respect your graphic charter;
Opt for an original design with an ultra trendy, graphic or retro style;
Use a differentiating format by adopting a square, round or folded card;
Choose a special material such as heavy weight, recycled cotton or transparent PVC card;
Adopt a typographical, luxury business card or one with a QR code;
Don't hesitate to think outside the box and be creative.
Examples of business cards: to summarize in three questions
Comment créer une carte de visite originale ?
To create an original business card, use templates already designed by graphic designers, called "templates". You can find it on software such as Word, Indesign or Photoshop, but also on online business card creation sites.
Quel site pour une carte de visite ?
We have selected two sites.
1. Canva, an easy-to-use communication toolkit. In the free plan, you design business cards from ready-to-personalize templates.
2. MOO has a very large number of ultra design models. Its simplicity allows you to quickly create your professional business card.
Que doit contenir une carte de visite ?
Your business card must be original, but legible. It must have the necessary information, that is to say, your logo, your name / first name, the name of your company and your contact details. You can add other information about your products or services, but be careful to ventilate the space.