LinkedIn Live: How to broadcast live video on LinkedIn?
YES, I was looking forward to it! It is now possible to make live videos on LinkedIn with the latest functionality of the platform: LinkedIn Live . An option that is no longer reserved for Facebook, YouTube or Twitter. You can now take advantage of this advantage to make your professional videos live on LinkedIn. It is true that the platform took a long time to release its live video service compared to other social networks. But it was definitely worth the wait. LinkedIn Live is today a finished solution that offers great image quality, instant exchanges and statistics. With LinkedIn Live, you make professional-quality videos for your audience to enjoy.
If you want to do live video on LinkedIn and you don't know where to start, I'll explain everything to you in this article. I've created this comprehensive guide to help you get started with LinkedIn Live. We will see :
why make live videos with LinkedIn Live;
the steps to live stream a video with LinkedIn Live;
best practices for successful live broadcasts;
and content ideas for your videos.
LinkedIn Live: Why make live videos?
LinkedIn Live: what is it?
LinkedIn Live is a live streaming option. That is, your video content is delivered in real time on LinkedIn. This feature is available for your LinkedIn profile staff and / or your LinkedIn Company Page . Broadcasts can be offered to targeted groups or for the entire community. They allow logged in users to interact directly with you. They can ask you questions and give you their feedback in real time. You respond to them live, creating a real relationship.
Thanks to live, LinkedIn Live allows different types of content to be broadcast: conferences, interviews, product presentations, advice, tutorials, question-and-answer sessions, etc. The big advantage is that this broadcast is in full interaction with your audience!
LinkedIn Live: Why Live Video?
Did you know that video is the most watched and most shared content on the Internet today? But do you know that if the video is in DIRECT, it is much more appreciated and triggers more engagement? LinkedIn announces that LinkedIn Live generates 7 times more reactions and gets 24 times more comments than standard videos . The spectators clearly prefer the live ones. But why such a craze for live video?
First for authenticity ! Live, there is no filter and no video editing. You are yourself! You really show yourself how you are in everyday life. It is this insertion into reality that appeals to people. They are looking for the natural and the real.
And secondly for real-time exchange. It is true that the posts and video posts on LinkedIn are already generating exchanges in the form of comments and LinkedIn reactions . But, with the direct, you enter a higher sphere. This is because you respond to comments immediately, just like in a real face-to-face discussion. People appreciate this closeness which makes the relationship more human.
Authenticity, real-time interactions, LinkedIn Live generates greater engagement. I remind you that the more reactions you have to your content, the more you increase their reach, in any case that is what pleases the LinkedIn algorithm . This increase in visibility consolidates your authority on the platform and helps you in your personal marketing . Making live videos then becomes the major asset for your presence strategy on LinkedIn. In addition, you give a very professional image to your message.
I hope that like me, you are convinced of the value of doing LinkedIn Live.
Why do live video: what to remember
LinkedIn Live lets you stream live video from your personal profile or company page to targeted groups or the feed.
LinkedIn Live generates 7 times more reactions and 24 times more comments than standard videos.
LinkedIn Live promotes engagement through authenticity and direct-generated interactions.
LinkedIn Live: How to Live Stream a Video
LinkedIn Live: step 1 – get your approval to use it
LinkedIn Live is used from an account registered on the platform. If you don't have an account, follow my advice to get one perfect profile or for create a business page.
Then you need to get the platform approval by filling out an online form . In this request, you define whether you want access for a page or a profile. Once accepted, you receive an email that directs you to the third-party tools needed for LinkedIn Live.
LinkedIn Live: step 2 – choose third-party software
The use of LinkedIn Live is only possible with the use of a third-party tool. It is streaming software that allows you to make online video. You are responsible for the costs and charges associated with these tools. But rest assured some are very good and free. LinkedIn has partnered with the following solutions:
Not all of these tools offer the same benefits. Personally, I recommend Restream for its ease of use. It is compatible on computer and mobile. Restream is a cross-platform solution, that is, it allows you to share your live videos on multiple networks at the same time on the paid version.
The free version of Restream is very interesting because it allows you to stream to over 30 platforms, 1 channel at a time. It is therefore an ideal free solution for your LinkedIn Live . I'll explain right away, how to connect LinkedIn and Restream.
LinkedIn Live: step 3 – connect LinkedIn to Restream
To easily connect Restream to LinkedIn, follow these steps:
1. go to https://restream.io/ and create an account if you don't have one;
2. from the Resteam dashboard, click on "Add channel";

3. select LinkedIn from the list of options available;
4. finally click on "Connect LinkedIn" to link the account. You will be redirected to LinkedIn where you can log in with your usual credentials;
5. then click on "Authorize" to allow access to the areas necessary for using Restream.
That's it, your Restream and LinkedIn accounts are now connected. I advise you to also synchronize your phone.
LinkedIn Live: step 4 – broadcast your first live video
You have three possible solutions to broadcast your first live. Each solution depends on your hardware. You can :
I will give you details of these 3 options.
LinkedIn Live with just a webcam
This is the simplest and easiest method to implement. All you need to do is use your laptop's webcam. For that, Restream has planned everything: you just have to use the "WEBCAM" service that you find at the top right of the dashboard.

Once you have accepted access to your microphone and camera, click on the "Go Live" button and the live will begin immediately!
To end your live video, click on "Finish". LinkedIn posts your video to recent account activity.
LinkedIn Live with a mobile phone
Smartphone cameras are more and more efficient which allows you to take good videos with your phone. For Android or Iphone, you must connect Restream to a free application available in Apple Store and Play Store. Restream customer service recommends using Streamlabs or Larix.
I explain below how to easily configure Streamlabs on your mobile.
Follow these steps to achieve this easily:
1. open Restream on your mobile, from the Restream dashboard, copy the RTMP link by clicking on "Copy link for mobile";
2. from the Streamlabs dashboard, click on "other platforms";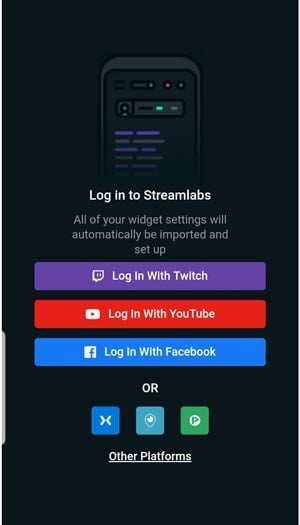 3. paste the RTMP link;
4. Then go back to Restream and copy the streaming key;
5. and paste this key just below the RTMP link in Streamlabs, then click on "CONTINUE" and on "ENABLE CAMERA & MIC";
6. click on the "Live" button to start your video with your mobile phone;
From the Restream dashboard, you can see your live broadcast on LinkedIn. At the end of your video, LinkedIn posts it to your recent account activity.
LinkedIn Live with better video equipment
This is the preferred solution if you want a more professional result. In this case, use a better quality camera or video equipment. I recommend reading the dedicated article: what video material for LinkedIn and YouTube?
In this case, you must install encoding software. I recommend Open Broadcaster Software (OBS) Studio which is free and open source. Here are the steps to broadcast on LinkedIn Live:
1.download and install OBS Studio on https://obsproject.com/ ;
2. click "optimize for live streaming, recording is secondary";
3. connect Restream and OBS Studio, choosing Restream.io – RTMP from the list offered;
4. click on "Retrieve the stream key";

5. from the Restream dashboard, copy the "Stream Key" streaming key;
6. and paste the key in OBS Studio;

7. configure OBS Studio by clicking on "+" at the bottom of the screen in the "Sources" area;
8. from the drop-down list, choose "Video capture device" to authorize your camera;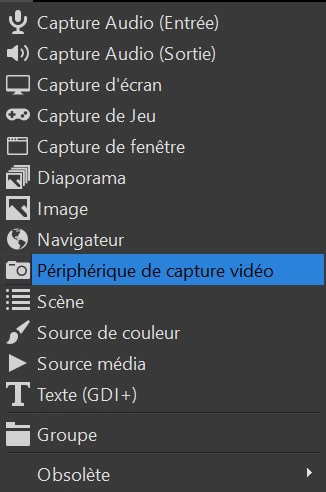 9. start your live by clicking on "Start streaming".
From the Restream board, you can see your live broadcast on LinkedIn. At the end of your live, click on "stop streaming" on OBS Studio.
Live streaming on LinkedIn: what to remember
The use of third-party tool is essential for streaming live videos on LinkedIn.
Restream is free cross-platform streaming software ideal for LinkedIn Live.
LinkedIn Live can be operated from your webcam, mobile phone, or professional video equipment.
LinkedIn Live: Best practices for successful live videos
LinkedIn Live: Optimize your installation
You can imagine: for the quality of your video to be there, you have to take some precautions. Especially on the material you use to film yourself. Here is the list of equipment to plan:
A camera :
You can use your webcam ( Aukey Where Logitech ), invest in a more efficient device, or use your smartphone. If you go for your mobile, remember to use the rear camera (s) which are of better quality than the selfie mode and put the device in the landscape position.
A tripod:
It allows your camera or smartphone to remain stable and prevent shaking. Plus, you have your hands free to look more natural on the screen. Do not set up your tripod too close to you and adjust the camera to be well framed. Remember to take care of the background of your video. If you are at home, set up books or a plant and stand in front of a sober and professional background.
A mic :
Sound quality is essential to fostering a good experience for your audience. It ensures 60% of the success of a video! I advise you to use a wireless lavalier microphone or one condenser microphone to connect to your computer. Make sure you sit in a place that is not too noisy to avoid any distractions. Don't forget to try audio before your LinkedIn Live!
Lighting:
Natural light is the best! So, if you want to do live shows with your smartphone outdoors, that's perfect. Otherwise, you can invest in LED lights that provide good light indoors. Film yourself facing the light and avoid the light coming from one side.
If you want references to invest in good equipment, I invite you to read my article on the best video material for professional results .
LinkedIn Live: Get help from a second person
I highly recommend that you do your LinkedIn Live with the help of a second person near you. While you are onscreen focused on giving your best for your viewers, your partner is supporting you.
Give your coworker administrator access so they can moderate conversations. It monitors your feed, tracks comments, and responds directly to them. Some questions are set aside for the oral answer session (at the end of streaming). To make your job easier, your partner can rewrite the questions on a piece of paper and give it to you at the right time.
LinkedIn Live: Work and prepare your topic in advance
Don't go on a LinkedIn Live without preparing for it. LinkedIn is a professional social network, we expect you to provide relevant and appropriate content. As with every post on the platform, remember to add value and provide quality content.
Choose only 1 topic for your live and plan an 18 – 20 minute talk. Your message must respond to the promise of your Linkedin Live. For example, if you have decided to give the 3 good tips for (…) make sure you give 3 tips!
Make a plan on paper and write down only the key ideas to guide you during your live. Don't write full sentences to make room for improvisation. This allows you to stay as natural as possible during your live.
Practice and rehearse your speech to be more comfortable on D-Day. By preparing, you check the timing of the presentation and you competently take ownership of your message. The more comfortable you are with your speech, the more you will avoid "uh" and blanks. These degrade the quality of your video and give a less professional image.
Promote your LinkedIn Live in advance. Post on your news feed the date, time and subject of your Live a few days before to inform your audience. You insert the hashtag #LikedInLive to the description of your video to reach a larger audience. If you need to increase your audience, I support you in your prospecting to collect leads .
LinkedIn Live: Tips for a successful live performance
There you have it, if you've followed my previous tips for getting equipped, getting set up and getting ready, you're ready for your first LinkedIn Live. Now, I will give you all my tips to capture your audience and make your broadcast a success.
Throughout the live, take care of your posture
Stay in front of the camera and look as far as you can in front of you. Smile and be yourself. Being live shows your personality to your audience. Don't try to cheat and stay natural. And if you mess up or get tangled up, that's okay. Get back to yourself and deal with the incident in a professional manner. It is your authenticity that appeals to people who watch you.
At the start of the live, introduce yourself and introduce the topic of the day.
Even if there aren't many people online at first, start talking and giving information right away. Think about replaying your video, which shouldn't be blank at the start. Do not hesitate to represent the subject after a few minutes if you notice the appearance of new viewers. For example: "for the people who join us, today in this live we are talking about …"
During the live, talk to your audience as if they were actually in front of you.
Be true! Remember to encourage engagement by prompting to click on the "Like", "Love", "Well done", and "Share" buttons. This allows better visibility of your video during and after the live. You also need to motivate comments: ask simple questions and invite your audience to respond in the comments. Do not forget to ask them questions: "ask me your questions in comments, I will answer them at the end of the video".
At the end of the live, take the time to answer your comments and the questions asked. Mention the name of the author of the question, eg: "Julie asks me (…)". Before leaving the live, introduce a call to action "join me next week for my next live", "tell me what topic do you want me to address soon? ", Etc.
LinkedIn live: what not to do
At this time, LinkedIn does NOT want you to do any of the following:
No too promotional video selling your services or products:
We must promote tutorials, expert interviews, events, product launches, etc. You must stay in the content marketing and not to advertise or over-promote your products and / or services.
No Linkedin Live too short
Anything less than 10-15 minutes should be reserved for the native LinkedIn video . It takes sufficient time to allow discussion and interaction with your audience. If you cut your video too early, you don't have the opportunity to engage in a discussion with your audience. Therefore, focus on subjects that provoke reactions, comments and questions.
No logos in full screen
Once again, LinkedIn Live is there to provide non-promotional content and to foster real-time discussion. You are allowed to place your logo small in the corner so that it does not take up the entire screen.
No long "Live in 20 min" screens that keep your audience waiting
LinkedIn recommends that you don't let your viewers wait (1 to 2 minutes maximum). Stay with your audience until the end and cut your broadcast at the end of the exchange time.
No unprofessional content
Remember, LinkedIn is a professional social network and your content is publicly visible. Everything you post should remain relevant for LinkedIn. Stay pro! This recommendation is valid for ALL your publications and videos on the platform. For successful Live videos as well as for succeed on LinkedIn ™ , always pay attention to the quality of your content. I recommend that you follow my advice so as not to be sanctioned by the LinkedIn algorithm .
No pre-recorded video
All LinkedIn Live must be live and in real time. The purpose of LinkedIn Live is to engage authentically with your audience. If you want to post native video, you can follow my tutorial for post a video on LinkedIn .
LinkedIn Live: we measure and capitalize after the live
Your live LinkedIn Live is over, well done! Now you need to measure performance and monitor your statistics. If you have streamed your video from your personal profile, you will find statistics below your video. For "company" pages, go to the "Analytics" tab at the top of your screen.
I recommend you to watch:
Statistics of your live: The number of simultaneous people and the total number of minutes watched;
engagement metrics: number of likes, comments and shares;
and your live reach: the number of people who watched the video, live and in replay. LinkedIn counts 1 view after 3 seconds of viewing.
Review all posted comments. If relevant, respond to those you were unable to respond to live. Collect questions that can serve as a subject for a future live.
Tips for a successful LinkedIn Live: remember
To make your LinkedIn Live a success, a minimum of video equipment and organization is necessary: camera, tripod, microphone, lighting, assistance from a second person.
Prepare your event in advance: work on your topic and promote your LinkedIn Live on your news feed several days in advance.
During Live, stay natural and encourage engagement with your audience.
LinkedIn Live: content ideas
Imagine LinkedIn Live as a new channel for distributing your messages . You have the option of transposing your current content interactively or creating new ones. The potential is limitless and here are some ideas for topics for your videos.
Organize a question-and-answer session
LinkedIn Live gives you the ability to interact with your audience. An easy way to use live video is to have a chat time. You instantly answer questions from your community. If you have recurring questions from your customers or subscribers, this is a good opportunity to satisfy them.
Give advice or tutorial
The tutorials are the most used formats in video. Why not do it live? this makes it possible to react directly to questions and misunderstandings. For example you go up a passage not understood by the public. The video tutorial is an ideal solution for a software.
Share your events live on LinkedIn
If you are attending or organizing an event (trade fair, fair, seminar, ceremony, etc.), LinkedIn Live offers you the possibility to share it live. Thus, you reach a larger audience and you give your event more reach. Here are some suggestions to share: interview a speaker or participant, broadcast a speech, take a behind-the-scenes look at your booth, give an overview of the mood, etc.
Introduce your team and your workplace
Your customers will appreciate putting faces to names. Organize a live video where each of your collaborators makes a mini-presentation. Your spectators question them directly. Take the opportunity to go behind the scenes of your offices and reveal the culture of your workplace. You thus create proximity with your customers.
Announce a new product or service
Live is the best way to launch a new product or service. You will be excited to make this launch in front of your audience. If it's a new product, demonstrate it in public. Show how it is used and how it works. Explain all the benefits and answer questions instantly.
Interview an expert
The interview is a very effective vector of communication. Interviewing an expert, influencer or mentor live is the best way to build trust. In addition, it will give useful information to your audience who will not hesitate to share the video. Which will make it even more visible!
Attract your next recruits
I remind you that LinkedIn is also a recruitment platform. LinkedIn Live allows you to connect with candidates and give them more information about a vacancy. Here are some ideas for topics to attract the best candidates: interview the hiring manager or an employee, allow candidates to ask their questions to the HRD, show the premises of your company, etc.
As you can see, LinkedIn Live offers the possibility of broadcasting a lot of content. I have presented some of them to you and there are so many more possible. If you want to set up a LinkedIn Live broadcasting strategy, I can support you by LinkedIn coaching to make it happen.
LinkedIn Live: in conclusion
I hope you like me are excited about this new LinkedIn feature.
Live streaming of your videos is a real opportunity to stand out. It brings you advantages on your professional image and on your notoriety by boosting your visibility on the platform. I assure you this is a winning strategy.
Don't you dare? Don't you take the time? You do not know how ? If you want to take advantage of the opportunities of LinkedIn Live today, I can help you with my solution for LinkedIn coaching .
And don't forget, video is just one of the 10 levers to activate to find customers with LinkedIn. And that to generate 1 qualified prospect per day and 5 customers per month on a sustainable basis, there is the PROINFLUENT method , which I urge you to consult.
LinkedIn Live: to sum up in 3 questions
Pourquoi faire de la vidéo en direct avec LinkedIn Live ?
LinkedIn Live generates 7 times more reactions and 24 times more comments than standard videos. In addition, LinkedIn Live promotes engagement through authenticity and direct-generated interactions with your audience from your LinkedIn profile or your business LinkedIn page.
Qu'est-ce que LinkedIn Live ?
LinkedIn Live is a live streaming option. That is, your video content is delivered in real time on LinkedIn. This feature is available for your personal LinkedIn profile and / or your corporate LinkedIn page. Broadcasts can be offered to targeted groups or for the entire community. They allow logged in users to interact directly with you. They can ask you questions and give you their feedback in real time. You respond to them live, creating a real relationship.
Comment diffuser des vidéos en direct avec LinkedIn Live ?
1. Get your approval to use it.
2. Choose third-party software.
3. Connect LinkedIn to your software.
4. Play your first live video.