Profile and LinkedIn summary for students: the complete guide.
Are you a student or recent graduate and you have the ambition to enjoy professional life to the fullest after your studies? You know it better than anyone: social networks and self-marketing are of utmost importance.
An online presence on LinkedIn , as long as one knows how to use it well, is indicative of a desire to become an actor in one's professional life, a curiosity towards an extended network, a dynamism and a modernity that will always be strengths.
If I have already worked out the perfect LinkedIn profile checklist , I would like to specify this theme even more by addressing myself to students and young graduates, these people on the edge of working life, still learning, eager for knowledge and overflowing with energy to conquer the career they wish to accomplish. .
Do not wait for complete your studies to build the foundations of your future, and follow the guide for your LinkedIn profile to open doors for you!
1. Why use LinkedIn as a student or recent graduate?
LinkedIn is the hub of the online professional world. With just a few clicks, you may come into contact with people on the other end of the world, share information with trades that attract you, and more simply to present yourself to this globally extended network. You therefore have everything to gain for the future by frequenting this vast network and even more … by presenting yourself there in the best possible way!
LinkedIn is a very powerful SEO platform , and by typing your first and last name on Google, your LinkedIn profile will appear in the first results. This visibility should not be overlooked when we know that most recruiters these days do research on the internet before meeting candidates for positions or their future interns.
Nota Bene : if LinkedIn will be among the first results, it is also possible that your Facebook or other old blogs are in the game. So be careful and "Clean up" your tracks by removing unflattering photos from your last drunken evening, the revolutionary speeches of your adolescence and all that could, near or far, harm your reputation and professionalism at least on the first page of Google and Google image …
Be present on LinkedIn, with an impactful LinkedIn profile and an optimal presentation of yourself can be a major asset for your future working life, and the current development of your professional prospects. LinkedIn is not just a virtual CV, it's more than that! By daring to think outside the box of classic curriculum vitae , you mark the spirits and come out of the crowd. LinkedIn brings together millions of students, it is in your interest not to go unnoticed, and the social network itself helps you do this by offering you a profile to complete.
2. A Perfect Student Profile and LinkedIn Summary!
Let's get to the heart of the matter topic and let's tackle the topic of this article: how to have a profile and a summary for perfect student?
You have it without doubt noticed, a LinkedIn profile is made up of several sections:
Photo
Abstract
Experience
Training
Skills
Achievements (includes your publications, your projects, your prizes and distinctions if you have, the languages you speak, etc.)
Your profile is infinitely modular, you can add or subtract what you want, and adjust privacy settings. Ideally, make sure you are visible by the greatest number and therefore to have a public profile, so that Internet users, even if they are not part of your LinkedIn network, may have access to the main information about you.
If you already have a LinkedIn profile, let's look at how you can improve it, and if you don't have one, let's make it perfect!
3. Student LinkedIn profile and summary: your LinkedIn profile picture
Any good profile that self-respecting has a picture of you. This is one of the main criteria that will push others to view your profile. Without a photo, you will only have unlikely to prove yourself on LinkedIn… A profile with photo multiplies its chances of being consulted by 10!
As we are on a professional social network, exit the photos of you on vacation with a glass in hand, group photos with your friends, or artistic photos back facing a sunset (examples among many others, it's up to you to use common sense). The idea is to show up for your life active! Your photo should therefore show your face at its best. day, as well as your bust in a decent and professional type outfit shirt, or tailor.
Also think about the quality. If necessary, have your photo taken by someone from your entourage. Do not water down the photo too much: it needs to looks like ! But don't be too dilettante either …
Above all, do not forget smile ! Not the forced smile, no, but the inviting little smile and friendly person who will give a very good first impression of you to Internet users.
For further : the secrets of a perfect LinkedIn photo .
4. LinkedIn student profile and summary: your summary
The summary is a essential section for a good LinkedIn profile. This is the part where you can let your creativity run free, and talk about yourself in engaging, relevant and sincere.
The summary of your LinkedIn profile should not be, as the name suggests (very paradoxical, elsewhere), a summary of your educational and / or professional background, nor a classic cover letter. We will see later that the other sections LinkedIn profile fulfills this role very well.
No, the summary is above all a presentation of you AND WHAT YOU CAN BRING! Which are your plans? Have you made any significant trips / projects? For what reasons should we choose you over another? You can talk about yourself in terms that sound like you and put you in value, without however falling into the sales discourse seen and reviewed a thousand times by recruiters. The little extra: add links to your creations, if you have any.
Make a sort introspection and take your time to write your profile summary LinkedIn. Think calmly about your current situation, then do it. backwards and go back in time to explain the reasons that grow in the direction you are going, through your studies. Without ever falling into fictionalized writing, unless you wanted to become a bestselling author, bring in your own words a little humanism in this professional world that is sometimes still too standardized and subject to archaic codes . While remaining professional, do you talk about original way, to stand out from the crowd. Sometimes a simple sentence a slightly offbeat, a little more rhythmic than those already used by hundreds of thousands of students will mark the spirits. Be that student who stands out.
Well, that still seems abstract or difficult to you, that was without counting my extreme generosity … here is ? THE LinkedIn summary frame for student! Years of research to arrive at this result: I hardly exaggerate! So take these tips as gifts …
5. LinkedIn student profile and summary: your experiences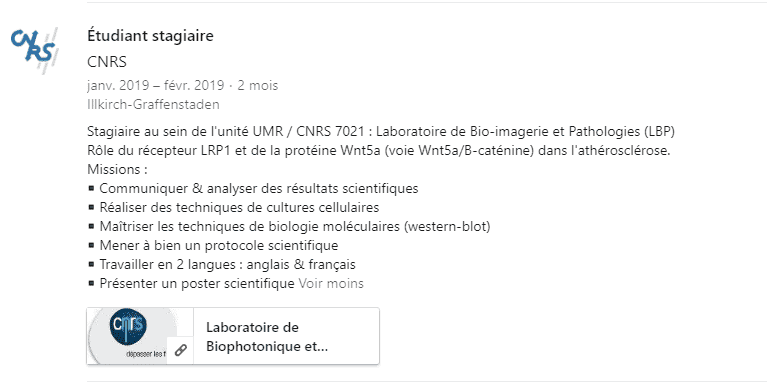 There you go be able to tell all LinkedIn members about your professional experiences. As a student, these can be restricted, and that is all is normal! In the description of what LinkedIn calls the "Current position", describe very briefly the field of activity in which one you want to work on next. If you want for example simply be a salesperson in the automotive sector. This definition of the current position is kind of your subtitle and will appear under your name each time it appears on the network LinkedIn.
Regarding your professional experience itself, you can include all your odd summer jobs, your internships, etc. Once you have entered the professional life with your first "real" job, you will be able to hide your previous experiences if they are irrelevant to the continuation of your career.
For each experience that you post on your student LinkedIn profile, you have the possibility of providing a description. Often, student jobs are not very rich in terms of responsibilities and tasks, you will surely miss elements to describe. It does not matter ! Cunning and maximizing your chances to make an impression by describing what the position in question has for you learned with regard to the targeted position! A restaurant job has you certainly learned to be reactive, agile, but above all smiling. A mission temporary worker in the factory has no doubt made you know the importance of the spirit teamwork and coordination. An internship in your chosen field has certainly enabled you to understand that it is also necessary to deal with behind the scenes. Every lived experience, if you think about it, has brought something. It's up to you to find those skills that may not have something to do with the next position you are running for, but which have made you the determined, motivated and determined person that you are today.
Just like for the summary of your student LinkedIn profile, do not hesitate to share your feelings about your experiences. Don't make it too long, of course, but dare to say in a few words what your career has brought you, now that you have a little perspective on this one.
Have no shame to even mention very short internships, or jobs that at first glance you seem unflattering. Recruiters and decision makers will appreciate always a student who has multiplied experiences, in addition to these studies. This proves your involvement, your endurance, your ability to juggle between work and your classes, and shows that you are not afraid to go to work while others take it easy at the beach between July and August.
How? 'Or' What structure the content of your experiences on LinkedIn?
Use lots of keywords to match recruiters' searches
Structure the content so that it is airy, if necessary use the LinkedIn emojis
Put a sentence of context: which presents your role
Put your missions with chips
Finally, end with some key results or figures. Because working is good, but showing that you have delivered results is better and differentiating!
6. LinkedIn profile and summary for students: your training
After these steps crucial, let's move on to another just as important: your journey school. On LinkedIn, this section allows you to tell Internet users your course. In principle, the ideal is to start with high school. Before, this is not necessarily necessary. For each diploma obtained or training followed, several fields are available and allow the precise description of the content of elements:
The school you have frequented
The diploma obtained
The domain studies
The period during which you followed the training
Activities extra-curricular that you followed
A description (useful for including options!)
You are not obliged to describe everything in great detail, especially if some training courses do not necessarily have a direct relationship with your vision of the future professional in which you project yourself.
The important point: mention your school to appear on its page and be found easily.
Example of a case where the school page on LinkedIn is not filled in:

Good example: the school page is well mentioned, your LinkedIn profile is linked to it, the keywords are there and it is structured:
7. LinkedIn profile and summary for students: your skills and recommendations
In your profile LinkedIn student, you have the possibility to indicate skills. In depending on the elements already present in your LinkedIn profile, skills will be suggested to help you complete this section.
This is where you will be able to indicate your knowledge, the software you master, and anything that seems relevant to you in the context of your LinkedIn profile student.
Three general skills are highlighted by the social network LinkedIn, it is up to you to determine which are the main areas where you excel, and as a student, in which ones you want to build your future career.
No need to put fifty skills, the main thing is to target what characterizes your course and the achievements of your previous experiences.
It is in this section that members of the social network LinkedIn will be able to recommend. skills that you have indicated on your profile!
When it comes to recommendations, a recruiter doesn't want to take a risk, he wants someone who has recommendations that bring credit. I invite you to read the dedicated article for all about LinkedIn recommendations .
8. LinkedIn profile and summary for students: the other sections of your profile
When I you was saying that your LinkedIn profile is not just a virtual CV or a simple motivation, it was because developing your LinkedIn profile as a student allows you to add things that would not have their place in a classic CV.
The interface of LinkedIn allows its members to discover others in a comprehensive way. In Indeed, you are free to add or subtract sections from your profile. However, always think about the relevance of what you indicate. Besides the main sections that we have seen previously, let's discover together what that you can add to your profile to complete it:
If you appeared in the newspaper (related to your studies or the targeted job, of course) share the article with the members of LinkedIn. If you have been interviewed, link to the video or transcription. If you just want to give an example of what you are able to produce, publish an internship report that you are proud of, your thesis, your thesis, some articles on your blog, etc.
Indicate the level of modern languages that you practice. Knowledge of a foreign language is always a real asset for an application.
Experiences of volunteering
Always well perceived by others, the commitment to associations and volunteering is a real added value for you since it is an experience and a testimony of your commitment … Even unpaid.
You can talk about all your projects here, including personal. By indulging yourself a little and explaining the reasons for your choices and your motivations, you play on the sensitive chord of your readers by "Becoming" more human in their eyes, more accessible. LinkedIn can sometimes resemble a catalog of candidates that we leaf through in the hope of falling on a crush. Know how to stand out and dare to talk about you, really.
PS: I was recruited in my first job thanks to to the hobbies section of my CV! Yes, the manager who recruited me was a former French judo champion… The values of sport have brought us together!
There are other sections (courses, patent, organization, examination result, prizes and distinctions) that you can fill in if you have enough to do it and if the relevance is still at appointment ! The more you put in, the more keywords, the more it is effective… Unless it's off topic or doesn't bring anything professional.
9. Some tips for a perfect student LinkedIn profile
Think keywords!
As mentioned at the beginning of the article, LinkedIn is a very well referenced site on Google , so don't skimp on keywords to accentuate the SEO of your student profile. So that your name and the industry in which you work are associated, build the writings of your student LinkedIn profile with relevant keywords. Do some research to find the keywords that best suit your needs.
Take care of your spelling
We can't say it enough, but a good spelling will always be a significant asset (mainly because a good written expression allows you to make yourself understood, quite simply) in your life, but also on LinkedIn. If no one is safe from a fault of typing or inattention, be sure to reread yourself to avoid gross mistakes. Tip: read what you wrote aloud to better understand where commas are needed or not.
Leave your contact details
In the presentation part of your LinkedIn profile student, swipe your email address to, in case, be contacted more easily by people who want to know more about you.
Think about LinkedIn Learning
LinkedIn Learning is a learning platform and internal online courses at LinkedIn. If you can, and want to, you you can take a few courses that interest you on LinkedIn Learning. Each Course taken is displayed as a badge on your LinkedIn profile. In addition to complete your profile, this shows the Internet users who consult it that they have before them a willing, curious and invested person.
To go further: read the LinkedIn Learning article to learn all about the online course platform .
Also and in addition, subscribe to my YouTube channel to follow my LinkedIn tips .
do not forget to be active
To have a perfect profile on LinkedIn is one thing, to be active in another and the two are complementary for bear the fruits you wish to reap. Without interaction on your part with your existing network, your student LinkedIn profile is likely to end forgotten in the network, which would be a shame after all these efforts to optimize and complete it. Also, don't forget that LinkedIn is first and foremost a network social , and that it is the resulting diversity as well as its different shares that will create opportunities. Be curious, responsive and interesting will open doors for you, that's for sure.
Customize it link to your profile
An address of the type https://www.linkedin.com/in/firstname-name is still more professional and practical to use than a link ending with a whole series of numbers and letters. For your signatures of emails, SEO on Google or just display it on your Paper CV, personalization of your URL is recommended. To do this, he just click on your photo at the top right, then on "Preferences and confidentiality". Then click on "Modify the public profile". You will then land on a page schematizing your profile. At the top right is a box where you can read "Edit your custom URL". It's your turn !
Be on the lookout
Remember to stay on constant standby and search on your own for internship or job offers that could match you. Lay the groundwork for your future working life from now !
Professional life begins long before your first job and the end of your studies. With LinkedIn, you can now already make a reputation in your sector, learn new things in a self-taught way (and that is an excellent quality), healthy and cordial relationships with other people who share the same ambitions that you … In short, LinkedIn when you are a student, it is being able to both forge strong bonds in interactions with other people and assert its presence in a qualitative way in the targeted sector.
LinkedIn profile and summary for students: in summary
Do not wait until the end of your studies to build your professional LinkedIn profile, because the social network is a great ally if you know how to use it correctly. Chase and aim a perfect LinkedIn profile with this free checklist !
Pay particular attention to your presentation and do not hesitate to be original to make an impression, and to be remembered in positive terms.
Think keywords, think keywords: THINK KEYWORDS! (I think I insisted enough?)
Don't forget to be active on the network! Because a good profile is good, but it is not enough to find a job … In this regard, I recommend that you follow my training to find a job on LinkedIn easily ! Because 80% of the job market is hidden, without these keys: it is more difficult.