LinkedIn Ads: tutorial to create your first advertising campaign
In a previous article, I presented you the main characteristics of LinkedIn Ads: the concept, the advertising formats, the interest of its use, etc. After this complete overview of advertising on LinkedIn Ads, it's high time to get down to business: creating your first LinkedIn Ads advertising campaign!
LinkedIn Expert , I am offering you today a tutorial and many tips to guide you from A to Z in the project of creating your LinkedIn Ads advertising campaign.
1. Have a business page on Linkedin
If you've already created a page for your business on LinkedIn, skip to step 2. For others, read on or follow the complete tutorial to create your LinkedIn business page .
In order to access LinkedIn's advertising platform, you will first need to have a business page. It is in his name that your advertisements will appear on the social network. To do this, nothing simpler ! Go to the icon to the right of your profile picture, in the top information bar, pull down the menu and click on "Create a company page" at the bottom. Make sure that on your personal LinkedIn profile your company appears in your experiences and current position. Then, it's up to you to fill in the sections, fill in the page and fill in all the fields in the most complete way possible. so that your business page has every chance of attracting your future subscribers .
2. Create an account on Campaign Manager
This is where the real fun begins. In order to access the LinkedIn Ads ad creation platform, you must create an account on Campaign Manager, which can be accessed under the "Products" tab at the top of your home page. Click on "Advertise" and follow the instructions to create your advertising account. Once you are registered on the platform, you are then in possession of an advertising account: click on your company account and then on "Create an advertisement" to start your project!
3. Define your goals
An advertising campaign that has no specific objective will never be efficient. You will have no monitoring indicator, no goal on which to focus your strategy. To avoid this, it is essential for you to create an advertisement with LinkedIn Ads to know why you are doing it.
On Campaign Manager, the interface guides you through the creation of your advertising campaign, even for the definition of your objectives. This is an important step, which will influence the future steps, because LinkedIn will offer you different options depending on your goal.
The objectives offered by LinkedIn are complete and established so that your campaigns are perfectly optimized accordingly. Indeed, the platform offers you several alternatives so that your advertising reaches a specific objective:
Website visits (drive traffic to your site or any other landing page you choose)
Engagement (to allow as many people as possible to see your publications on the network and thus increase the volume of subscribers to your company page)
Video views (so that your ad video is directed to the people most likely to be receptive to it)
Lead generation (get leads by collecting some of their data using a form)
Note: other goal suggestions will soon be available on the Campaign Manager interface for your LinkedIn Ads, to be continued!
4. Configure your audience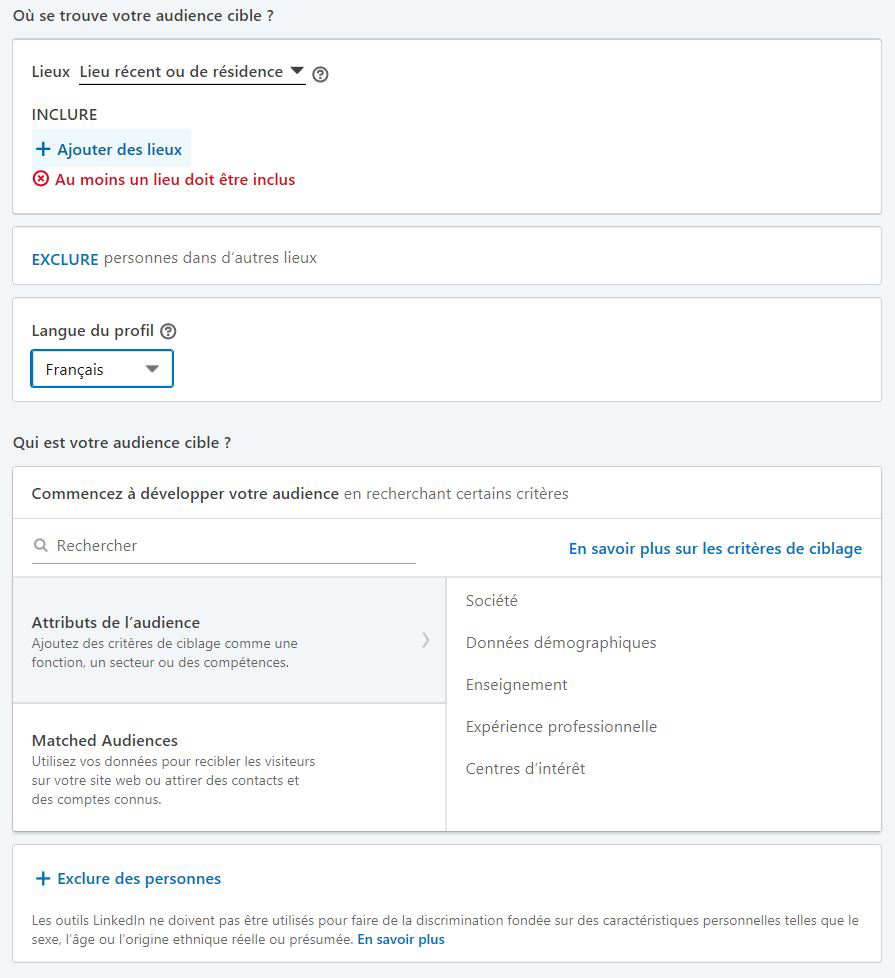 For this step, it is in your interest to have worked a little upstream! Indeed, for your advertising campaign to be disseminated to a qualified audience, you must have a perfect knowledge of your target customers. Have you already defined what we call in marketing your buyer personas? These are your "model clients", with their main characteristics. They are fictitious and exist only in your mind (or better, in a medium that brings together all the information you have listed) but are a valuable audience indicator as part of your advertising creation on LinkedIn.
By knowing your buyer personas perfectly, you will also naturally know their needs, desires, issues, etc. You will thus build your entire strategy according to their own path.
With LinkedIn's Campaign Manager tool, you can select many parameters and criteria to choose who and where your ads will go. It is in your interest that they are broadcast to people who are part of your target customers, so be specific for this step and refer to your buyer personas.
For your LinkedIn advertising, you will first start by choosing a location. This is the very first step in your audience targeting, the one that will unblock the flow of millions of people registered on LinkedIn, and many of whom do not correspond to your target!
Then, to launch your LinkedIn Ads advertising, you will refine your search by selecting other criteria such as:
Profile language
Company criteria

Subscribed to the company page of
Company names
Company relations
Company activity sector
size of the company

Demographic data

Member's gender
Member's age

Education data

Diplomas
Fields of study
Member's schools

Professional experience

Years of experience
Member skills
Functions
Hierarchical levels
Positions

Areas of interest

Member's interests
Member's groups
Add to that the fact that you can exclude people from different regions… The targeting options of LinkedIn Ads are particularly sophisticated, so you can enter many criteria to select your audience with the greatest precision.
Start by entering two or three global criteria, and then see how many people you can reach. Then adapt all the criteria, add some, remove some, while ensuring that your core target is always in your "line of sight".
5. Choose a advertising format
With LinkedIn Ads, several advertising formats are available. Grouped into three main categories (Sponsored Content, Text Ads and Sponsored InMail), they are then split into several small formats, each with specific characteristics, which you must know to choose the best one that will perfectly match your objectives.
Let's detail them:
Text Ad Advertising
With this format, you can create advertisements in the form of a small insert with an image (100 x 100), a title (25 characters maximum) and a small description (75 characters maximum), and which will be visible on the side right or top on the LinkedIn interface. Perfect if you want visibility to direct your prospects to your website. Please note, this is only possible on a computer (not on a mobile).
Advertising with a single image
Entering the Sponsored Content category, advertising with a single image allows you to broadcast in the LinkedIn news feed of your target customers a publication where you mix the visual with a small incentive description, so that your audience clicks on your advertisement and finds out. the contents.
Carousel of advertising images
It's the same principle as advertising with a single image, with the difference that you can include several images which will scroll one after the other for a richer visual diversity. Do you have several offers to promote, or several products to present? Show them off with a image carousel , guaranteed effect! You can also set yourself apart from the competition with this format by telling a story in the form of pictures.
Advertising video
The most popular format for Internet users! Make your ad a short video that will appear in your audience's news feed to make an impression. You will have to respect the conditions of LinkedIn, which will not accept all videos. Here are the main specificities that your video advertising campaigns must bring together: between three seconds and thirty minutes (recommended duration: about fifteen seconds), horizontality, between 75 KB and 200 MB, etc. LinkedIn provides you with a notice when creating your campaign, so that you can select suitable advertising videos.
Follower Ad Advertising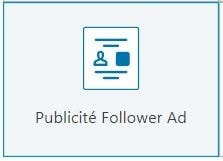 It is a personalized advertising format according to the profile data of the members of your target customers, and which makes it possible to encourage Internet users to join the flow of subscribers of your company page (only on computer).
Spotlight Ad Advertising
Based on the same principle as Follower Ad, Spotlight Ad is the format that will promote your offers and services to your target customers according to their data.
Job Ad Advertising
Also functioning in the same way as Follower Ad and Spotlight Ad, Job Ad will advertise your job offers!
Advertising Message Ad
This is Sponsored InMail. I refer you to the complete file: InMail: prices, examples and best practices . With this format, deliver personalized, constructed and intuitive messages to your audience directly in their LinkedIn mailbox. You are assured of the deliverability of your campaign.
Try to step into the shoes of your buyer personas and ask yourself what would be the advertising format that would make you want to know more about the advertiser?
6. Schedule your ads and set a budget
Compared to other social networks that serve advertising, advertising campaigns on LinkedIn are more expensive. But as we saw in a previous article, advertising on LinkedIn for B2B is sure to reach the right people, since the network is professional .
LinkedIn offers three forms of fundraising for your campaigns:
Daily budget: you set a maximum amount per day, for the duration of your advertising campaign.
Total budget: you set a maximum total amount for your entire campaign.
Total Daily Budget: Combining the previous two options, the Total Daily Budget is the recommended option for starting a campaign on LinkedIn. You set a maximum total daily budget spread over the number of days your ad will run.
In order for your budget to be optimized and your ROI to be as positive as possible, you will need to analyze the results of your campaigns and your conversion rate on a daily basis. Indeed, if you set a price too high compared to your results, you will lose money for "nothing". The objective here is to adjust as best as possible your budget allocated for the campaign, and to calculate the ROI (return on investment) that the latter offers you. For example, if you choose to allocate $ 20 daily for your campaign at $ 2 per click, you will not be able to get more than 10 clicks per day. If your conversion rate is zero or very low, the best will be to adjust your way of operating: either by increasing your budget to have the possibility of generating more clicks by counting on the possibility that this volume of additional clicks will be converted, or you suspend your campaign and change your strategy.
You then need to define a lifetime for your ad campaign. You have the choice :
Set a broadcast start date without planning an end, this being induced by the balance of your budget.
Set a start date and an end date for the delivery of your advertising: useful for campaigns created for specific periods.
The great advantage of advertising on LinkedIn is their flexibility: suspend, stop, increase, modify… You can maneuver as much as you want to test and adjust your campaign to your objectives. In the event that it seems to you that your budget is too low to hope for reach to your entire audience, this flexibility is very appreciable. By modifying your ad, you can compare your results and choose the most effective alternative for you.
Setting a budget for your advertising can seem like a puzzle, especially if you are new to using LinkedIn Ads advertising. If you have an idea of your overall budget, this is ideal. But be careful, you must also take into account the duration of publication of your advertisement. For example, if you want to launch a campaign for the end of year celebrations, no need to schedule your ad in September, and have it end in February. It sounds basic, but it is important not to overlook. Good publicity is based on good timing.
So, for your LinkedIn advertising to be as optimal as possible, both in terms of budget and time schedule, simply start by defining:
A global budget (for example 1,000 euros)
A publication period (for example 25 days)
All you have to do is divide the overall budget by the publication time. In our example, we get 40 euros. This will be the amount allocated daily for our LinkedIn advertising. You can also set a total budget and let LinkedIn publish your campaign until the budget is reached. Be careful if you choose this option, be sure that your advertising is profitable … Because letting an advertisement run for too long without the results being there is more or less equivalent to throwing your money down the drain. Wouldn't that be a shame?
LinkedIn Ads works on the principle of auctions. To get the best broadcasts, you need to be at the top of the bids for your ad. LinkedIn, in the financing section when you create an advertising campaign on Campaign Manager, offers you a minimum bid as well as an overall range in which to include your price.
Note: it is advisable not to bid on round figures. Adding a few cents to be more, even very slightly, can often make you stand out!
Remember that LinkedIn ads are scalable based on your results. Following your advertising campaigns with application, by analyzing their reach, their number of clicks and the conversion rate of these same clicks is essential to adjust your budget accordingly.
7. Tips and Tricks for LinkedIn Ads
Now that we have seen in detail how to create an ad with LinkedIn Ads, I'm going to give you some great tips in this tutorial to get your ad campaigns optimized.
Pay particular attention to the definition of your target.
We can never say it enough, knowing your target customers and developing your buyer personas is a crucial step in all your marketing efforts. For your advertising campaigns, it is absolutely essential. You may have a perfect advertisement, if it is not broadcast to its audience, the flop will be resounding. Spend time on this step, think deeply, if necessary make lists on a sheet of paper, cross out, try, draw, let your imagination speak to see all the scenarios and design realistic and tangible buyer personas.
You cannot remove your Linkedin ads.
Does this seem contradictory to everything I said above about the magic of being able to modulate your advertising? Not really. In fact, you can activate and deactivate your ads, but not remove them from the Campaign Manager platform. At best, you'll be able to archive an ad campaign that you no longer want. In addition, on Campaign Manager, you can group together several campaigns, or separate them, according to categories that you have defined yourself.
When it comes to targeting your audience, find the balance between quantity and quality.
The number of possible combinations via the numerous criteria for selecting the audience is mind-boggling. But be careful, if you combine too many criteria together, you risk reducing the scope of your advertising by only showing it to a very small audience. Not to mention selecting the whole world to extend the reach of your advertising campaign, try as best you can and according to a serious study of your target group to find a balance between the quality of your audience (no need to select an audience that does not correspond to you. pas) and the number of Internet users likely to be affected (also useless to reduce the volume of your audience with too restrictive criteria).
Is your goal to generate leads using a form on your Sponsored Content or Sponsored InMail ads?
Take care of the presentation and content of your lead generation form (Lead-Gen), or perhaps prefer to directly include a call-to-action that will automatically direct your leads to your website without going through LinkedIn. Advantage ? Your chances of increasing the traffic on your site increase and Internet users, once on your web pages, have every reason to continue browsing it. Inconvenience ? An Internet user who browses on LinkedIn perhaps expects not to leave it, and can see this redirection as unexpected spam, and unwanted… To be tested…
Test, test, test … and test!
When you start in the field of advertising on social networks, and particularly on LinkedIn, it takes a time to adapt to tame the tools made available by the platform, and to create effective ads that are perfectly tailored to both your business and your target customers. To help you, there's nothing like practice. Don't hesitate to set a smaller budget at the start, and gradually increase it as your campaign progresses. Step by step, you will get the results you expect.
#Patience # Perseverance
Content is king ? !
Never forget this. Indeed, if the title of your advertisement arouses the curiosity of Internet users of your target customers but they then discover average content, without interest, or worse, which does not concern them, they will quickly turn back and associate a bad image. to your business. So be particularly attentive and provide quality work so that your content has a high added value. The success of your advertising depends on it, and more generally, your entire marketing strategy will be impacted. In the face of competition, average content will penalize you sooner or later.
LinkedIn Ads is a great tool if you know how to use it the right way. By following these tips and always thinking about what your buyer personas are expecting, your LinkedIn ads will pay off.
As' LinkedIn expert I do know, however, that you can't just rely on paid advertisements to promote your offers and services. Of course, they are effective and very profitable aids if you know how to use them, but do not neglect all your other marketing or social selling LinkedIn . Personally, I enjoy LinkedIn Ads advertising but really use it in addition to Intelligent Prospecting © which generates more than 30 leads per day!
I invite you to browse the Proinfluent blog to develop your skills, acquire new ideas and put them in place to boost your sales and make your presence on LinkedIn a great source of business!