Number of views, number of subscribers, traffic, watch time… want to know your YouTube ™ statistics ? To no longer remain blind to your performance, find out below how to access your analytical data and that of your competitors.
YouTube ™: a juggernaut
You must be familiar with the famous video and social media platform, YouTube™. Moreover, like the 46 million French monthly users, you may use it regularly. Today, it's YouTube ™ statistics that we're interested in, but before that, a little introduction is in order.
YouTube™ is 43,000 videos watched every second and 1 billion hours of videos watched every day around the world, which represents 37% of global internet traffic ( Sources: key figures )! Yet initially, this platform is intended to be a video-based dating site.
The 3 founders of YouTube™ Jawed Karim, Chad Hurley and Steve Chen, all former PayPal employees, gave up on this idea a few days after the launch of their project, in February 2005. On April 23, 2005, the very first video, "Me at the zoo", was released, launching the platform which today has millions of music videos.
The following year, Google™ bought YouTube™ for the tidy sum of 1.65 billion dollars and worked on its marketing aspect in order to give it a more attractive image, especially among young users aged 18-34.
Going back to our statistics, it is important to know them when you have a YouTube™ channel in order to improve your performance and increase awareness of your brand or yourself. Indeed, YouTube™ is a social network that allows you to post video content and be able to generate profits if the channel generates 10,000 views and 1,000 subscribers.
Do you want to become a professional YouTuber or simply explore your YouTube™ statistics and improve them, but you are not familiar with this social network? Your statistics are stagnating and you don't understand how to boost them? YouTube™ is a great broadcasting tool that can propel you very quickly if you use it properly!
Precisely, we give you the secrets of the famous platform to make you a pro of YouTube™ and its statistics!
Why look at your YouTube™ statistics?
Statistics are figures that allow you to see the performance of your channel. Indeed many elements are studied in order to obtain an average, revealing the potential. The duration is variable, you can choose to analyze your data every month, every minute or even those related to the first most popular video of your channel.
Looking at your stats is a great way to find out which videos got the most views, got the most likes, and got the most reactions. So if your tutorial video has recorded 3 x more views than other content, it is surely a track to exploit if your goal is to make more views and exceed one million subscribers.
It also helps to better understand their audience, age, gender, location, and the devices and browsers they use to view your videos.
Improving performance is therefore the primary objective when analyzing the statistics of your page, website or video channel.
From these studies, a strategy and an action plan are put in place in order to achieve an objective, for example, to obtain 100 more subscribers in 2 months. This is the basis if you want to increase your traffic and therefore monetize more.
How do I see my YouTube™ statistics? Stay with us it's just next!
YouTube Studio™ an indispensable tool for content creators
How to check your YouTube™ figures with YouTube Studio™?
When you have a YouTube™ channel, you go through YouTube Studio ™. This means that a normal user cannot access this device.. Indeed, this tool is intended for people who own a channel and have data in order to better manage it.
The first thing to do to view its statistics is to connect to YouTube™ then:
Click on your profile picture, top right;
Select YouTube Studio™;
Look in the drop-down menu on the left and find the heading "Analytical Data".
A dashboard appears. You can then check the number of views, subscribers and viewing time. If you scroll down a bit, you find your most popular videos.
Link your channel to Google Analytics™ to get more details on its performance
There is another very useful device that allows you to extract precise information on the users who consult your YouTube™ videos, it is of course Google Analytics™. This tool can be used as an alternative or in addition to YouTube Studio™ because it provides additional information that allows you to know more about your target, also called buyer persona and therefore, to better reach it thanks to your content.
Linking your YouTube™ channel to Google Analytics™ is very simple:
Connect to YouTube™;
Click on your profile picture in the upper right;
Select "YouTube Studio™ beta";
Go to "settings" at the bottom left of the page, then click on "other settings";
At the bottom of the page that appears, there is a line that says "Your Google Analytics™ Property Tracking ID";
Paste your ID in the box and it's validated!
If you don't have a Google Analytics™ account yet, get started, it's free! Otherwise find it in the settings section of your personal space.
Google Analytics™ vs YouTube Studio™, what are the differences?
With Google Analytics™, you analyze the key performance of your channel. As this tool is not specific to video, you cannot see certain things like the average watch time. However, it is comprehensive and allows you to find useful information about your YouTube™ channel(s).
YouTube Studio™ provides valuable insights into your audience and content. For example, you know which videos are the most popular, the number of views in the last 24 hours and the percentage of active users.
More data can be consulted when in the "analytical data" section which is located in the drop-down menu on the left, 4 sections are available to you:
Overview :
The number of views;
The viewing time in hours;
The number of subscribers;
Blanket :
Impressions (number of times your thumbnail is offered to viewers);
The click-through rate per impression;
The number of views;
Unique spectators.
Commitment:
Viewing time in hours;
Average duration of a view.
Audience:
Regular spectators;
Unique viewers.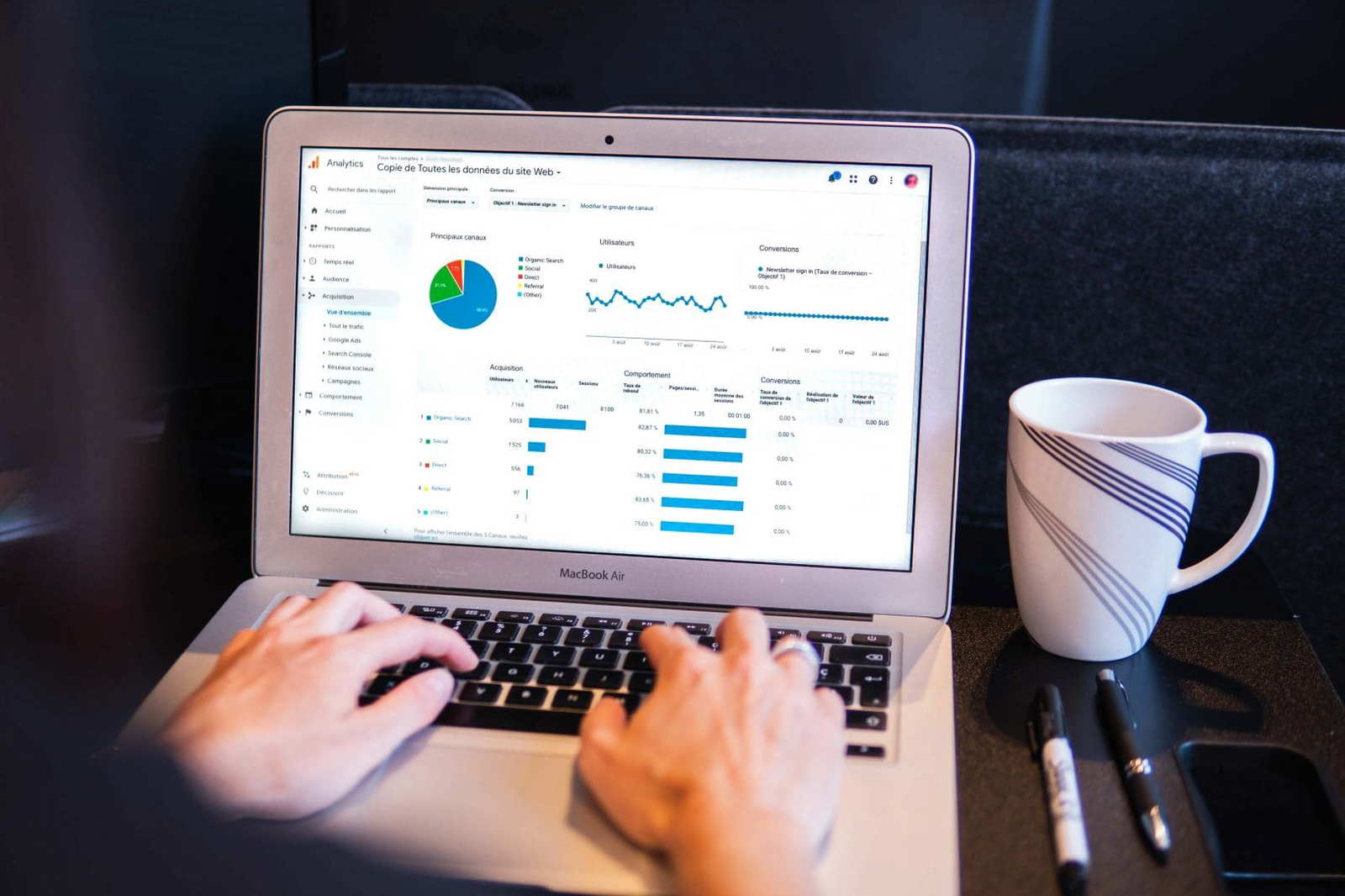 In these 4 categories, you can click on "see more" to get more data. You then have access to:
The traffic source;
The geographic location ;
The age of the viewer;
The gender of the viewer;
The date ;
The playlist;
The type of device used.
It's hard to describe the possibilities of YouTube Studio™ in writing as it is so full of resources. All the features are not necessarily useful, it's up to you to see which ones to use to understand the expectations of your audience and boost your number of users!
How do I see stats for a YouTube™ channel that isn't ours?
If you are curious and want to know how much the returns of a competing chain or not, there are sites for that. The best known is social blade but there are others.
Just copy-paste the URL of the channel in question and one can see the estimated monthly and annual returns. Since CPM (cost per thousand views) is variable, it is just an approximate range.
We also find the number of users for the last 30 days and the number of views of YouTube™ videos over the same period. The information is more general than on YouTube Studio™ or Google Analytics™, but it allows, for example, to keep an eye on the competition.
It is also possible to consult the stats of a Twitter ™, Facebook ™, Tik Tok™, Instagram™, Dailymotion™ page and many other social networks .
How do I know how much a YouTube™ channel earns?
It is important to specify that if you have decided to monetize your channel, you must subscribe to YouTube™ advertising or have an Adsense account.
Calculate your CPM
It is possible to calculate its CPM (cost per thousand views), however it is therefore not the exact sum that you will receive . Indeed, YouTube™ grants itself a share of your CPM which is deducted in order to obtain its RPM (revenue per thousand views). In addition, the CPM concerns advertisements, that is to say, the number of monetized views. It is therefore the amount that an advertiser pays for 1000 views.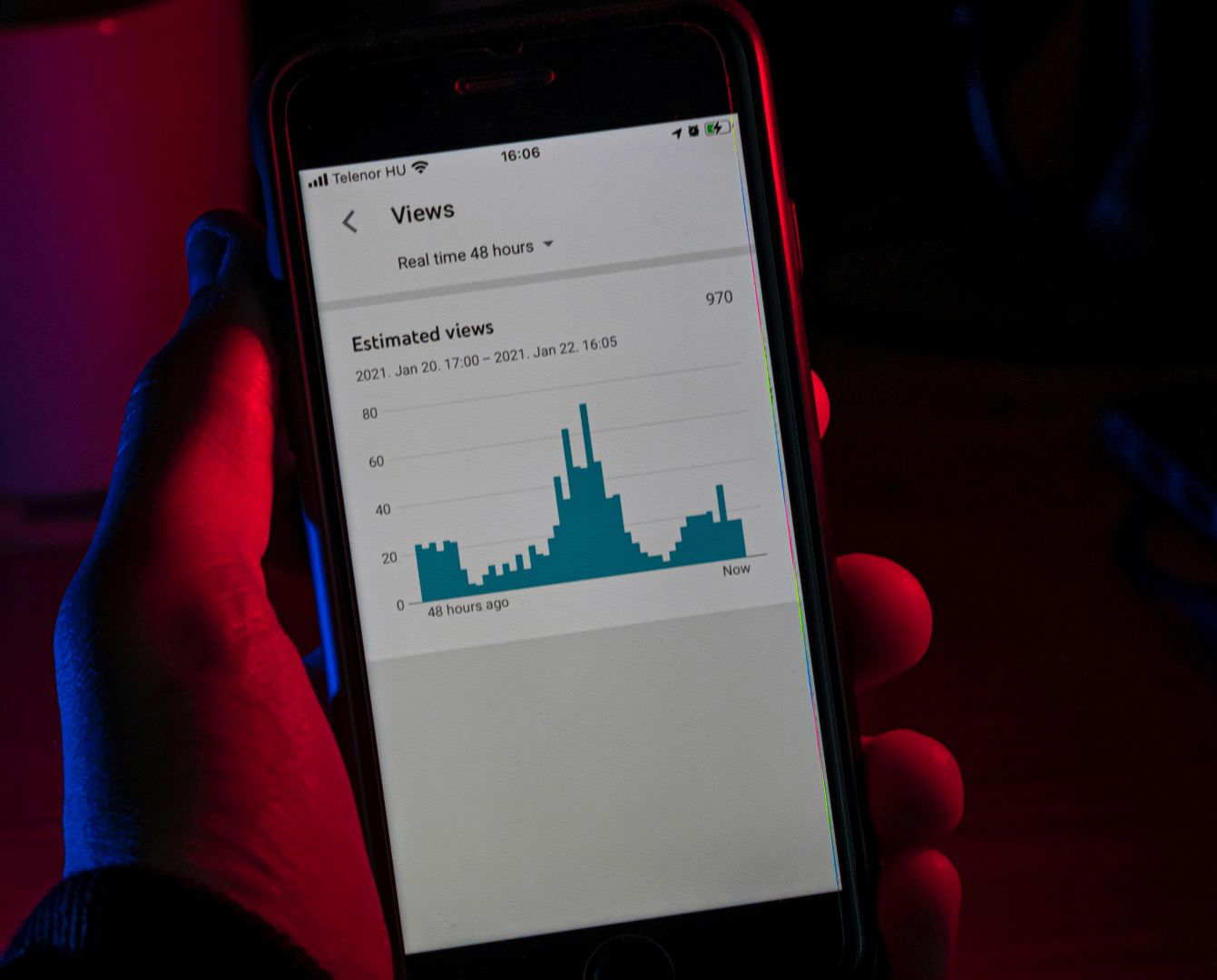 To find out your CPM, divide your advertising revenue by the number of monetized views and then multiply by 1000. For example, your latest video gets 20,000 views for $35, your CPM is $1.75. Of course, this value is not fixed. It differs depending on several factors:
The language you speak;
The number of competitors;
The country where the videos are recorded;
The season ;
The behavior of Internet users;
The nature of the ads;
The geographical location of the views.
It is a part of the agents that influence the price of your CPM.
Do not confuse CPM and RPM! Concretely, we can consider the CPM as a gross salary and the RPM as a net salary.
Know your RPM, the income you receive
The RPM is the amount you generate for 1000 views. It is calculated by dividing the total revenue by the number of total views, multiplied by 1000. You can also view it from YouTube Studio™, "analytical data" tab then "income" section.
RPM takes into account all returns, generated by subscriptions, ads, YouTube Premium™ and super chat messages and super stickers.
Also, don't worry about your RPM being lower than your CPM. Indeed, the latter being calculated before the deduction of the YouTube™ share, its value is greater.
The RPM corresponds to all the views of your videos, whether they are monetized or not. It therefore constitutes all of your profits and not just advertising returns, unlike CPM.
YouTube™ statistics to conclude
YouTube™ figures worldwide: 2 billion users, 1 billion hours of videos and 720,000 hours of content added every day. It's also a $1.65 billion Google™ buyout and up to 8 billion views for Pinkfong's most viewed "Baby Shark" video.
YouTube™ in France has 76 million music videos viewed every day, 46 million active users and of these, 39 million are 18 years of age or older.
YouTube™ stats are key to a channel's progress. Indeed, by comparing several elements from one period to another, we can identify faults and potentials, in order to remedy or exploit them.
Here are the points to remember:
YouTube Studio and Google Analytics allow us to know precisely the data relating to our YouTube™ property.
Google Analytics can be used in addition to YouTube™ services to obtain ever more detailed reports.
These figures are useful for setting up a strategy according to the goal to be achieved. For example, getting 10% more subscribers or improving your impression rate.
The main YouTube™ statistics to know are:
The number of recent views;
The most viewed youtube™ videos;
Information about its audience such as: age, gender and geographic location;
The number of active users;
New subscribers;
The impression rate;
The profits generated.
Finally, CPM and RPM are important values that should not be confused. CPM is the cost per thousand views an advertiser pays while RPM is your total revenue per 1000 views.
YouTube™ statistics to summarize in 4 questions
Comment voir les statistiques sur YouTube™ ?
To consult the data of his YouTube™ channel, go to YouTube Studio™ then click on the "Analytical data" section located in the drop-down menu on the left. You then have access to all your YouTube™ statistics in order to analyze them and use them as you wish.
Quel est le public de YouTube™ ?
The population of YouTube™ is varied because:
20% of users are between 18 and 24 years old;
52% are between 25 and 49 years old;
28% are aged 50 and over.
The strength of this social network is therefore also the diversity of its audience, which finds its answers on this video content platform. Thus, in terms of figures, there are 2 billion users who browse YouTube™ each month, worldwide.
Comment savoir combien gagne une chaîne YouTube™ ?
First, to monetize a YouTube™ channel, make sure you have an Adsense account or subscribe to platform advertising.
Then, to know the monthly income of a YouTube™ channel, you must first know its remuneration for 1000 views, this is the CPM (cost per thousand views). This varies greatly but generally, a youtuber earns between 0.50 and 0.60 cents for a thousand views.
Please note that CPM should not be confused with RPM (revenue per thousand views). The latter is usually lower, as it is calculated after YouTube™ profit sharing.
Otherwise social blade is an online tool which allows, by pasting the URL of the channel of your choice in the search bar, to be able to establish the amount of earnings that its owner receives.
Finally, if it is your YouTube™ channel, you will find this information in your YouTube Studio™ space.
Comment savoir qui regarde notre chaîne YouTube™ ?
To find your viewer demographics, including age, location, and gender, sign in to YouTube Studio™ and then:
Click on the "analytical data" tab, on the left in the drop-down menu;
Among the 4 headings, select "audience".
You get the information about the number of regular and new listeners, but if you click on "see more" you find all the detailed information about your audience.
Source key figures: proinfluent.com