Looking to boost your visibility on LinkedIn™? Have an attractive profile? Stand out from the crowd ? So perfect your LinkedIn™ profile title !
The title of your LinkedIn™ profile , also called headline, is the statement below your first and last name. Often overlooked, it's the third most important element of your space, after your name and your profile picture. This is the sentence that will convince your visitor, make him understand what you can bring him and above all make him want to discover you.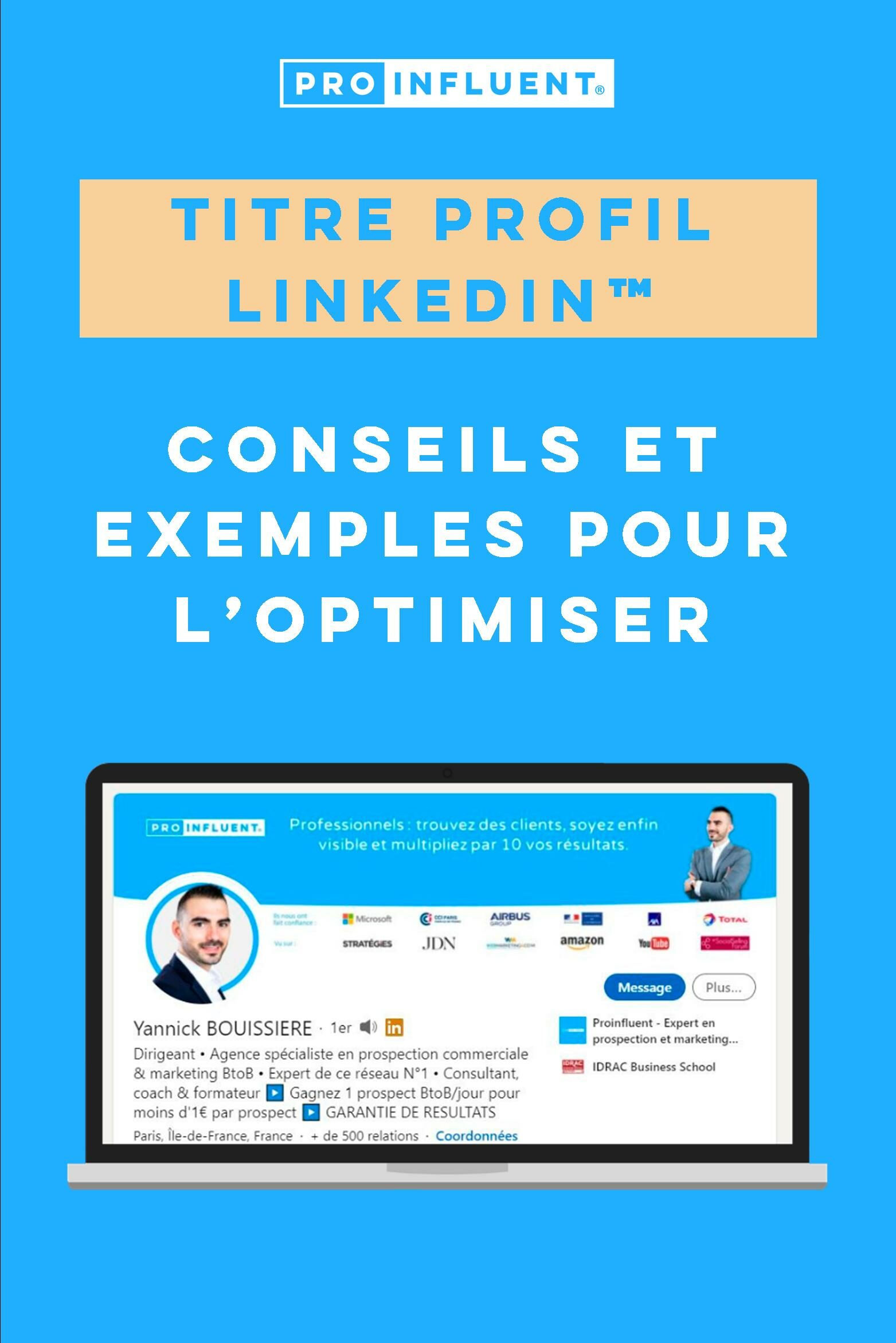 In this article, Proinfluent gives you its expert secrets for optimizing your title, through tips and specific examples.
How important is having a good LinkedIn™ profile title?
Your profile title should tell visitors who you are and what you are looking for. It is essential to place the keywords that correspond to your audience and show how you can help them. It's a bit like a slogan .
Properly optimizing your LinkedIn™ title increases your chances of being:
Accepted by users and get more connections;
Spotted by recruiters;
Well positioned on search engines;
Valued, that is to say, to stand out from other profiles .
Your LinkedIn™ title tells visitors who you are and what you can do for them. Do not hesitate to add a call to action in this space to invite your visitor to contact you.
Let's discover together step by step, how to optimize your LinkedIn ™ profile title!
What information is placed for an attractive LinkedIn ™ title?
Several elements are essential to optimize the title of your profile. Indeed, the surname, first name as well as the function are no longer sufficient to make a difference. Rather, it's about detailing and bringing out your personality in a short description.
First, your function with or without the name of your company. If you wish, write in capitals to catch the eye.
Then your sector, if there is one.
Then it's time to place your keywords. Do not hesitate to put several, at least 3 or 4.
Finally, say what you offer, what your services are or even better, quote your performance. It can be in the form of declarative or interrogative sentences. For example: "I help entrepreneurs build an expert image! » or « You want to know how I convert +20% of customers per month? »
To separate your keywords, use attractive symbols in line with your subject and your graphic charter . Here are some examples :
"♩" for a musician, singer, performer.
"⁋" for professions related to writing and literature. This is suitable for a writer as well as a web editor or a community manager .
"⚡" for an electrician of course, but also functions relating to IT, marketing and social networks.
« | is the most used symbol. Sober and effective, it structures the content while remaining totally sober. It can be used for all professions.
How many characters should a LinkedIn™ profile title contain?
First of all, know that your title has a limited number of characters: 220 on computer. That's about 30 words. It is therefore a question of saying enough to make you attractive, without being able to reveal too much either.
Long limited to 120 characters, the first platform for professionals in the world has considerably increased this threshold which was rather limited. Thanks to this, you have the opportunity to fully express yourself on LinkedIn ™ !
Which keywords or expressions to choose?
To answer this question, ask yourself what is the goal, the objective you want to achieve on LinkedIn™. Indeed, the keywords will not be the same if you are looking to expand your network to find new customers or if you are looking for a job. It is therefore essential to precisely determine your expectations and your objectives.
Keywords allow you to be more easily found by prospects or recruiters, but also to stand out by indicating your specialty.
For example, instead of "Trainer", indicate instead "Expert and specialized trainer LinkedIn™". It is also possible to place yourself on a phrase such as "Generate leads" or "Convert leads into customers".
These details allow you to be dissociated and not to drown among the thousands of profiles. You present your skills even before the person decides to visit your profile.
Need advice to set up your presence strategy on LinkedIn ™ ? Make an appointment with a Proinfluent expert and boost your visibility!
Is it advisable to add emojis?
It depends on the image you want to bring out, but generally emojis are well received. Indeed, they are compatible with all types of profiles, even for people looking for a sober and serious tone. By emojis we don't just mean smileys, but the icons that accompany your theme.
They allow to:
Illustrate your subject;
Differentiate among other titles;
Organize your content by creating a summary of your skills, for example;
Humanize your profile;
Attract sympathy.
Here is an example of a sober profile:
Pierre Dupont
✅ Marketing Director at X
Here it is now
John Dumoulin
🎯 Marketing director dear X, addicted to performance and 🌈 good mood!
The second preview features a lighter, more relaxed tone, yet they both perform the same function. That's why a perfect LinkedIn ™ profile title should reflect your image and bring out your personality!
Is a call to action mandatory in a LinkedIn ™ title?
At the end of your LinkedIn™ title, end with a call to action. This is very important to encourage people to contact you or visit your profile. The goal is of course to seduce them upstream thanks to your valuation.
For example: "I have been generating growing revenue for 2 years. Contact me to know my secrets! ". By displaying this skill , you offer a solution to a company that is running out of steam or that is no longer progressing.
The call to action is above all to propose a contact and show that you are open to discussion. There are many ways to write it, here are some examples:
"Let's talk about it! » ;
"Contact me to discuss! » ;
"Interested? Make an appointment here";
"Do you want to know how I'm doing? It's this way ! » ;
"Write to me! » ;
"I can't wait to chat with you! » ;
"Looking forward to chatting! ".
Do you want to inspire confidence? Make you buy? Find out how to convert every visitor to your profile into a buyer.
How do I change my LinkedIn™ profile title?
Changing the title of your profile on LinkedIn™ is very easy:
Go to your profile;
Select the small pencil, located on the right in front of your profile photo;
Write a relevant LinkedIn™ title in the "Profile Title" section.
Note that this is the same procedure on the computer as on the mobile application. Changing your LinkedIn ™ title is a feature accessible to everyone, so don't miss it!
What mistakes to avoid with your LinkedIn™ title?
Writing a profile title is a rather creative step, where it is advisable to expose a bit of your personality. However, there are things to avoid in order to reflect a professional image and optimize your LinkedIn™ profile as much as possible.
Put its function in the feminine in its title. Ladies, don't take offense, LinkedIn ™ searches are overwhelmingly male. Thus, it is particularly important if you aspire to find a job, because recruiters do not take the time to double down on their searches.
Confusing CV and LinkedIn ™ title. Indeed, you have to value yourself, show what you offer, but it is not a question of exposing your qualities as you would on your CV. Instead, try to present what differentiates you, the subject in which you excel.
Are you looking for a job ? Don't tell! Often, this translates to "I am looking for new challenges". A nice way to say that you have no professional activity at the moment. In reality, presented like that or otherwise, it is not an element to mention. If you do not hold a position, put the one you are aiming for!
Uncheck or leave checked the box "Show current company in my summary". Few users know this, but the social network by default displays the position they currently hold. If this feature is beneficial to you, leave, if not, uncheck.
Placing hashtags in the titles of LinkedIn™ profiles is not considered an error, however they are not clickable. It is therefore equivalent to placing normal keywords.
LinkedIn™ profile title, to conclude
With a good LinkedIn™ title, you increase your chances of increasing connections, being more easily visible to recruiters and prospects, and standing out from other users.
Here are the points to remember to maximize your title:
Your title must contain your function, your keywords, ideally 2 or 3, as well as your favorite field, in which you can help your targets.
The keywords used must reflect your activity.
It is possible to write a title of up to 220 characters on a computer (and much more on mobile).
Emojis are recommended sparingly. They humanize, arouse sympathy and help structure the content.
To finish your title, always place a call to action. It usually comes down to getting the reader to contact you in a compelling and caring way.
To change your LinkedIn™ title, simply click on the small pencil located to the right of your profile photo, then write in the "Profile title" section.
LinkedIn™ profile title, to summarize in 4 questions
What title for my LinkedIn™ profile?
To optimize the title of your LinkedIn ™ profile, check if the box "Show current company in my summary" is checked. This is a LinkedIn ™ feature that applies automatically, and some users prefer to make a difference by writing a custom title. Criteria for an optimized profile title:
Use the maximum limit of 220 characters;
Place relevant keywords;
Describe briefly, but attractively what you do, and what services you offer;
If possible, adding emojis that are consistent (and sparingly) helps give your profile a friendly look;
Placing a call to action at the end of the title is essential to invite the person to contact you, visit your profile, your website, etc.
What job title should you choose for a LinkedIn™ profile title?
3 tips for writing a good profile title with an attractive title:
Use the specific term of your position. For example, instead of just saying "Manager", say "Managing a great team of 10 people at (your company name)".
Avoid titles adopted internally by your company. Indeed, a professional function in a box sometimes has its own name. However, the professional jargon is not understood by everyone, it is better to stick to a universally understood term.
Place keywords that match your personality and goals.
How do you put a title on LinkedIn™?
To edit or add a relevant title to your LinkedIn ™ profile:
Go to your profile either from the menu on the left on computer, or from your avatar at the top left from the mobile version;
Click on the little pencil to the right of your profile picture;
Enter the content of your choice in the "Profile title" section.
What title to put on LinkedIn™ when you're in a career transition?
In this specific case, indicate the position you are aiming for. What's more :
Focus on your skills and your performance in your sector;
Leave room for your creativity to write your content by adding emojis and the keyword that corresponds to your profile;
Do not indicate that you are looking for a job, this is not valuable information on the labor market.
*All names used in this article are fictitious.