LinkedIn ™ , you know, is a great tool for effectively prospecting and implementing a social selling strategy. But beware ! The road to social selling is sometimes strewn with pitfalls. Like any prospecting work, an approach on LinkedIn ™ is worked on daily, is adjusted according to many parameters, and must respect a method. To help you in your practice, here are the 7 mistakes not to make when prospecting on LinkedIn ™ !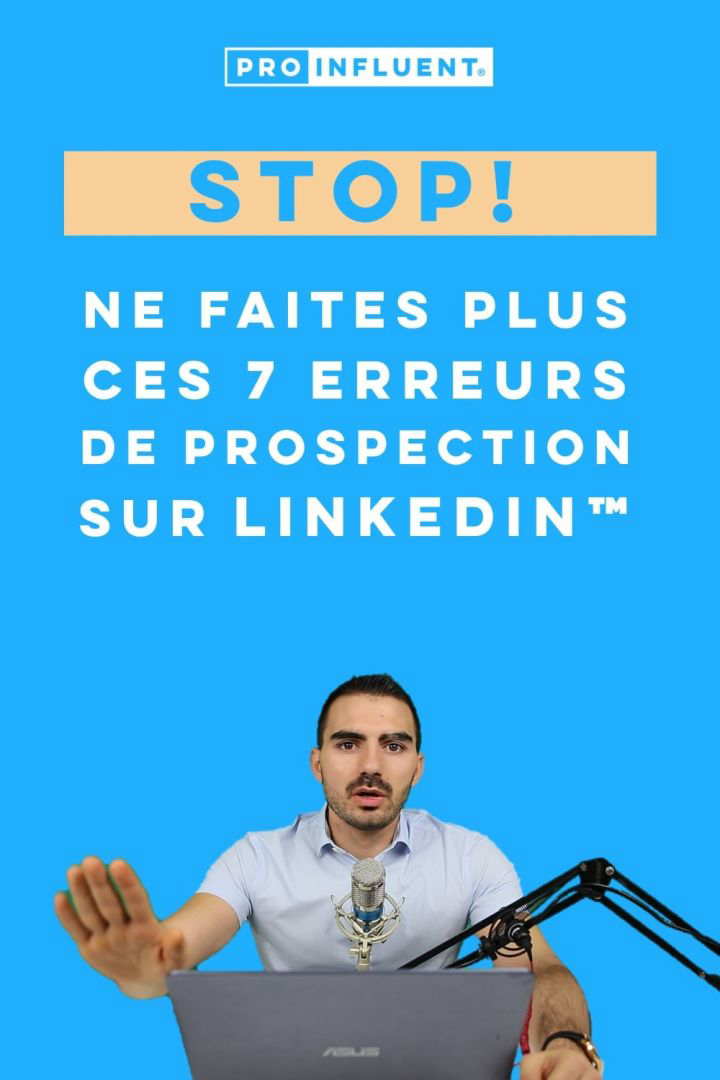 Prospecting mistake # 1: not taking care of your network
LinkedIn ™ is above all a social network whose goal is to connect professionals with each other. Your network is made up of your partners , your prospects, your customers, people who share the same interests as you, etc. Connect with the people who match your goals and have something to offer you, and vice versa.
Taking care of your network also means interacting with it in a relevant way. Every day, develop your links by commenting, liking, sharing information. Respond to your prospects' issues by disseminating useful advice. Engage the conversation in a fluid and natural way, really put the human aspect in each of your exchanges. Likewise, be sure to address the right person, the one with the decision-making power, and create a special affinity with them.
Don't neglect your network – it's the key to your business success on LinkedIn ™. Indeed, a well-built network brings you visibility to your targets and direct connections with your prospects.
To have a quality community that meets your goals, discover in this article the 12 steps to develop your professional LinkedIn ™ network .
Prospecting mistake # 2: looking to sell immediately
For your prospecting strategy on LinkedIn ™ to bear fruit, and for your sales to take off, don't try to sell ! It may sound counterproductive, but it is quite the opposite. Indeed, understand that your target customers are not on LinkedIn ™ like on an e-commerce site: they are not looking to buy. She is present on LinkedIn ™ to find solutions to a problem.
Before any BtoB sale, it is essential to create a climate of trust with your prospects. This trust is built:
At your profile level. Indeed, it is the basis of your presence on the network. Add a professional photo and an visual banner . Write a meaningful title and a compelling summary. You only have a few seconds to entice the visitor to your personal page. To have a perfect LinkedIn profile , download the checklist .
In terms of your publications and comments: disseminate high added value content on LinkedIn ™ that makes your target customers understand that you are a referent in the field that interests them. Show him that you understand his problem and that you have everything you need to be able to solve it.
Once you've identified and added your ideal customer ( Buyer persona ) to your network, regularly post relevant content, in order to stay visible in their mind. Little by little, you step into their usual LinkedIn ™ landscape and you just have to get in touch with them to help them move down the sales funnel.
Prospecting through social selling on LinkedIn ™ is a well-defined process that is built over the long term. If you are immediately looking to sell your services and / or products, you are sticking to the traditional business scheme, which does not work with a social network like LinkedIn ™.
Prospecting mistake n ° 3: not personalizing your exchanges
Each action you do on LinkedIn ™ must be considered and adapted, your credibility and your sincerity on the professional network depend on it. LinkedIn ™ is not a catalog! It is a professional social network where members communicate with each other from human to human in order to share information. Keep this notion in mind to avoid making mistakes in your various interactions.
Take a genuine interest in posts and engage in relevant, intelligent, and personalized ways to prove you've taken the time to read. Not only do people in your network, including your prospects, feel listened to, but you also glean a lot of important information by being attentive to what is happening on your LinkedIn ™ news feed!
In the same vein, personalize your connection requests. Learn as little as possible about your prospects to avoid calling them by the wrong first name or simply to find out what their position is in the company, etc.
For further : find out 15 examples of personalized invitations to use to build your network on LinkedIn ™.
Prospecting mistake # 4: harassing your contacts
One of the mistakes you should not make in prospecting on LinkedIn ™ is harassing your contacts or sending too many so-called "unwanted" messages. On the same principle as the second mistake, which consists in wanting to sell immediately, an exchange with your contacts on LinkedIn ™ must be done gradually and on the basis of mutual trust.
No need to contact your target customers with commercial messages and multiple reminders in the event of no response. Correspondence like this quickly ends up being considered spam, and that's what you need to avoid to be successful in prospecting on LinkedIn ™. Always be relevant in your conversations, and don't reach out to your target audience just to say "I'm selling this, you should buy it".
For quality exchanges with your target, vary the pleasures and do not just talk about your offer! Broaden the field of action by taking an interest in the people with whom you communicate, ask them questions, listen attentively to their answers and create a privileged bond. Don't get hung up on your LinkedIn ™ messaging in order to respond to a message as quickly as possible! Be natural, as you would in a non-professional setting. Your target feels confident, listened to.
From there, you can start figuring out when is the best time to guide her through your sales funnel. Social selling and prospecting on LinkedIn ™ are exercises in their own right where it is essential to understand that traditional sales techniques are obsolete. Change the way you approach your target customers, they will pay you back a hundredfold!
For further, discover our training course to find clients with LinkedIn ™.
Prospecting mistake # 5: neglecting the content of your posts on LinkedIn ™
Successful prospecting on LinkedIn ™ thanks to social selling is mainly based on the quality of the content you offer to your target customers .
Everything you post on LinkedIn ™ is an integral part of your prospecting strategy. So that your prospects see in you the solution to their problems, be sure not to neglect the quality of your LinkedIn ™ publications. Nothing like a sloppy and uninteresting post to scare off the best of potential customers!
Your actions on the social network must therefore reflect your expertise, so that, from the outset, people who consult your posts recognize you as an expert in the field. With high value-added publications that are relevant to your target audience, you don't even have to go out and praise the merits of your services and / or products. Your target customers already know the interest and the quality of what you offer.
However, don't just talk about your product / service. You must instill in the minds of your target customers elements that make them understand that not only can you solve their problem, but that your brand has strong values, humor, empathy, innovative projects, etc.
To put it simply, distill the very essence of your work and your brand image through your content. As you can see, one of the mistakes not to make in prospecting is to botch your content.
Prospecting mistake n ° 6: thinking short term
If you imagine that prospecting on LinkedIn ™ through social selling brings hundreds of leads all at once, think again! Social selling is a full-fledged exercise, which revolves around a comprehensive strategy to be permanently integrated into all your commercial approaches.
Selling at all costs only works in the short term. In addition, the energy you deploy in seeking at all costs to trigger sales never pays for itself. Social selling, on the other hand, is like a long-distance race, where endurance and consistency pay off after a while. The objective of social selling is to perpetuate your target customers and make your sales something solid and lasting.
To help you stay focused, here's an infographic:
On LinkedIn ™, when it comes to prospecting with social selling, what matters is to become the referent of your market. By deploying your social selling strategy, you are working to be credible and recognized as a specialist with your target audience. The latter understands by herself, indirectly, that you have the solution to her problem.
For further : find out how to succeed on LinkedIn ™? 13 tips to hit the nail on the head.
Prospecting mistake n ° 7: relying only on LinkedIn ™
It is also essential to know how to diversify your audiences and your contacts to make your social selling a real prospecting machine. So, don't forget your other networks and sites, the telephone, Skype, physical appointments… Relying only on LinkedIn ™ is a prospecting mistake that should not be made!
Strengthen the link with your prospects by offering them various channels of exchange. Don't be just a classic LinkedIn ™ salesperson behind your screen! This engages your target customers even more by proving your responsiveness, your dynamism, but also your adaptability.
Discover how to establish an effective prospecting plan to optimize your business strategy and also what are the advantages of commercial outsourcing .
The 7 mistakes not to make in prospecting: in conclusion
That's it, you know the 7 mistakes not to make when prospecting on LinkedIn ™:
Do not take care of your network;
Look to sell immediately;
Do not personalize your exchanges;
Harass your contacts;
Neglecting the content of your publications;
Think short-term;
Rely only on LinkedIn ™.
What do you think of these errors? Do you think it is that hard to avoid them? Do not hesitate to react !
Prospecting errors: to sum up in 4 questions
Qu'est-ce que le social selling ?
Social selling is an approach that consists of supporting the prospect via social networks throughout the sales journey. Before this, to publicize your brand, your offers, your values, etc., and create a relationship of trust. During the sale, to switch to the act of purchase. And after the sale to stay on his mind (with a view to new sales) and get recommendations. Remember, a satisfied customer is your best advertisement.
Quelles sont les erreurs à éviter sur LinkedIn™ en prospection BtoB ?
The 7 mistakes to avoid when prospecting on LinkedIn ™ are:
Do not take care of your network.
Look to sell immediately.
Do not personalize your exchanges.
Harass your contacts.
Neglecting the content of your posts.
Think short-term.
Rely only on LinkedIn ™.
Comment faire de la prospection avec LinkedIn™ ?
In BtoB, the direct approach does not work on LinkedIn ™. Proinfluent recommends using social selling. This includes 6 steps:
Identify and add your target to your network.
Regularly expose it to the brand.
Publish and exchange value, share expertise in order to be identified as a referent in your theme.
Connect with prospects with comments, interactions, messages …
After a while, this connection will generate leads.
And then, get bought.
Comment vendre avec LinkedIn™ ?
To conclude sales in BtoB, it is imperative to establish a bond of trust with your prospect. This trust is built on your profile and your actions (comments, posts and messages) on the network. By clearly defining your target customers, by gradually getting them to know you without forcing them and by establishing a privileged and honest bond with them, you will see them direct themselves through all the stages of your sales funnel. .