As a home seller, independent salesperson, VDI, finding customers is a daily challenge to keep your business going. Are you looking for an effective solution to increase your sales, thus improving your margins and developing your turnover? Do you want to use the potential of social selling to boost your results? So, discover in this article tips to better understand social selling and integrate it into your prospecting strategy to be a hit in your VDI work. VDI social selling, follow the 5-step guide!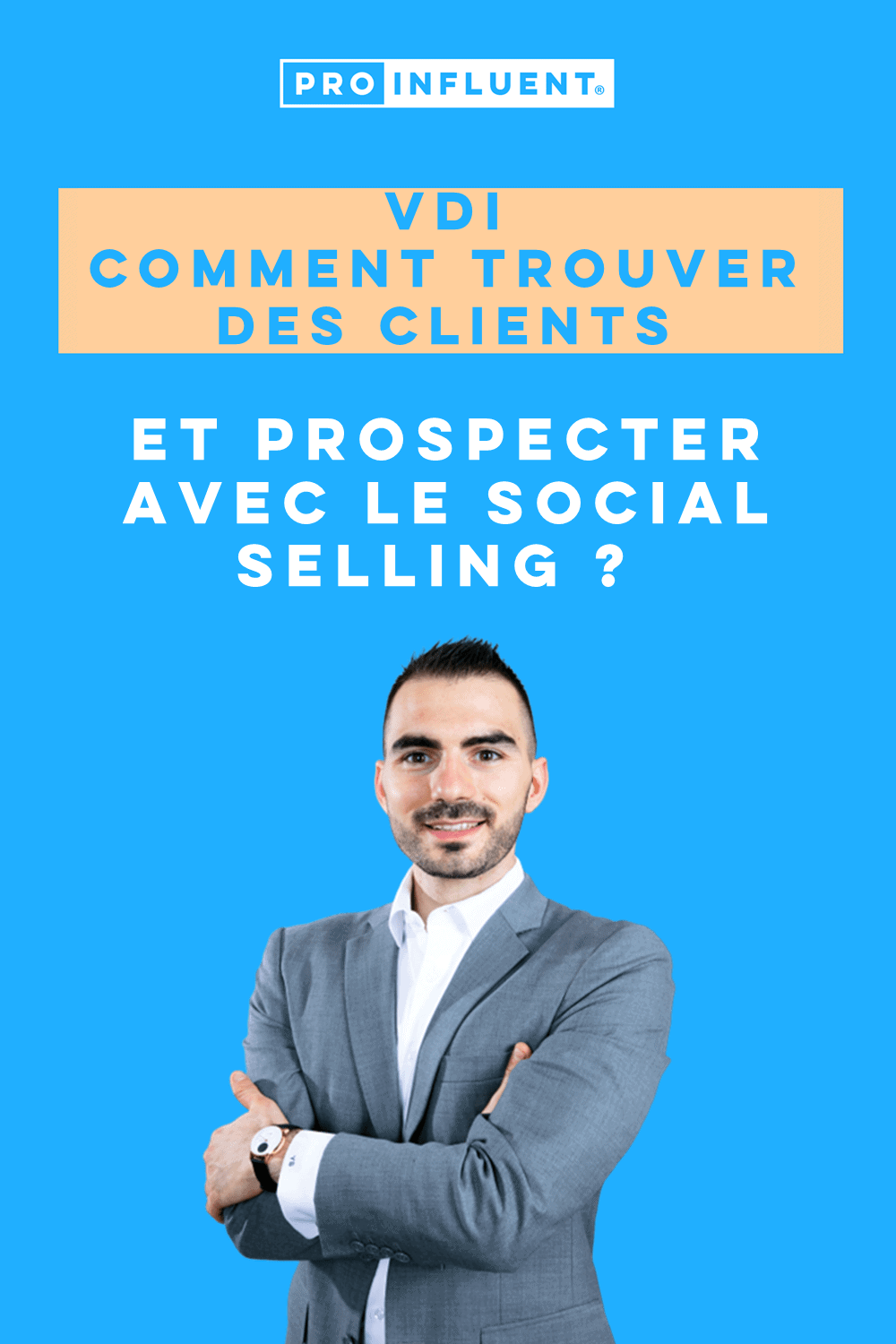 Social selling for VDI: what is the principle?
Social selling or social selling is a technique that aims to build relationships by selling in a natural way . This happens via professional social networks such as LinkedIn™, Twitter™ and Facebook™. Concretely, you use social media to not only meet, but also strengthen your customer relationships throughout the sales journey . The ultimate goal is therefore to develop a relationship of exchange and trust with your audience to find customers and retain them.
With hundreds of millions of users around the world, social networks are a gold mine. A real pool of potential customers in real time. Social selling allows you to meet your future customers, to familiarize them with your products and your person. This in order to create a lasting relationship with her. Both a communication tool, a customer relationship tool and a sales platform, social networks are indeed the ESSENTIAL tool for your business strategy .
Phase 1 of VDI social selling: identify the customer target
This is probably the most important step in VDI social selling. It's true, if you don't address your target, your chances of being able to sell your products are dwindling! Your priority is therefore to define the characteristics of your target customers.
To do this, take the time to think about your ideal customers and create composite portraits ( buyer per s ona ).
Are they men, women?
Are your products aimed at a particular age group or can they be used by all generations?
What is the socio-professional category targeted?
Do your products sell better in a particular geographical area (mountain, sea, big city, countryside, etc.)?
This list is not exhaustive, it only allows you to understand how to think about the definition of your target clientele. By knowing your ideal customers inside out, you are better able to deliver relevant messages to them that speak directly to them, in order to engage them in your sales funnel in a natural and insightful way. You anticipate their questions by preparing answers.
Phase 2 of VDI social selling: exposure
Once your target clientele is perfectly defined, you can then immediately present your products to them with actions on your social networks. It's an effective way to familiarize your target customers with the products you distribute. This is so that she can learn about them, take an interest in them and thus get used to seeing them in her daily life.
Exposure is a step in your social selling strategy that should be subtle. You have to know how to show yourself and expose your products/solutions without being too salesy. Moreover, it is strongly advised not to harass your target. That would be the most effective way to disgust her and not trust you
For your future customers to get to know you and your products, social networks are a great help. Using informative publications, photos, videos, and high value-added content, you expose yourself to your audience.
Let your creativity speak, and always remember to put yourself in your prospects' shoes. If you were your target, what would you like to discover on your social networks? Which publication format would be most likely to convince you? What is the general tone to give to your posts? By knowing your target clientele, you are more inclined to anticipate their tastes, their preferences and the sales techniques that hit home!
Phase 3: entering into a relationship
This stage of your prospecting thanks to VDI social selling is crucial. It engages your target customers a little more within your sales funnel. How to connect with your target on social media?
It is very simple ! Take advantage of a like, a comment or a share to take a first step towards it. This can be responding to a comment, sending a message to thank her for sharing a post or liking a posted photo.
Quite naturally, you thus create a relationship with your target clientele. You show him your availability, your sympathy and your professionalism. Little by little, you can start a more successful conversation by asking her, for example, what she thinks of your product, if she has already tried something similar, etc. Let your creativity and intuition speak for themselves here too. After all, you know your target and your products perfectly.
Be careful, never harass your target. On social networks, news travels quickly and your entire e-reputation can suffer…
Phase 4 of VDI social selling: convincing
You now have many qualified prospects thanks to your VDI social selling strategy. During your conversations with them and your exchanges on your publications, you can define the right time to propose a date or an offer to sell. With your arguments and your expertise, coupled with the confidence that prospects have in you, you trigger sales and sustain your VDI activity!
Phase 5: maintain your customer relationship
Well done ! Thanks to your strategy, you convinced your prospects to buy your products. But the work does not stop there! You must then maintain the relationship with your customers .
How to do ? Simply by communicating with them. Send them messages, ask for their news, wish them a happy birthday, offer them a new product that you will soon distribute…
The main thing in customer relationship management is not to make your customers forget about you. Your goal is to make an impression and be a trustworthy and professional person in their eyes. Remember that your customers are the most effective advertisers for you. Not to mention that it is easier to repeat a sale with a customer than to win over a new one.
Some additional tips for a successful social selling strategy as a VDI
The strong point of social networks for work in VDI
The magic of social media is how easy it is to make contacts and reach a large audience. If at the beginning of your activity you bet on your close personal circle, such as your family or your friends, you quickly realize that this network is quickly exhausted. With social networks, there are no limits!
On LinkedIn™, you can easily develop your professional network in 3 simple steps:
Optimize your LinkedIn™ profile by putting your public URL, adding keywords in your various sections, taking care of your profile title…
Regularly publish content (posts, videos, articles, infographics, carousels , etc.) and share information of interest to your target.
Send invitations to grow your network. To do this, use the filter options offered by LinkedIn™ to target the right contacts (those who are relevant in your market).
The Secret to VDI Social Selling
Regularity! You must absolutely be regular in your use of social networks to prospect as a VDI. Being very present on social networks for a week is good. But if you leave them for a fortnight, your whole strategy collapses.
So, set up a simple weekly routine to:
post your content according to your editorial strategy ;
and respond to your messages and comments. Professional social networks offer services that allow you to directly contact your prospects, such as LinkedIn™ messaging .
Be connected to not lose any interaction with your prospects!
Comply with the terms of your business
As a VDI, you are mandated by a company to distribute its products and promote its brand image. In your use of social networks, be sure to respect the values and the charter of your company. If there is one.
Join groups
Social networks also make it possible to integrate discussion and sharing groups. Depending on the products you sell, integrate relevant groups. This is excellent for promoting your offer and thus making you known to a greater number of people. The advantage of groups also lies in the fact that they bring together people who are already interested in the theme. The chances of reaching the right people are therefore higher.
Want to integrate LinkedIn™ into your daily business? You don't know what to do, where to start? Make an appointment with a Proinfluent consultant manager.
VDI how to find customers, in conclusion
By applying all the tricks of a social selling strategy, you will transform your VDI activity into a real success. Social networks and self-marketing help you find your customers and retain them so that they recommend you to everyone around them! Here are the 5 phases of an effective social selling strategy:
Identify the target clientele;
The exhibition ;
The relationship;
To convince ;
Maintain your customer relationship.
VDI how to find customers, to summarize in 4 questions
How to find clients as a VDI?
As a VDI and therefore for home selling, social networks will be your best ally to find customers, all thanks to social selling. Of course, it will first be necessary to put in place a strategy in order to take full advantage of the advantages of these networks. Be on the lookout for interactions with your published content and take the lead by subtly approaching people who have reacted.
Not only will these social networks put you in touch with the people most likely to buy your articles and products, but they will also be at the center of the relationships that you will then maintain with your future customers.
How to start a VDI business?
As in any activity, before even starting there is a question of strategy, of action plan. In VDI, it is essential to draw up this roadmap which, with social selling and the use of social networks, will facilitate the implementation of your activity. The important points are:
Qualification of targets;
The presentation of the product;
The art and the way of making contact with potential customers;
The sales pitch;
Post-purchase customer follow-up.
How to build up a clientele at home?
After clearly defining your target customer, you need to expose them to your product. You don't have to go all the way to the sales stage, just get your potential customers used to what you can do for them. Then, thanks to a regular presence on social networks, you can take the next step, which is to contact the people most likely to buy from you. People who put your product in their shopping cart on your website, for example. They are not decided on the purchase, and this is where you will show your know-how as a seller.
Even better, once you've done business with a customer, stay in touch with them and encourage them to share their experience, so your first happy customer can find you the next one.
How to make direct sales?
Unlike indirect selling, this is about selling to a specific type of customer: customers who are already potentially interested. It is a sale without intermediaries in which customer and seller meet in a place not intended for trade, for a demonstration or presentation of the product in question.
This sale depends on the seller's ability to explain and convince, because it generally concerns fairly technical products that closely follow new technologies. You must therefore master your subject because the potential buyer knows just as much about it.